2017 Super Bowl Facts and Interesting Statistics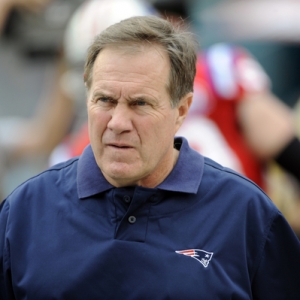 It's a proven and indisputable fact - the best way to impress the opposite sex is to have an endless supply of trivia in your head. And the more obscure and useless the better. This is especially true during a major event like the Super Bowl where you will likely be watching with a group of people. So memorize this list of Super Bowl facts and you will be amazed at the dizzying seductive power you suddenly possess. Don't say we don't take care you around here. You're welcome:
- This is the obligatory part of this article where we talk about how crazy what Bill Belichick is doing is. This is his 17th season as New England's coach. He has won the AFC East 14 of those years, and this is his seventh trip to the Super Bowl as head coach - a record. He has won four and has two more rings from his time as defensive coordinator with the Giants as well. In 2015 he bought a boat and named it Six Rings. He will be hoping that a name change is in order.
- This year's referee is Carl Cheffers. He will be making his Super Bowl debut, though he was the alternate referee two years ago when the Seahawks lost to the Patriots. He joined the NFL in 2000 and was promoted to referee in 2008. Before the NFL he was an official in the Pac-10, the league that his father also worked as an official in.
- The oldest player in the game this year is Atlanta kicker Matt Bryant, who will turn 42 years old in May. This is his 15th year in the league, and he is making his Super Bowl debut. He's not the most experienced player, though - this is Tom Brady's 17th season and his seventh Super Bowl appearance.
- The youngest player in the game is Atlanta safety Keanu Neal, the rookie out of Florida who had a heck of a rookie year with 106 combined tackles, which was just two off the team lead and is better than any player on New England had. He turned 21 in July.
- According to the official rosters, the heaviest player in the game is New England defensive tackle Alan Branch, the 10-year veteran out of Michigan. He tips the scales at a beefy 350 pounds - 10 pounds more than the heaviest player last year. Atlanta's biggest player is another DT - Ra'Shede Hageman. He weighs in at a comparatively svelte 318 pounds. The lightweight in the game is Falcons' receiver Taylor Gabriel, who only weighs 165. At 5-foot-8, though, Gabriel isn't the shortest player - he has an inch on running back Terron Ward. Three players share the mantle of tallest player - Atlanta tight end Levine Toilolo and New England offensive tackles Nate Solder and Sebastian Vollmer are all 6-foot-8.
- A streak comes to an end this year. The last three years the Super Bowl combatants have been the top seeds of their conference. This year New England is the top seed in the AFC, but Atlanta was second seed in the NFC behind Dallas. This isn't that odd, though - before the last three years it had been 20 years since the top seeds squared off.
- Want to predict who the MVP will be? You have two choices - go with the winning QB or pick a linebacker. Seven of the last 10 MVP winners have been quarterbacks, and the last two that weren't were linebackers - Von Miller and Malcolm Smith. Brady is a pretty good choice - he has been MVP in three of his four Super Bowl wins. Whoever you pick, make sure he is an all-time great - 19 former Super Bowl MVP winners are already in the Hall of Fame, and winners like Peyton Manning, Aaron Rodgers and Brady will join them in their time.
- Last year's game was so boring it was almost unwatchable, but it was lucrative for the sportsbook. $132.5 million was bet on the game in Las Vegas sportsbooks, which was a record, blowing away the previous record of $119.4 million set two year earlier. The books made a profit of $13.3 million, which was up from $3.3 million in 2015 but below the record of $19.7 million in 2014. There have been some rough games for books during these playoffs, so they will be hoping for a big weekend to put their bottom line in order. They'll be in trouble if this game goes "over" the total, though - with these two offenses involved you can be sure the public is going to pound the over no matter how high the number goes.
- For the second year in a row Lady Gaga is going to the Super Bowl. Last year she sang the National Anthem, which country singer Luke Bryan will be doing this year. This year she is headlining the halftime show. In recent years the trend has been for multiple acts to share the stage at halftime - Coldplay, Beyonce and Bruno Mars last year, for example - but the rumors to this point are that the meat-dress-wearing-marvel will be on her own.
Want free sports betting picks? Doc's Sports has you covered - get $60 worth of picks free from any of Doc's Sports expert handicappers. Click here for free picks (new clients only) .
Read more articles by Trevor Whenham