Daily Expert MLB Picks: Tuesday, June 5, 2018, Opening Line Report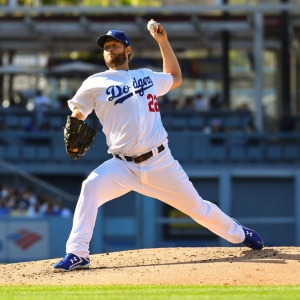 In last Thursday's Opening Line Report, I basically touted the Dodgers as in the midst of their turnaround and soon to take control of the NL West Division they have won the past five years with the return of three-time Cy Young winner Clayton Kershaw from a month on the disabled list. Uhh, maybe not. Kershaw lasted five solid innings in his return from left biceps tightness Thursday vs. the Phillies but left with some back tightness; his velocity was clearly down and perhaps that was why. This is obviously very concerning for Dodgers backers. Back injuries have sidelined Kershaw over the past two seasons, including a herniated disk that cost him two months in 2016. For now, the team is saying it expects him to miss a month. Even with how weak the NL West is, I don't see the Dodgers winning it if Kershaw misses longer than that - unless they go out and find a starting pitcher via trade, which is very possible with Rich Hill, Kenta Maeda and Hyun-Jin Ryu also on the DL. Think Cole Hamels or Chris Archer. Incidentally, I am now nearly positive that Kershaw will not opt out of his contract this summer. He can't risk it as his body is clearly breaking down. We may have seen the last of the best of one of the greatest pitchers of his generation.
White Sox at Twins (TBA)
Lone matinee of the day with a 4:10 p.m. ET start because it's the first of a doubleheader. While Lucas Giolito (expected to start Game 2) has been largely a bust for the White Sox as the supposed key piece back in the Adam Eaton trade to Washington, Reynaldo Lopez (1-4, 3.80) has been pretty good. He wasn't last time out, though, allowing a season-high seven runs in just 2.2 innings in Cleveland to see his ERA rise by nearly a run. Lopez took a no-decision on May 3 vs. the Twins (6.2 IP, 4 ER). Logan Morrison is 5-for-6 off him with two homers. Twins rookie Fernando Romero (2-2, 4.15) had been very good this season but his ERA jumped from 1.88 by getting crushed for eight runs and nine hits in just 1.2 innings Wednesday in Kansas City. That was more runs than he allowed in his other five starts combined. Romero hasn't faced the White Sox.
Key trends: The Sox have won their past five openers of a doubleheader. They are 1-4 in Lopez's past five in a series opener. The Twins are 4-11 in their past 15 series openers. The "over/under" is 6-2-1 in Lopez's past nine on the road.
Early lean: The Twins haven't made Romero official yet for Game 1 (should have known better than to pick a DH game) but all signs point to him. Take White Sox and over regardless of total (probably 8.5).
Tigers at Red Sox (-210, 9.5)
Boston has placed AL MVP candidate Mookie Betts and second baseman Dustin Pedroia on the DL. Betts is dealing with an abdominal strain and Pedroia left knee inflammation. Pedroia just debuted this season on May 26 off a cartilage restoration procedure in the offseason. The Sox go with knuckleballer Steven Wright (1-0, 2.25). He has pitched six times in relief this season and not allowed a run in his past four. Detroit's Miguel Cabrera is 1-for-4 with a homer against him. The Tigers' Artie Lewicki (0-0, 3.60) will make his first start of the season and just second career. He has pitched six times in relief this season. His lone start was Sept. 4 last year vs. the Royals and he allowed five runs and 11 hits in five innings. Lewicki has never faced Boston.
Key trends: The Red Sox are 5-0 in Wright's past five vs. teams with a losing record. The over is 6-1-1 in his past eight at home.
Early lean: Red Sox on runline and over.
Rays at Nationals ( -240, 7 )
Hard not to root for a guy like Tampa Bay's Nathan Eovaldi, who has had two Tommy John surgeries in his career and missed all of 2017 because of the second one. Eovaldi made his Tampa Bay debut Wednesday in Oakland, and all he did was no-hit the A's with four strikeouts and a walk over six innings. Now, there's obviously no freaking way the Rays were going to allow Eovaldi to even get close to going the distance with all his arm troubles. He had hit his pitch limit of 70 and was yanked, although he clearly wasn't happy about it by not shaking the manager's hand when he came to the mound. The A's would get a hit in the seventh. Washington's Max Scherzer (9-1, 1.92) continues to dominate. He threw eight shutout innings with two hits allowed and 10 Ks on Wednesday in Baltimore. The Cy Young favorite has now struck out double-digit batters in eight of 12 starts this season.
Key trends: The Nats are 13-3 in Scherzer's past 16 series openers. The under is 11-0 in Washington's previous 11 interleague games vs. right-handed starters.
Early lean: Nats on runline and under.
Marlins at Cardinals (-220, 8)
Fox Sports 1 game. I am now very interested anytime that Miami's Jose Urena (0-7, 4.41) takes the mound because it's almost humorous how little support the Marlins have given him. You would think they would win one of his starts, even in the bullpen, by accident. But nope, 0-12. Urena deserved better Wednesday in San Diego, surrendering just a run and three hits over six. He had a solid 3.96 ERA in six May starts, but the Marlins totaled 14 runs in them. Urena hasn't faced the Cards in 2018. St. Louis ace Carlos Martinez (3-2, 1.62) is expected to be activated off the DL for this start. He hasn't pitched since a loss vs. the Twins on May 8 due to a lat injury. Martinez allowed two solo home runs over four innings for Double-A Springfield on Thursday. Starlin Castro has seen him more than any Marlin and is 1-for-13 with six Ks.
Key trends: The Marlins are 0-6 in Urena's past six series openers. The Cards are 6-1 in Martinez's past seven at home. The under is 4-0-1 in his previous five at home vs. teams with a losing record.
Early lean: Marlins on runline and under.
Diamondbacks at Giants (-139, 7)
MLB Network game and latest start of the night at 10:15 ET. It's also arguably the most important game of Tuesday because it's the season debut of Giants ace Madison Bumgarner, who broke his finger in spring training. I thought the Giants would be buried by now without MadBum, and in a few other divisions they would be, but as noted above the NL West is wide open. Bumgarner gave up two hits and one run over 4 2/3 innings Thursday in his final rehab start for High-A San Jose. The former World Series MVP was 4-9 with a 3.32 ERA in 17 starts during an injury-shortened 2017 season. He was 0-3 vs. Arizona in four starts despite a 2.89 ERA. Diamondbacks lefty Patrick Corbin (5-2, 2.99) was roughed up for a season-high six runs over six innings but did strike out 10 in a loss to the Reds on Wednesday. He's 1-0 with a 1.88 ERA this year in two starts vs. the Giants.
Key trends: The Giants are 1-6 in Bumgarner's past seven at home vs. Arizona. The Diamondbacks are 1-4 in Corbin's previous five at San Francisco. The under is 6-0 in Bumgarner's past six at home in the series.
Early lean: Giants and under.
Read more articles by Alan Matthews