Free Super Bowl Picks: Quarterback Props Expert Betting Predictions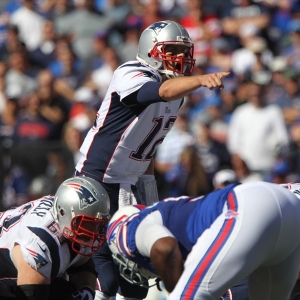 The best part of Super Bowl betting is the prop bets. And one of the most consistently interesting types of prop bets has to do with passing the ball and catching it. These props present a really interesting puzzle because they have so much to do with how the game will turn out - especially with two quarterbacks like these who like to throw as much as they can. Here's a look at some of the most interesting Super Bowl passing props from BetOnline and Bovada :
Free $60 in Member MLB Picks No Obligation Click Here
BetOnline
First half passing yards by Tom Brady ("over/under" 142.5): There has been a narrative lately, and these playoffs have certainly helped it, that Brady is a second half quarterback. But while he certainly can perform when his back is against the wall as well as anyone can, the numbers don't back this up. This season he had 2,472 yards in the first half of games and 2,105 yards in the second half. There were somewhat fewer attempts in the second half, so this year, like last year, his yards per attempt were lightly better in the second half, but it isn't reasonable to expect massive improvement in the second half. The point of all that is that this total here is half of the total of the whole game, so if you think the overall total is legitimate then you pretty much have to like the over here.
First half passing yards by Nick Foles (o/u 107.5): The over is at -135, so there is an obvious incentive to see if we can justify a bet on the under. And I think we can. For starters, this is by far the biggest stage Foles has been on, and you can be sure that Matt Patricia and the New England defense will work hard to make him uncomfortable early on. And even though it is a small sample size, Foles this year has definitely been more productive in the second half than the first. I don't think there is a ton of value here, and if he shows the same form he did against the Vikings he'll crush this number, but at the very least the over isn't great at the price.
Longest completion by Nick Foles (o/u 36.5 yards): Foles had touchdowns of 53 and 41 yards against the Vikings, so it makes sense that people will be expecting big things from him. But this is a big stage, and during the regular season he completed just one of six pass attempts of 20 yards or more and none of more than 30 yards. I lean towards the under. Big lean, really.
Outcome of first pass attempt by Nick Foles: Complete is at -220, while incomplete or intercepted +175. I don't see how you don't go for the underdog here. Nerves will be high - especially if he gets the ball first. And he's a career 60 percent passer, so +175 would historically be very profitable. And the Patriots are going to do everything they can to shake him early. Philly will look for the easy completion to get momentum on their side, but I suspect it won't be too easy to find. This is an easy play.
Longest reception by Rob Gronkowski (o/u 25.5 yards): Including the playoffs, Gronkowski has had receptions in 15 games this year. And his longest catch in nine of them went over this total. We still don't know how healthy he will be, and we know that the Eagles will be desperate to slow him down. But they can't do too much to contain him or Brady will just exploit the other guys who are open. The over sounds right to me. And I would look for it to happen fairly early in the game - Josh McDaniels knows that showing Gronk is ready to be a factor early would shake the Eagles' confidence.
Bovada
Who will throw more touchdown passes (Brady -0.5, -150): Foles is so hard to judge because the sample size is so small and so inconsistent. He had three touchdowns last time out and looked great. But he didn't have any the game before against Atlanta, and he seemed mortal. He had a four-TD game in the regular season, but that came against a Giants team that had totally given up on their season, so it means little. Foles could have a huge day or a lousy one and nothing would be a surprise. Brady, meanwhile, is more consistent - he averaged two per game in the regular season and has two and three, respectively, in his playoff games. But the price on Brady has already been bet into the realm of the unattractive. This one is a pass.
Total Brady interceptions thrown (Under 0.5 -140): Brady has interceptions in just seven of his 18 games this year. Five of those seven games came consecutively when he was in a funk he has since shaken off. But he did have a pick last year against the Falcons and two in the Super Bowl against the Seahawks. I would lean to the over due to price, but I wouldn't bet the house on it.
Total rushing yards: I don't find the prop here for either quarterback particularly interesting other than it tells you a whole lot about what kind of quarterback these guys are - Brady's yardage total is set at 2.5, with Foles at 1.5. At least in the eyes of the oddsmakers these guys are both graduates of the Dan Marino school of quarterback mobility.
Doc's Sports has had a winning tradition for more than four decades. Don't believe us? Try us out for free, and we are convinced you will be a believer. Get $60 worth of free sports picks - members' picks just like our paying clients get - here .
Read more articles by Trevor Whenham