2018 Houston Astros Expert Predictions and Odds to Win the World Series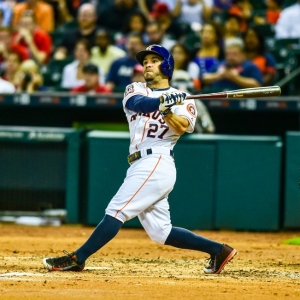 Winning was hard, but the Astros made it look pretty easy. Now we get to see if they can make what so many teams have proved to be almost impossible look just as easy. They are back to defend their title, and they are doing it with pretty much the same team they had last year. We know how good the team can be. But will the amount of ball they have played wear on them? Or will they believe their headlines and find their heads are too big to fit in the clubhouse? This was such a likeable team last year, but can they keep it up and keep winning? Teams at least as good as this one have failed.
Astros 2018 Projected Lineup
The Astros had a very good team last year, obviously. And they had the combination of wisdom and luck that allowed them to keep that lineup almost entirely intact. They were lucky enough to be young enough that contracts were affordable, and they weren't forced to blow everything up as soon as they had success. They didn't have to replicate the Royals, in other words.
Jose Altuve is coming off an MVP season, and there is absolutely no reason why he can't do it again. He's an absolute freak, and it really doesn't feel like last year was one of those years where a player was dramatically overachieving. Critics will say that Altuve only won the award because Mike Trout got hurt. That's just sour grapes. Altuve had a great year that would have been competitive in the race even if Trout had been fine, and Altuve was on by far the more successful team. Besides, even if it were true, it's not like being second behind the best player on the planet is an insult.
One of the biggest threats to Altuve's bid to repeat, and also one of the biggest boosts to the Astros this year, could be Carlos Correa. Altuve's partner in the middle of the infield dealt with a thumb injury last year that cost him 53 games and hampered him at times when he was playing. Correa is reportedly healthy, and if he can stay that way, and can replicate what he did in the previous two complete seasons, this team could be even better offensively than they were. That should terrify opponents.
Beyond that the roster is easy to understand because we have seen it already. It was striking last year that while people were playing very well for this team, the list of people who it seemed were playing outside of themselves was small. This is a team built very well - they acquired talent players, and they have been playing like talented players. There are always going to be questions about how they handle the pressure and extra attention, whether the egos, which didn't seem like a factor last year, can stay that way, whether the coaching staff can keep being heard, and so on. But quite uniquely, it's tough to find serious concerns. They could be doomed by injuries, of course, but so could every other team. But this is a deserving favorite, and from where I sit it's an easy team to pick to win it again.
Astros 2018 Projected Rotation and Closer
Last year to start the season this was a solid rotation. Then they added Justin Verlander at the deadline and it became a very good rotation - a championship rotation. Not content, though, in January they added Gerrit Cole, the best pitcher from the Pirates and a legit first starter on most teams. He only needs to be the third guy here. The top three of Keuchel, Verlander and Cole is, without question, the best in baseball. It's not really close for the most part.
Beyond those top three they have good options as well. They have four legitimate starters for two spots. Lance McCullers struggles with consistency, but the youngster has plenty of upside. Charlie Morton and Brad Peacock were solid, too. And Collin McHugh is the best of the bunch - especially if he can find good health again after some struggles last year. McHugh could be particularly attractive at the deadline if the rest of the rotation is in good shape by then. Starting pitching is the least of the worries for this squad.
The bullpen is the least spectacular part of this team, but it is manageable given the quality of starts they will get, on average, and the run support they will get. If there is a concern in the pen right now it is the lack of lefties. Tony Sipp is the only lock to make the team as a lefty, and he frankly isn't very good.
Astros Futures Odds
Oddsmakers think that a repeat championship is certainly possible and that winning the American League is the hardest obstacle standing in the way. The Astros are the second choice to win the World Series at BetOnline at +600, behind only the wildly-public Yankees at +500. They are logically also the second choice to win the AL at +300, just behind the Yankees at +275. And, not surprisingly, they are overwhelming favorites to win the AL West, sitting at -240 compared to +450 for second choice L.A. The season win total sits at 96.5, with the over favored at -120. That is tied with the Dodgers for tops in baseball. The season win total for Justin Verlander sits at 15.5, while Carlos Carrea is among the second tier of contenders to win the home run crown at +3300, with George Springer just behind at +4000.
Astros 2018 Predictions
I like this team a lot. A whole lot. The pressure of repeating concerns me - it certainly made things rocky for the Cubs last year and for many teams before them. But the offense is stellar, the defense is strong, and the rotation is silly. I'm not entirely buying the Yankees hype - not at the price, anyway - so this is the legitimate favorite for me and my pick to win it all at this point.
Take advantage and get your $60 worth of member's baseball picks absolutely free - no obligation, no sales people - you don't even have to enter credit card information. Get $60 worth of premium members' picks free. Get free MLB picks daily at Doc's Sports baseball predictions page .
Read more articles by Trevor Whenham