2018 Kansas City Royals Expert Predictions and Odds to Win the World Series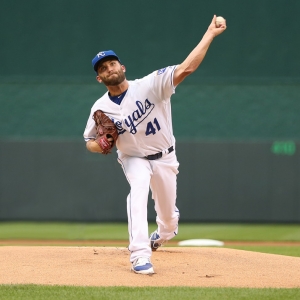 The Kansas City Royals are a very clear lesson in how fleeting success is and how much you should appreciate it while you have it. They won 86 games in 2013 but missed the playoffs. The next year they won 89 games and then lost the World Series in seven games to the Giants. 2015 was what they were building to, though, and they won 95 games and took the World Series in just five games over the Mets. It was an impressive build. But then it was all over. They started bleeding players, and hope was gone. They went exactly .500 in 2016 and a game worse than that last year. This year the season will be a success if they win 70 games. It was good while it lasted, but all that is left is memories and a long, hard rebuilding job.
Royals 2018 Projected Lineup
This team has gone through a lot of very costly changes. When you lose your Nos 3, 4 and 6 hitters in the order and don't replace them with anything close to equivalent players then that's a problem. Those hitters are, in order, Lorenzo Cain, Eric Hosmer, and Mike Moustakas. Those hitters were a big part of why this team wasn't terrible last year. And they are gone. And haven't been replaced. Ugh.
Let's put it out there - this team is just bad. Alcides Escobar was brought back at shortstop on a one-year deal. It's absolutely insane to ponder that move - it's not a stretch to say that he is one of the very worst players in the game. Hunter Dozier could replace Hosmer at first, but he was truly lousy last year in the minors over the course of just 33 games, so he's a long way from being a cause for excitement. Cheslor Cuthbert, more likely at third but possible at first, hit .231 in 58 games last year. Fielder Paulo Orlando is 32-years-old and coming off a season in which he played 39 games and hit .198 last year. I could go on and on, but you get the point - as a major league roster this looks like a mid-range AA roster. It's going to be a long year. The only guys who are at least a little exciting are second baseman Whit Merrifield, who has some upside, and left fielder Alex Gordon, who could be a trade chip if someone is willing to take on his insane contract.
When teams like Houston had to pick themselves up and rebuild, they had deep farm systems to draw on. For Kansas City, unfortunately, the cupboards are close to bare. Raul Mondesi has been really lousy in parts of two seasons in the majors, but he is only 22 and has clear talent and a good pedigree, so he'll have more opportunities, though he is likely blocked early on by the horrible Escobar. He at least offers some cause for hope on a dim team, but he isn't going to offer immediate help.
Royals 2018 Projected Rotation and Closer
The one bright spot on this team is actually the rotation. It's not world-class, but it's solid - and miles better than the lineup. Danny Duffy is the No. 1 starter and a talented lefty. Ian Kennedy and Jason Hammel are the next two starters, and Jake Junis and Nate Kairns are likely to get good looks as the bottom two starters out of the gate. You can't get too excited here, though, because good times aren't going to last in all likelihood. Hammel is all but a lock to be traded as a rental this summer. Duffy loves being in Kansas City, and is very good, but if a team is willing to offer a bucket of prospects for him - and several would - I don't see how they say no. This team will be awful with those two guys on the roster, so imagine what they will be like without them.
Kelvin Herrera starts the season as the closer and as the last remnants of those great World Series bullpens. And he's as likely to leave as Hammel because they need prospects more than they need a good closer. Beyond that the bullpen is just a lot of journeymen. A good illustration of what this team has been reduced to is righty Burch Smith. He missed 2015 and 2016 with Tommy John surgery and was in the minors last year. They got him for nothing and are paying him nothing, but the upside comes with a ton of risk and uncertainty.
Royals Futures Odds
The oddsmakers do not like this team. BetOnline has them at +10000 to win the World Series. That puts them ahead of just five teams, and those are not good teams. They are +5000 to win the American League. Only the Tigers are worse, and they are terrible. They are third choice to win the AL Central at +1000, but that is quite far behind the Twins and +650 and in a different stratosphere than the Indians at -500. The season win total is set at 71, and the "under" is a strong favorite. Things could get ugly for this team.
Royals 2018 Predictions
Sixty-five wins. That feels about right. Actually, a good part of me thinks that that feels a little generous. I expect them to try to trade anything that has any value at all, and they don't have strong replacements. They need to get Mondesi in the roster to see what he can do and to get him a ton of reps at the plate. But that won't help them win. Nothing will.
Great offer! Try $60 worth of member's baseball picks absolutely free - no obligation, no sales people - you don't even have to enter credit card information. Get $60 worth of premium members' picks free . Get free baseball picks today at Doc's Sports baseball predictions page .
Read more articles by Trevor Whenham