MLB Betting Advice for 2018 Season: Possible Surprise Teams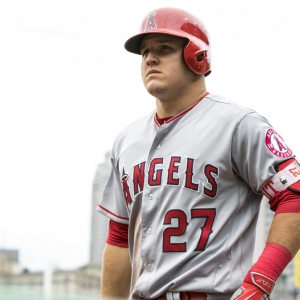 Last year the Minnesota Twins were a total and complete shock, somehow improving from a pathetic 59-win season in 2016 to 85 wins and a brief playoff appearance. It made no sense. The Colorado Rockies were almost as surprising, improving from 75 wins to 87 at a time when most people had forgotten they were even still in the Major Leagues, and they also made a short playoff appearance. And even the Yankees were a bit of a surprise, winning 91 games and going to Game 7 of the ALCS in a year when many, myself included, thought they would be regrouping.
So, the question is obvious. Which team will be this year's Yankees? Or the Rockies? And will there be a 2018 edition of the Twins? Here are five possibilities (season win totals following team name are from BetOnline ):
San Diego Padres (69.5): The Padres have been a mess of a franchise for a very long time now. They are the definition of irrelevant. But when you are that bad that long then, as long as you aren't completely incompetent, you should have a good farm system. And the Padres have amassed one of the best. They consistently draft high, and they sure aren't trading those picks away for veterans. It could be a year or two too early for the team yet, and it remains to be seen if some of these stellar prospects can turn into star major leaguers - which doesn't always happen, of course. Working against the Padres is that the division is very tough - there are three playoff teams from last year in the group capable of returning, and the Giants should be improved. It's probably too much to ask, and despite being first on this list the Padres are the least likely surprise team, but I remain positive that sooner or later this team is finally going to turn a corner, and it could happen now. Or maybe it will never happen at all - they are the Padres, after all.
Atlanta Braves (74.5): The story here is much the same as the Padres. They have struggled for a long time - not as long as the Padres, but still a long time. But they have built up the best farm system in the league. They have at least six pitchers who have top three capabilities in a future rotation, and they have a pile of promising bats as well. One, outfielder Ronald Acuna, will land on the team early on in the season in all likelihood, and he is the current favorite to win NL Rookie of the Year in the eyes of many. I respect what the Braves have done, taking their lumps and proactively rebuilding to get back to relevance as quickly as possible. Again, I think it's probably a year or two too soon for this team to do some real damage. The Twins showed, though, that young talent can suddenly turn into something special if some special fairy dust is sprinkled on it. Whether it goes well now or not, I would be very bullish on this team if they were a stock.
L.A. Angels (84.5): The Angels won 80 games last year, so they qualify as closer to the Yankees of last year than the other two teams. But the difference is that it has been a few years since the Angels have mattered even remotely. If Shohei Ohtani can live up to the massive hype around him as he comes across from Japan then he could be an anchor on a pretty good rotation - Garrett Richards has all sorts of talent, and there is decent depth as well. Pitching has been an issue, but if it is improved then they could really do some damage. They have, after all, the best baseball player on the planet on the roster. If I had to bet on one team on this list to take a big jump, the Angels would definitely be it.
Toronto Blue Jays (81): The Blue Jays had an infuriating offseason for their fans. As the Red Sox and especially the Yankees improved dramatically, the Blue Jays basically stood pat. They made some small moves, but nothing like what the others did. Last year the team won only 76 games in a truly dismal year. But the biggest issue was that they couldn't stay healthy - especially in the rotation. Things got so ridiculous that they almost had to pull fans out of the stands to start games. They had good pitchers, but they weren't getting to use them. If they have much better luck on that front this year then they could be in surprisingly decent shape. The roster isn't ideal, but Josh Donaldson is still a superstar, and he's playing for a new contract next year. And there is some nice young talent on its way as well. The Yankees and Red Sox are tough to play against, but the Rays and Orioles are actively bad, so the division is a bit of a wash. There is some decent upside here.
Chicago White Sox (68): At the risk of sounding like a broken record, this is the same situation as the Braves and the Padres - they have a ridiculously good farm system built by years of disappointment, and at some point that effort should all pay off. The AL Central is top heavy with the truly elite Indians and the previously discussed Twins. But the Tigers and Royals are bad, so there are divisional games to be won. Again, it's probably a year or two too soon, but at some point this team will get back on track.
Doc's Sports has had a winning tradition for more than four decades. Don't believe us? Try us out for free, and we are convinced you will be a believer. Get $60 worth of free sports picks - members' picks just like our paying clients get - here .
Read more articles by Trevor Whenham