MLB Betting Trends: Totals Report for Hot Over and Under Teams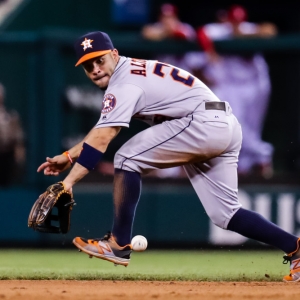 The four best records in baseball are all American League teams. The National League is showing a lot of parity so far this season. The teams who were expected to be at the top of the National League have struggled at least compared to expectations. The Cubs, Dodgers, and Nationals have disappointed thus far. The Dodgers and Nationals have been really banged up. The Cubs pitching staff and defense have underachieved. We're almost exactly halfway through the regular season. Still plenty of time for some major changes in the standings.
Doc's Sports has done an MLB Totals Trends report in the past, and we'll be doing it again this season. This will be a bi-weekly article here on the site. We'll highlight the Top Five 'Over' and the Top Five 'Under' teams in the last couple weeks. The MLB season is the ultimate long grind, and it is probably the single best sport to try to find a team on a streak and back that trend for a while. Hitting can be contagious both in a good and bad way, and that can lead to some major streaks. We'll try to find some value in the totals market through this report throughout the season.
What does the totals picture look like as a whole so far this year? The under is 600-546 (52.36 percent unders) overall. Extra inning games are 54-46 to the under.
The numbers below are for games played from June 12 through June 27.
Top Five 'Over' Teams (Over Listed First)
1. Oakland Athletics (12-3) Oakland has been on the road a lot of late, and all year they have hit much better away from home. Oakland starts a long stretch of home games this weekend. The Athletics have the second worst team batting average (.223) in baseball in their home games. On the road, Oakland has the third best batting average in the majors at .265. Oakland is first in home runs in road games with 72. The second most in the majors is 60.
2. Houston Astros (10-5) The Astros are averaging 5.20 runs per game on the season. Houston is allowing 2.85 runs per game on the year. This is still the team to beat, in my opinion, and they have been flexing their muscles on offense of late. Houston is first in team batting average at .283 in the last 15 days. The Astros are a tricky team to bet totals on, because their pitching staff is so amazing as well. Expect them to alternate between over streaks and under streaks the rest of the way.
3. Los Angeles Angels (9-3-2) The Angels pitching staff has been decimated by injuries. Shohei Ohtani, Garrett Richards, Alex Meyer, Matt Shoemaker, Nick Tropeano, and John Lamb are all starting pitchers out of action right now for the Angels. The bullpen isn't much healthier. Since June 10 alone, the Angels staff has allowed six runs or more on nine occasions. This team looked like it had a chance in the American League West, but injuries are sinking them.
4. Colorado Rockies (10-5) The Colorado Rockies bullpen has imploded in the last few weeks. In their last 15 games, the Rockies bullpen has an ERA of 7.56. They have suffered some injuries, and their starters haven't gone deep in nearly enough games. This bullpen is badly worn down. The Rockies have allowed eight runs or more 12 times in the month of June. I'd be very cautious with unders here until something changes.
5. Miami Marlins (9-5-1) Here's a case of the number finally getting low enough consistently that there is value on the over. The Marlins are still a bad offense, but they have been slightly less inept on offense of late. Keep an eye on the injury to J.T. Realmuto. He's a key piece for this offense.
Top Five 'Under' Teams (Under Listed First)
1. New York Yankees (14-2) The New York Yankees have been an absolute under machine for several weeks in a row. The under is 21-4 in the Yankees last 25 games. In the last 30 days, the Yankees bullpen has an eye-popping ERA of only 0.93. The Yankees host the Red Sox in a battle of two elite teams this weekend. Let's see what kind of numbers the oddsmakers put on the totals of those contests.
2. Tampa Bay Rays (11-3) Tampa Bay's offense isn't very good, but there are a couple signs they should bounce back some in the coming weeks. Tampa Bay has the lowest batting average in the majors with men in scoring position. They also have the lowest batting average on balls in play in high leverage spots at only .249. We should see some positive regression in that area.
3. San Diego Padres (11-4) The Padres have quite a few talented youngsters that are out of the lineup right now. San Diego still has a top five bullpen, which can help keep many of their games very low scoring. This team might trade away some key bullpen assets in the weeks ahead, so be ready to adjust their totals if needed.
4. Kansas City Royals (9-5) In the last 30 days, the Kansas City Royals team batting average is .200. The second-worst team batting average in baseball during that time period is the Mets at .212. Here's another team that is hard for me to judge on totals, because their bullpen is so bad they can really give up a lot of runs late in games. The under is 46-30-4 in the Royals 80 games so far this year.
5. Los Angeles Dodgers (9-5) The Dodgers have gotten much better pitching in recent weeks. That has led them to second in the NL West, and they are well within striking distance. This team is actually playing pretty well right now considering how many key guys they are missing. The Dodgers have an important series at home this weekend against the Rockies. The Dodgers schedule overall is fairly easy in the next couple weeks, so they'll need to put together a nice run during that period.
Doc's Sports has a great offer for new clients. You can get $60 worth of picks from any expert handicapper for any sport he handicaps. Get $60 worth of premium members' picks free .
Read more articles by Aaron Smith