MLB Futures Betting Odds and Expert Picks: Judge v Stanton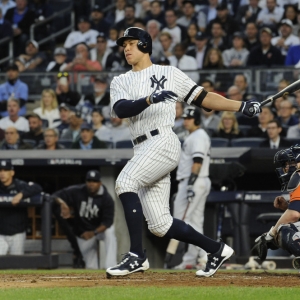 It had been 16 years since we had seen a power hitter have a year like Giancarlo Stanton had for the Marlins last year when he hit 59 home runs. And Aaron Judge's breakout rookie year with 52 homers was no less impressive. They were the undisputed home run kings last year - J.D. Martinez was third in the league but had seven fewer than Judge.
But now Stanton and Judge are not only friendly rivals for power supremacy but also teammates. Because money has no real meaning in New York, the Yankees added Stanton and his massive payroll and gave up surprisingly little in return. We know, then, that New York is going to be just a terrible place for opposing hitters to play. It's a favorable hitter's park, and with these two guys in the lineup - not to mention Gary Sanchez, who hit 33 home runs, and Didi Gregorius, who had 25 - there won't be a lot of ways for opposing pitchers to avoid trouble and pitch around big bats.
Inevitably, as the two guys get ready to play together there have been a number of prop bets that have popped up comparing them and what they might do. Here's a look at the four most interesting ( source: BetOnline ):
Most home runs - Stanton (-160), Judge (+140): Stanton had 59 last year. It was by far the biggest total of his career, but the 159 games he had played was also his best by a wide margin. He had averaged just 96 games per season the previous two years. He had averaged 27 home runs those two years, which is a pace of 45 on a full season.
He's 28, so he is right in his prime. There are obvious causes for concern, though - his health, the pressure of playing in the most intense media market in the league after playing in the market that baseball forgot for years, having to adapt to a new league and new pitchers, and so on. But he also moves from the 24th-best park for right-handed power to the third, and he is in a lineup that is much more able to protect him. If he could exactly replicate last year's effort he could probably hit more than 60 home runs. Even if he doesn't do that, though, he has a good look at a very high number and is deserving of his status as favorite to lead the league.
Judge, meanwhile, erupted for 52 homers as a rookie. Most impressive to me was that he did hit a rough spot after the Home Run Derby when he looked very mortal. He was able to shake it off, though, and that shows toughness and staying power. It's very tough to know how a guy will bounce back from a rookie year like that because we have seen so few like it. And pitchers will know more about him and how to make him miss. He's the physical prototype of a power hitter, though, and he's still so young that he's learning every day.
Stanton should be favored here, but at this price I don't completely hate a bet on Judge.
Most strikeouts - Judge (-350), Stanton (+290): This is as big of a mismatch as the price suggests. Judge, who has never met a pitch he won't swing at, led the majors with 208 strikeouts. Stanton was far behind at 163 and has a career high of 170. Judge should hopefully mature a bit as a hitter, and Stanton likely won't be pitched around quite as much, but still this gap is so big that Judge is a favorite at least as overwhelming as the price suggests. If anything there is still a little value in the favorite.
Combined strikeouts ("over/under" 327.5): This one is interesting and currently wide open - both sides are at -115. Last year they combined for 371 strikeouts, so they would have to improve by 44 to go under. That's a lot, but it is far from impossible. Stanton isn't likely to go down too much - his 163 last year was within his range, and he'll likely see more pitches this year. So he should be somewhere between 150 and 170. That means that Judge needs to fall between 157 and 177. I just don't see it. He should - and had better - improve. But We're talking an improvement of at least 31 strikeouts, which is about a 15 percent improvement. That's too much to bet on at this price.
Combined home runs (over/under 87.5): This one is very interesting. The two guys combined for 111 bombs last year, and they both have upside - Judge is still young, and Stanton is moving to a more favorable park. Yet the total is set at just 87.5 - an average of just under 44 each - and the under is favored at -120. I'd certainly take a shot at the over at this price - quite comfortably. The floor for a healthy Stanton has to be around 50. That leaves 38 for Judge, which is reasonable even with a bit of a step back to earth given his size, strength and hitting approach.
Get free picks from any Doc's Sports handicapper - there is no obligation for this offer and no credit card required. Just sign up for an account, and you can use the $60 in free picks for any Doc's Sports expert handicapper and any sport. Get $60 worth of premium members' picks free .
Read more articles by Trevor Whenham