2018 Rebel Stakes Picks with Odds and Expert Betting Predictions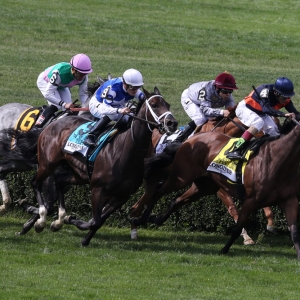 The Triple Crown trail this year so far is, to be frank, pissing me off. Horse after horse has fallen flat when given a great opportunity to establish themselves. The only prep race that has been any good was the San Felipe last weekend, and it was marred by a truly moronic disqualification of the winner. And as good as McKinzie and Bolt d'Oro looked in that race, they dueled so hard against each other that they very likely set themselves up to take a step back in their final prep race.
The one horse who has been flawless so far makes my head hurt worse than the rest. Justify has run twice, and he absolutely dominated both times. His last race, an allowance win on Sunday, was the best thing we've seen from a three-year-old this year - and it's not even close. And the horse is in great hands, with Mike Smith riding for Bob Baffert. But he didn't debut until he was three, and no horse since Apollo in 1886 has won the Derby without at least one race as a two-year-old. And he hasn't even made his stakes debut and won't until his final race before the Derby.
Some three-year-old classes are really easy to love at this point in the year. This is not one of them. Last year's class started out just as bad and never really turned a corner, so we deserved better this year.
At least the Rebel is a great race. In fact, since 2004 it has been as important as any race on the prep calendar. That year Smarty Jones won it before winning the Derby and Preakness. And Triple Crown winner American Pharoah used the Rebel as a launch pad to his spot in history, too. In between that there were winners including Preakness winners Curlin and Lookin' at Lucky, future champions Lawyer Ron and Will Take Charge, and current older male contender Hoppertunity. Sharp readers will note that three of those horses were trained by Bob Baffert. He has won this race six times in the last eight runnings, so it is no surprise that he has the favorite again here.
But it won't be a cakewalk.
Todd Pletcher won it last year and is back with a live one. The Legend himself, D. Wayne Lukas, won his second Rebel with Will Take Charge, and he has the second choice here. Steve Asmussen, who won his third Rebel with Curlin, has three entered. It's an impressive field in terms of both trainers and jockeys. Now let's just hope that the horses hold up their end of the bargain. (Horse, Jockey, Trainer, Track Odds)
Solomini, Flavien Prat, Bob Baffert (5/2): Baffert will, above all, just hope to avoid a disqualification. This horse was disqualified after winning his last start in December. And McKinzie, who won the race when Solomini was knocked down, is another Baffert horse who was disqualified in the San Felipe. Neither disqualification was particularly legitimate, so maybe Baffert is due for some karma. This son of Curlin is coming off a long layoff - concerningly long - but he showed quality last year. He wasn't quite good enough, though - losing to first Bolt d'Oro and the to Good Magic in the Breeders' Cup Juvenile. He had the same ownership as American Pharoah, so he gets good vibes here from that. And he has looked very good recently in workouts.
I'm a believer in this spot, but then not at least acknowledging the strength of a Baffert runner in the Rebel would just be reckless.
Sporting Chance, John Velazquez, D. Wayne Lukas (3/1): This horse is brilliantly bred for the Derby distance - a son of Tiznow out of a Candy Ride mare. But that pedigree and his obvious talent has been clouded at times in his career by his performances. He won the Hopeful last year, but he almost didn't when he took a near-90 degree turn near the finish line when he spooked. And in the Southwest this year he had the race won in all likelihood, but he reacted very badly to a threatening pass by Combatant, who he will see here. As much as I like the breeding, I don't trust him yet, though a big performance could change that.
Magnum Moon, Luis Saez, Todd Pletcher (4/1): As was the case with Justify, who we discussed at the outset, Magnum Moon did not run at two, so he is looking to overcome the Curse of Apollo. He has won both of his races, but this is his stakes debut and his first race was only on Jan. 13. You shouldn't be scared because of that - Pletcher won last year with Malagacy, who came into this race with an identical profile. He's working well, but I am not convinced he is worth this price. Actual, I'm quite convinced he's not
Curlin's Honor, Florent Geroux, Mark Casse (6/1): The second son of Curlin in the field, this horse is unbeaten in two starts. Neither was in stakes, though, and both were at sprint distances, so this Casse trainee will have to prove he can stretch out. With these connections, though, I would be all over him in my exotics at anything close to this price. There are a lot of ideas I like less than the Curlin exacta in this one.
Combatant, Ricardo Santana Jr., Steve Asmussen (12/1): This horse has made an art of being not quite good enough - he has finished second in each of his last three prep races. There are excuses here and there - a muddy track with a big rail bias that the winner took advantage of last time, for example. But the fact remains that he needs to be much better than he has been.
Title Ready, Jose Ortiz, Steve Asmussen (15/1): Perhaps most notably, this horse is out of a mare by Monarchos, the least deserving Kentucky Derby winner we have ever had. It doesn't mean anything, but he isn't exactly dominant in the breeding shed, so we don't see that too much. This is another making his stakes debut, though he has five races and two wins to his credit. He won last time out at this distance on this track, which is a big plus. But I just feel like the step up is too much to ask. I'd use him in the bottom of the tri given the price and the connections, but not more than that.
Raphael Esparza jumps back on the saddle for another big Saturday in horse racing and this Saturday he will have not one, but two 'Road to the Kentucky Derby' prep races. Last Saturday at Aqueduct Park and San Anita Park Esparza had a winning day for the ponies, and this Saturday he looks for more horse racing winners. Last year Esparza had a monster horse racing season, cashing for more than $2,800, and he had winning days in the Kentucky Derby, Preakness, and Belmont Stakes. Esparza's $35 Saturday Horse Racing Picks will feature the Rebel Stakes at Oaklawn Park and the Jeff Ruby Stakes at Turfway Park. Throw in that Esparza has had more than 20 years of horse racing betting experience, and the next four months he will put extra money in your wallets.
Read more articles by Trevor Whenham