2018 Super Bowl Betting Advice: Handicapping the Quarterbacks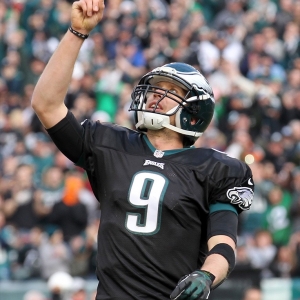 After a battle of the quarterback titans in the Super Bowl last year, we've got more of a David and Goliath situation here. Tom Brady has established himself as the greatest QB of all time, and even if you don't like him you would struggle to argue against that. Nick Foles, meanwhile, had one magical season in 2013 and has struggled badly in his attempt to recapture that magic since then. Now he is making just his fourth career playoff start, and playing in by far the biggest game he has ever played in, while Brady has just made an annual tradition of playing in the Super Bowl. This QB matchup is going to be a big factor in this game - it always is - so it only makes sense to compare the two guys from a few different angles:
Age: There is obviously a big age gap here. Tom Brady turned 40 in August, while Nick Foles turned 29 the day before the NFC Championship. What's interesting, though, is that wide age gaps have been the norm the last four years, and this isn't even the widest. Brady was 11 years older than Russell Wilson when they met and eight years older than Matt Ryan last year. But that's all much smaller than the gap between Peyton Manning and Cam Newton two years back - those two were separated by 13 years. For what it's worth, the older quarterback has won in each case.
Big game experience: Again, there is a massive gap here between the two guys. We don't need to spend too much time dwelling on Brady because we know the numbers - five Super Bowl wins, two more Super Bowl losses, 12 AFC Championship Games, and on and on. There has never been a guy with more big-game experience at his position, and with another win here there won't be another guy with his experience at all. Foles, meanwhile, has played just three career playoff games - with two of them coming in the last three weeks. He's in very new territory here. What strikes you when you look at what he has done in the past, though, is that the guy has performed well in his limited playoff experiences. He has completed a combined 75 percent of his passes for a very nice average of 8.3 yards per attempt, and he has thrown five touchdown passes without a pick. Not only are those numbers dramatically better than his regular-season totals, but if he could keep that level of production up for a few years he'd get himself a ticket to Canton. Foles clearly likes the playoffs, but obviously not like Brady does.
College: Foles committed to Michigan State after high school but lasted there for only one year before transferring because his way to playing time there was blocked by starter, and current Patriot backup, Brian Hoyer and current Washington QB Kirk Cousins. He went to Arizona and wound up starting after a redshirt year. He improved each year there, and his numbers as a senior in 2011 were excellent - good enough to make him a third-round pick. It was a solid college career. Brady, meanwhile, backed up Brian Griese at Michigan for two years, and the team won a national title when he was a sophomore. The next year Brady beat out Drew Henson for the starting job. There is a storyline out there that Brady wasn't much of a college QB, which makes his success as an NFLer such a surprise. That's a stretch. He was 20-5 in two seasons starting, and he won the Citrus Bowl and Orange Bowl to show that his big game chops started early.
Draft: There is a clear edge here for Foles. Brady was famously a sixth-rounder and the seventh QB off the board in his draft year. Chad Pennington was the first off the board, and non-factors like Giovanni Carmazzi and Spergon Wynn also went before him. Oops. Foles, meanwhile, went in the third round, but like Brady he was also the seventh QB off the board. It was a far more impressive draft class than Brady's, though, with Andrew Luck being the top pick, and Ryan Tannehill and Russell Wilson also going ahead of him. Foles must have enjoyed that after leaving Michigan State to avoid Kirk Cousins that he wound up going a round before the Michigan State star.
Chemistry: Brady has incredible chemistry with Rob Gronkowski - teams know that the two are going to connect, but they can't do anything about it. And he has had reasonably strong connection with Brandin Cooks. What he hasn't really had this year, though, is the reliable receiver he knows he can always find - the role that Wes Welker long filled and Julian Edelman has now until he was injured this year. In the playoffs, though, Danny Amendola has definitely seen his usage and trust increase. Part of what hurt Foles early on as starter was that he seemed to neither fit the Philly offense as it was built for Wentz nor have strong chemistry with anyone on offense. And in the playoffs it has been a pretty democratic distribution of the ball for Foles - no receiver has stood out as a favorite. That could be viewed as a positive, though - it's tougher to defend when there is no obvious target.
Relationship with coach: At this point I think we can say that Brady-Belichick is the greatest marriage of coach and player ever. Jordan and Jackson would have an obvious claim, but it's easier to win with dominance in the NBA than the NFL. There are all sorts of reports about what the future holds for these two, and very trusted offensive coordinator Josh McDaniels is about to be gone as well. That's all the future though, and all three guys will worry about that later. It's all about this game now. Foles and Doug Pederson don't have that relationship - obviously. Foles was brought in as a reasonably-priced veteran backup this year, and Pederson ideally would never have played him. On the plus side, as mostly a career backup himself Pederson can relate to what Foles is going through better than most.
ATS performance: Brady was a very strong 11-5 ATS on the season - a strong mark for a team as public as this one. He has gone 1-1 ATS in the postseason. Foles has had five starts, but we'll only consider four - He only made a brief appearance in the season finale against the Cowboys, and Nate Sudfeld really played the bulk of the game. That was the plan going into the game, so the fact they didn't cover the spread wasn't really his fault. The Eagles were 0-2 ATS under Foles in the regular season, but they have gone 2-0 ATS in the playoffs.
Want free sports betting picks? Doc's Sports has you covered - get $60 worth of picks free from any of Doc's Sports expert handicappers. Get $60 worth of premium members' picks free .
Read more articles by Trevor Whenham