Cincinnati Reds' Roster Overhaul Hasn't Provided Betting Profits… Yet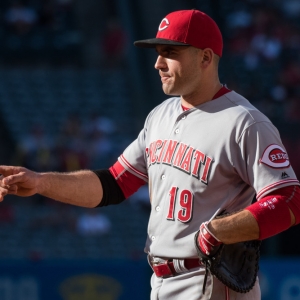 The Cincinnati Reds were a very interesting team heading into this season. At least as interesting as a team can be that really doesn't have a great chance of finishing above .500. They were pretty aggressive in overhauling their roster, and they had made some interesting moves. They won only 67 games last year, but their win total was set at 79.5 entering this season. And at 26-30 they are at a point where it could still go either way. It is a good time to check in with this team from a few different angles and see what we might expect from them the rest of the way this year:
Defense: Heading into the season, the one thing that stood out was the rotation. I don't often look back on things I wrote in the past, but I did in this case. A sentence stuck out when I wrote that there was some value here - 'And I really like the rotation - or at least the potential of it.'. I'm not saying it was profound, and it certainly isn't a poetic sentence, but that potential has been mostly fully realized so far. The Reds have allowed 213 runs through 56 games - just short of four per game. That is tops in the National League, and only the stellar Astros and the surprisingly stingy Rays, who are by far the best in that regard to this point, can boast better in the whole league. Luis Castillo is pitching like a full-on ace. Sonny Gray is only 2-4, but his underlying numbers are better than that, and he looks reborn after escaping New York. It has been a really solid start for a blue-collar rotation, and the bullpen behind them. What is perhaps most promising, as well, is that as you look at what they have done it all feels pretty sustainable - with perhaps the exception of Castillo, who has been at the top end of expectations and may falter somewhat, as he has in his last two outings. These are not guys who are pitching way over their heads. They are just going about their jobs, being the journeymen that they are. And it's working.
Trade deadline: One of the things that made this team so interesting heading into the season - at least among sports nerds who have way too much time to think about such things - was the number of one-year contracts they had. Yasiel Puig, who they picked up in a trade, was atop that list, but guys like Jose Iglesias, Tanner Roark, Scooter Gennett, David Hernandez, and Alex Wood also fit in that category. And they have a couple of guys signed longer who are more productive than the very modest salaries they are signed to as well. The point is that there are a lot of guys who they could easily deal at the trade deadline if they choose to, and they could probably come out of it quite well.
Sometimes GMs sign a lot of one-year deals because they are in transition and they want to figure out where they are at before making commitments. And sometimes they do it with an eye to the deadline. There are few low-risk investments in sports that can pay off as handsomely as a one-year deal on a guy who plays pretty well into July. We don't yet truly know how the front office is leaning. They could go into full fire sale mode, though that doesn't seem likely. But they are likely to make a few moves. And depending on how that talk develops, and how the players involve handle it, that could be a distraction that could be a problem. On top of that, these kind of deals rarely deliver return help in the short term, so watching the approach over the next two months will have a huge impact on how we deal with this team in the finals weeks of the season.
Joey Votto: Votto is a very easy player to like and has been pretty much the face of this largely unremarkable franchise for a long while now. But he has been just a shadow of himself this year. He has started 47 games and appeared in 50, but he has only 10 RBIs and four home runs. That's pedestrian for anyone, never mind a slugger of his caliber. What has been most striking is that he isn't getting on base. He has long been an OBP savant, and it was all but guaranteed that he was leading his team in that stat. We didn't have to look. But this year his on-base percentage is just .340, which is by far the lowest of his career, and way under the .424 career mark he has had. And while he has had a couple of better games of late, his mark in May is only .324.
Votto is 35, so the decline inevitably brings up whispers about whether he is nearing his end. I'm not ready to write him off just yet - us Canadians get feistier as we get older - but it is a real problem and one to keep an eye on going forward. If June isn't a marked improvement over May, then it may just be time to find that panic button.
Betting performance: This is ultimately what most of us care about most when it comes to mostly forgettable teams like this one. And the news isn't great. They have been just short of a breakeven team overall, generating small losses on the season both at home and on the road. And they have been particularly disastrous in getaway games, dropping five of their last six. They are still obviously useful is spots - the numbers aren't a total disaster. But they are a long way from consistently reliable. The one bright spot has been the total, as bettors seem not to have fully embraced the realities of their pitching staff. They have gone "under" the total 32 times and "over" just 22. That is good for some solid profits.
Read more articles by Trevor Whenham