Expert MLB Handicapping: Boston Red Sox Surging After Slow Start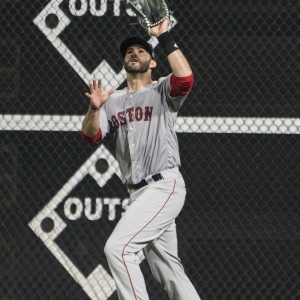 I surely am not the only person out there who has enjoyed watching the Boston Red Sox struggle out of the gate. I don't think it could happen to a more deserving team. Maybe the Yankees. Or the Dodgers. I guess I just don't like iconic baseball teams much - though I have no issues with the Cubs. However, the Red Sox are playing much better of late than they were out of the gate. As bettors, and pushing aside personal preferences, the goal has to be figure out what the team is going to do the rest of the way and how to maximize our betting return. Here's a look at the team from five different angles in an attempt to gain some insight into what is happening and what the future could hold:
White House debacle: I don't want anything to do with the politics of the situation, but the facts are that on Thursday the Red Sox went to the White House to celebrate their World Series victory, and largely only the white players on the rosters attended. Manager Alex Cora was the most vocal of those who did not attend. It was a storyline that was heavily covered by the media for obvious reasons, and there is little chance that it didn't become an issue of sorts in the clubhouse - at least below the surface if not overtly. The clear splits along racial and cultural lines could easily become an issue later on - especially if the team doesn't get back in full stride. It's something worth keeping an eye on - and yet another case where politics and sports increasingly seem determined to smash into each other. This isn't one of those things that will be obviously blamed for any given loss, of course. But chemistry is so often the difference for teams, and this could get in the way of that.
Illusion of recent schedule: The storyline of late is that the team has found their stride again and is back on track. A record of 10-4 in their last 16 is certainly much better than they were doing out of the gate. When you look a little bit closer, though, the story doesn't hold up. Over this stretch they have beaten Detroit twice - after losing two to them - along with three over a struggling Oakland, three of four against a White Sox team that is a few years away from relevance, and two of three against a Baltimore team so bad you can catch a whiff of their stink all the way in Omaha. The only good, in-form team that they have played over this stretch is the Rays, and they dropped both games. Good teams have to beat bad teams, so this could certainly be worse. But it is very hard to look at what has happened over the last couple of weeks and feel like everything is suddenly okay. They face Seattle and Colorado next, so the good times could keep rolling. But between the end of the Colorado two-game series on May 15 and June 2, they face Houston six times, the Yankees four, and Cleveland three, with only four in Toronto providing any relief. Take to me early in June if this team is still rolling, and I'll be far more likely to buy into the resurgence than I am now.
Pitching: Chris Sale has been better in his last two starts - much more like we expect from him - but it has come against Baltimore and the White Sox, so again we need to see it happen against Major League teams before we buy in - it's like he has been on a Triple-A rehab stint the last two outings. David Price has been better generally than Sale, but he has found himself on the DL yet again, and that has to create nightmares for anyone who has been watching him since arriving in Boston. I could go on, but it just gets depressing. The fact is, though, that a team that was expecting to be led by its pitching has instead been forced to carry the staff far too often - and they haven't been able to.
Year after past titles: Last year was the fourth time since 2004 that the Red Sox have won the title. That's a fact that will be hard enough to swallow by itself for many. There isn't too much to learn from what happened the next year, though. In 2005 and 2008, they largely replicated their regular seasons from the year before, falling by just three and one wins. And they made the playoffs both times, winning on round combined. But in 2014 they fell off a cliff, driven by roster turnover, as they won only 71 games. Last year they were by far the best they have been in a World Series year, with 108 wins. And right now, they are on pace to win 81. The story of this season is still very much waiting to be written, but it is a long way from guaranteed that they are going to even get a chance to defend their title in the postseason.
Betting performance: The Red Sox, not surprisingly, are a long, long way from profitable over the season. Only the Nationals have burned more money for bettors. The Red Sox have been equally disastrous at home and on the road, so there hasn't really been a bright spot. When a team this public disappoints this much, big losses are inevitable. And beating up awful teams lately doesn't help bettors much since the Red Sox are heavily favored in most of these games by virtue of who they are.
Read more articles by Trevor Whenham