Handicapping the NBA Buyout Market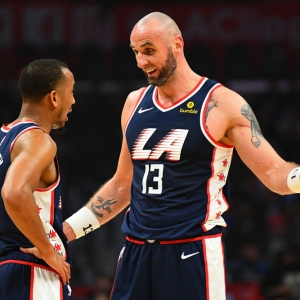 The NBA, in so many ways, is a league that is more interesting off the court than on it. It's not that the games are boring. It's just that the off-court drama is so fascinating and often crazy. Just this past week, for example, we had the trade deadline, and that gave way to the craziness of the all-star draft, and now we are into the bizarreness of the buyout market. Buyouts have been a much bigger deal lately as contenders look to fill out their rosters and address needs in ways they can afford, and players are more empowered to seek their own path than ever. Our job here today is simple - to look at the potential buyout players who could be important for bettors down the stretch this year. Things have gotten off to a good start with Wayne Ellington landing in Detroit, Jeremy Lin reportedly heading towards an incredibly massive upgrade going from Atlanta to Toronto, and Nik Stauskas heading to Cleveland after being traded about a million times last week. But there is lots left that could still happen:
Carmelo Anthony: It didn't work with the Knicks. The Thunder wasn't a fit. It was awful with the Rockets. At this point it is clearly an issue with Melo and his inability to accept a role that doesn't see him as top banana. But some team is going to sign him anyway. And it isn't going to work. It is inevitable as it is doomed. He could wind up with the Lakers, which seems ideal - that's a team that doesn't have any drama around it at all so they could use a veteran who isn't always easy to be around.
Marcin Gortat: Gortat started 43 games for the Clippers this year. So, despite being 34-years-old and of a style that isn't always a fit with the current league, the European will have suitors. He can be useful. He's really tough, and he can screen with the best of them. He doesn't have a lot of range, but he is reliable within his limited range, and he could land with a contender. The Warriors are looking for a center, and Gortat will be in play.
Frank Kaminsky: This is one of those guys that is so confusing. In college he seemed like a future superstar. He was a massive, reasonably athletic guy who can shoot from outside. He seemed like he couldn't miss. And he started out strong. But he has faded badly and hasn't been a big factor in Charlotte lately - and it shouldn't be that tough to be a factor in Charlotte. He'll likely be available, though he won't be as in demand as other bigs because while he can shoot, he doesn't do much else well.
Enes Kanter: Kanter is a guy who was playing with the Knicks and has some game, so he obviously had to go. There are some big issues - he couldn't defend a muppet in a straitjacket, and he's not a passer. But he can rebound, and as a second center for a contender he would bring some things to a table.
Robin Lopez: Yet another big man in a market soaked with them this year. Lopez wants out of Chicago - obviously. The Bulls are a mess. But Chicago as of yet hasn't been willing to waive him. He would be in demand because he rebounds well, defends well, and is a solid second choice for a contender. He wants to go to Golden State, and he would fit in Toronto as well.
Markieff Morris: Morris was traded at the deadline and then waived by New Orleans. He must be very relieved to be out of the mess that is the Wizards. I think he could be the gem of the buyout group this year. He's dealing with a neck injury, so his new team will have to be patient. But he can play the four or five, he scores well, and he can be trusted to play big minutes. His versatility will have him in demand. He feels like another guy who would fit in Toronto, and the Lakers reportedly have interest as well.
Greg Monroe: Monroe is only 28-years-old. I honestly don't know how that is possible - it feels like he has been in the league for three decades. He was with Toronto and just couldn't find a role in that roster. The big man has been more useful in other spots lately, though he struggles to find a role anywhere - he joined Toronto this year after playing for three different teams last year. The depth of the big man market works against him, but someone will add him for depth. The arms race that has become the top of the East seems like a good spot, as his knowledge of Toronto could be seen as an asset for a team that could run into them.
Read more articles by Trevor Whenham