Handicapping the Super Bowl Quarterbacks: Brady vs. Goff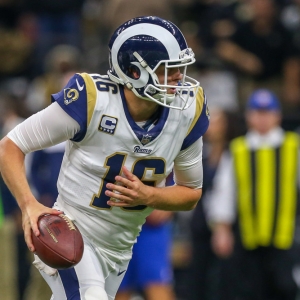 When it comes to comparing the two starting quarterbacks in the Super Bowl this year, we are going to hear a lot about two things - age and experience. And those are unquestionably big factors. But we can't just stop at those two things when comparing the two and handicapping their chances of hoisting the trophy. We need to go deeper to find an edge in this game.
Before we do that, though, let's talk about the age for a second because the difference is amazing. When Goff was born in 1994 - less than 50 miles from where Brady was born, incidentally - Brady had just taken over as the starter of his varsity team as a high school junior. He did enough to get the attention of Michigan, and the rest, as they say, is history. By the time Goff broke into the league, Brady was older than most guys in the league now and had already won four Super Bowls and two MVP awards. You could state the differences in age and experience a million different ways, but you really couldn't overstate them. One of these guys is just at the beginning of his career - and so is the other, if you ask him.
But enough of the age thing. Let's compare these two guys in a few different ways to see what we can learn.
The stats this year
Goff has the edge in raw numbers. He threw for 4,688 yards compared to 4,355 for Brady. He had 32 touchdown passes, which was three more than the old man. He did throw one more interception, and attempted nine fewer passes, but that's not a significant difference. Goff also managed 8.4 yards per attempt - a very solid number - compared to a respectable 7.6 for Brady. Goff was at the helm of the second-best scoring offense in the league, and Brady's Patriots were fourth, so both guys put up numbers. Where Brady does have an edge is in completion percentage - 65.8 to 64.9. Brady also protects the ball better. Goff fumbled nine times this year. Brady hasn't lost more than six fumbles in a year since 2006, and he lost only four this year. While Goff was a little more productive in some ways, the cumulative stats favor Brady slightly when you add it all up. Using QBR, for example, Brady had a 70.6 to 66 rating. But all in all, there isn't a ton to separate the two.
If you look at the playoffs, though, you get a different story. Brady has significant edges in yards, completion percentage, yards per attempt and QBR. The only place they are comparable so far is TD-interception ratio. Goff has one of each, and Brady has two of each. But the most important thing, of course, is that both guys have won enough to get here - they would trade all the numbers they have ever amassed for that.
Consistency
Brady had a season high of 358 yards and had five games of more than 300 yards in the regular season. Goff had eight 300 yard games and a high of 465 yards. It's worth noting, though, that seven of those eight 300-yard games came in the first 11 games of the season, so Goff has certainly cooled down. Brady has also gone for more than 300 yards in both playoff games, while Goff has not eclipsed the number yet. On the bottom end, Brady had two games with fewer than 200 yards, and only three below 250. He also had only one game in which he threw more picks than touchdowns. Goff also had two games below 200 but also had five more below 250. And he had four regular-season games with the wrong kind of TD-interception ratio. So, while Goff's highs were higher, his lows were lower, and it was tougher to trust what you were going to get from him. Also of concern is that Goff went under the 250 mark in four of his last five regular-season games, including a truly horrid effort against the Bears, and also was below 200 in his playoff opener. He is not coming into this game anywhere near his best.
Betting performance
This is a clear win for Brady, as there were two roads to profit for him and none for Goff and the Rams. The Patriots were 9-7 ATS, which means that backers came out on top over the long term. And they went "under" the total 11 times in 16 games, which makes them the second-most-profitable total team in the league behind only Denver (3-12-1). The Rams, meanwhile, didn't cost long-term bettors too much money, but they didn't make any, either. They were 7-8-1 ATS on the season and were 8-8 on the totals.
Want free NFL Super Bowl picks? Doc's has you covered. New clients can take advantage of this great offer of $60 in free Doc's Sports members' picks for any handicapper on Doc's Expert Handicapper list. Just check out these guys' pages and see what great work they have done making money for themselves and their clients over the years. Get $60 worth of premium members' picks free .
Read more articles by Trevor Whenham