2019 San Vicente and Sam F Davis Free Picks with Odds and Betting Predictions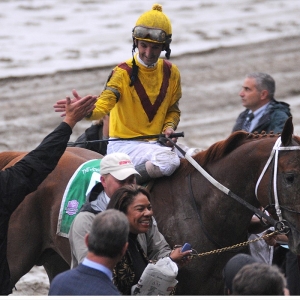 There is only one race this weekend that offers points towards a berth in the Kentucky Derby - the Sam F. Davis Stakes at Tampa Bay Downs on Saturday. But the San Vicente Stakes at Santa Anita, while technically not a Derby prep, is quite possibly the more interesting race. And it is quite capable of being relevant in May - in 2016 both Derby winner Nyquist and Preakness winner Exaggerator were in the race. There is a decent chance that both races will feature horses that could wind up in the Derby starting gate, so it only makes sense that we look at both now.
Sam F. Davis Stakes
This race has been known more for producing horses that frustrate and burn money in the Triple Crown than anything else. 2006 winner Bluegrass Cat was second in both the Derby and the Belmont. Since then Davis winners like Any Given Saturday, General Quarters, Destin and McCraken have been good enough to capture imaginations but not good enough to deliver when it matters.
This year's favorite, Knicks Go, at 6/5 on the morning line, is a tough horse to figure out. Last year he was the stunning winner of the Breeders' Futurity at Keeneland, delivering at 70/1. It felt pretty easy to write that off as a fluke, but he came back to finish second in the Breeders' Cup Juvenile behind two-year-old champ Game Winner. Just when we started believing in him, though, he came out and laid a massive egg in his finale at two in the Kentucky Jockey Club Stakes, finishing 11th in an impossibly slow effort. So, was the problem the quick turnaround in that race and the off track? Or did he just run back to the form that made him 70/1 two races back? I'm skeptical at this price.
So Alive, the second choice at 4/1, is noteworthy because he is a Todd Pletcher horse. Pletcher hasn't started to heat up this year, but he tore up the Derby trail last year and always seems to do well in Florida preps. He's a son of Derby winner Super Saver, and a half-brother of last year's Wood Memorial winner Vino Rosso, so he has breeding on his side. And he has beaten winners on this track already. It remains to be seen what he is as he makes his stakes debut here, but I sure like this price better than the favorites'. If he stays close to this price, he'll factor heavily into my selections.
Still Dreaming, 8/1, is a half-brother to Derby winner Nyquist, and could be in the mix here. He trains on this track, so he should be comfortable. The horse I'll be backing primarily, though, is Kentucky WIldcat at 6/1. The son of Tapit looks like a runner, and he has run against very strong competition so far - and looked good doing it. I like the approach they are taking with the horse, and he has trained like he is ready.
San Vicente Stakes
The lack of Derby points should be irrelevant here. The winner of prep races only get 10 Derby points right now. It takes at least twice that to get into the Derby. If a horse has legitimate Derby ambitions, then these points shouldn't really matter. But because of that, or maybe just a lack of ambitious youngsters in California right now, there are only four horses entered. Sad. Pathetic, actually.
This was about the fifth race that was rumored to be the season debut for highly-touted Instagrand, but that is not to be the case. The longer it takes for him to race, the harder it gets to be excited about him. His absence doesn't rob the race of intrigue, though.
It's a race in California, so it is no surprise that it is all about Bob Baffert. His Coliseum (6/5) was very highly-touted heading into his last race, but the horse was a disaster coming out of the gate and never recovered. The beautiful son of Tapit is a basket case, and there is no guarantee he will get the start this time. But they have switched from Joe Talamo to Mike Smith in the saddle, which is about as big of an upgrade as is possible. If anyone can get this horse to run, it is Smith, and the talent is massive. I'm a believer, though the price will be horrible, and given the risk the investment potential is lousy.
The most interesting challenger is the other Baffert horse, Dessman (4/1). He didn't face much in his debut on Jan. 19, but the son of Belmont winner Union Rags crushed the field, winning by 7.5 lengths while exerting seemingly no effort. It was a race that was compared to Justify, because every unimpressive Baffert winner will be for the rest of time. This probably isn't another Justify, but it will be fun to see what he is. If Coliseum doesn't smarten up, this horse can easily take over.
The other horse worth watching is Savagery, though he feels underpriced at 9/5. This Peter Miller trainee was pretty lousy last fall in stakes action, though he was an impressive winner when he shortened up and dropped in class last time out. The seven furlongs of this race suits him, and he will look to wire the field, but I'm just not convinced he's good enough if Baffert's duo shows up.
Read more articles by Trevor Whenham