2019 Super Bowl Betting: Sportsbooks To Deal With Patriots Fatigue?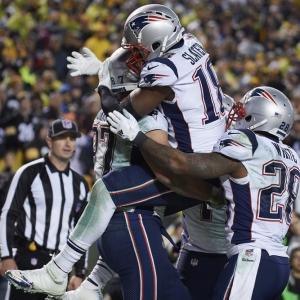 Patriots fatigue is a real thing among bettors and fans right now - and understandably so. This is their third straight Super Bowl appearance, their fourth in five years, and their ninth in the 18 years that Bill Belichick and Tom Brady have led the team. And as much as any team I can remember, there isn't a whole lot of grey area when it comes to this team. You either love, or at least like and respect, what they are doing and who they are, or you hate everything about them with a hatred that burns from the tip of your head to the soles of your feet. If you are positive about the team then you are probably excited about this latest trip to the big game and see it as a positive. But if you hate the team then you are going to really hate having to watch them again, and that fatigue can be a problem for you. It's okay to feel bitter and angry. But what you can't do is let that fatigue get in the way of your handicapping.
I can't make you like the Patriots if you don't. I'm not that good. But what I can do is offer you a couple morsels of thought to deal with this situation.
Not everyone is tired of the team: It would make sense that there would be a widespread feeling that we don't want to see this team anymore. That after seeing them three times in four years we want something else. Anything else. But that doesn't seem to be the case. At least not according to early betting action. Volume has been high, and the bets have overwhelmingly come in on New England so far. That's not how unengaged bettors would react.
There are a few reasons why people aren't as tired of seeing the Patriots as they could be in such a situation. First, the Super Bowls they have played in have often been pretty entertaining to watch. You certainly can't complain about the last three, which is what people will remember most. The crazy Seattle finish. The impossible comeback against Atlanta. And the tight game against Philly. New England brings good games, win or lose. Second, the team is coming off a wildly entertaining AFC Championship Game, where they stared down the top young star in the game and matched him punch for punch. Third, Brady keeps performing at a high level at a very advanced age, and you either really want to see him keep doing it or you want to watch to see him fail. Fourth, outside of Patrick Mahomes, there wasn't another option in the AFC that is nearly as compelling right now as Brady and his march into history. It was a bad year for the conference, so the Pats certainly aren't blocking the way for a great team. Who else would you want to see? And fifth, and most importantly, the Patriots are a massive public team right now. They attract casual fans. They draw big ratings. People care about them.
Your emotions have no impact on the game: This is so important to remember. You can hate the team or love them, but that should have absolutely no impact on how you bet on them. In my own mind I call this the Ohio State rule. I hate the Buckeyes. Everything about them disgusts me. Their coaches are always smug. They cheat. They rarely play entertaining football. They cheat. They are just gross. And I bleed maize and blue. As a fan, I have intense and singular feelings about what is going to happen every year in late November when the Buckeyes and Wolverines meet. But over the last decade I have made good money by betting on the Buckeyes in those games. Depressingly good money. I still hate them, and I still cheer against them with all my heart and soul, but when it comes to chasing the value they have consistently delivered in a big way, so I have detached emotion and bet on them.
So, if you absolutely and total despise Brady and the Patriots, viewing them as cheaters and whiners, but you think that they match up well in this game, then you have to bet them. And, if you love what they have accomplished and how they overcome obstacles and change, but you don't trust them here, then you have to bet against them - no matter how good the Disney movie about a big win here would be.
Media members always say that there is no cheering in the press box. You just can't be a fan up there, no matter what you feel inside. Well, you can't be a fan at the betting window - real or virtual - either. It would be tempting to imagine placing a big bet against the evil empire, winning it, and then smoking a very expensive cigar, lit with a C-note, in celebration. And that fantasy is fine if it does it for you - but it would be stupid to let that fantasy fuel your betting decisions unless your handicapping absolutely justified the bet as well.
Want free NFL Super Bowl picks? Doc's has you covered. New clients can take advantage of this great offer of $60 in free Doc's Sports members' picks for any handicapper on Doc's Expert Handicapper list. Just check out these guys' pages and see what great work they have done making money for themselves and their clients over the years. Get $60 worth of premium members' picks free .
Read more articles by Trevor Whenham