Free MLB Picks Friday 9/11/2020 and Opening Line Report
by Jason Radowitz - 9/10/2020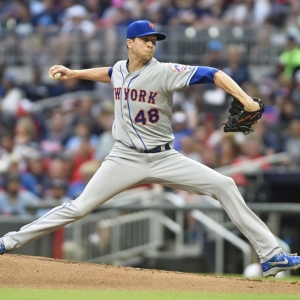 Friday's MLB slate features plenty of new intriguing matchups between many of teams looking to make a run at the playoffs. Then there are other games with teams just trying to figure out who should be on their roster next season. Let the chaos begin! Here are the leans for Friday's pro baseball action.

Mets vs Blue Jays 9/11/20 (+160, 8.5)
The Mets will take on the Blue Jays in Buffalo and will be backed by the NL's best pitcher in Jacob deGrom.

deGrom is 3-1 in eight starts with a 1.69 ERA and a 2 FIP. He's striking out 13.13 batters per nine innings and walking 2.6 batters per nine innings while getting 50 percent of grounders. The Mets have started hitting with deGrom on the mound recently.

On the flip side, Chase Anderson will get the call for Toronto. He doesn't have a single win or loss in six starts but has a 4.94 ERA and a 4.88 FIP. His strikeouts are average, and his walk rate is low. However, he's allowing nearly two home runs per nine innings and has a BABIP of .338.

That Mets lineup can do damage. And with deGrom on the mound, there's no other side to look at.

Key trends: Mets are 5-2 in their last 7 games as a favorite.

Early Lean: Mets, Over

Pirates vs Royals 9/11/20 (-119, 9)
We've got a game between two teams that have already checked out of the season. Neither of these teams will make the playoffs. It's time to figure out which players will make the roster next year instead.

Kris Bubic will get the start for the Royals. The rookie is 0-5 in seven starts but has a 4.89 ERA and a 4.89 FIP. Bubic is getting over 46 percent of ground balls and walking just 3.34 batters per nine innings. He's going to have to beat down this Pirates lineup to show his worth to the Royals.

Meanwhile, Steven Brault will take the hill for the Pirates. He's walked 5.56 batters per nine innings but has limited home runs. Brault still has a 4.37 ERA and a 4.21 FIP and usually doesn't go deep in starts.

The Royals offense has been silent, while the Pirates have hit against poor pitching. I expect big things out of Bubic in this start. And if the Royals stay patient at the plate, they'll have runners on base all night long.

Key trends: Royals are 5-2 in their last 7 games as a favorite.

Early Lean: Royals, Over

Angels vs Rockies 9/11/20 (-135, 12.5)
The Angels and Rockies are another two teams that won't be able to play in the expanded playoffs. German Marquez has had his ups and downs for the Rockies, but he'll get the start in this one at home in Coors Field.

Marquez has a 4.58 ERA but a much better 3.66 FIP on the season. He's limiting walks to below three per nine innings and has also limited home runs to below one per nine innings. However, he's struggled with runners on base and often blows up when there are runners flying around.

Griffin Canning will take the mound for the Angels. He is 0-3 with a 4.454 ERA and a brutal 5.27 FIP on the season. His strikeouts are low, walks are a bit high and he's allowing a solid amount of home runs this season while his ground ball rate has taken a dip.

It hasn't been a good season for Canning. I'll rely on the Rockies bats to explode in this one.

Key trends: Rockies are 4-1 in their last 5 interleague home games vs. a team with a losing record.
Early lean: Rockies, Over

Giants vs Padres 9/11/20 (-161, 9)
The Giants have been a surprising team this season, but the Padres have been even more of a surprise as they fight their way for a potential World Series bid.

The Padres will pitch Garrett Richards, who is 2-2 in nine starts this season, along with a 4.50 ERA and a 4.27 FIP. He's striking out 8.14 batters and walking three per nine innings. He has a BABIP of .308, which is a bit high, but he's done a solid job limiting damage with runners on base.

On the other hand, the Giants will send out Johnny Cueto, who is 2-0 in nine starts with a 4.56 ERA and 4.46 FIP. Looking at the pitching matchup, the game seems even. Cueto has limited big hits, while Richards has allowed less walks.

It would be safer to rely on a close game but for the Padres to sneak away with this game late.

Key trends: Padres are 8-0 in their last 8 home games vs. a right-handed starter.
Early lean: Padres, Under