Free NBA Picks Milwaukee Bucks: Season-Long Handicapping and Specialization 1/16/2023
by Spencer Toth - 1/16/2023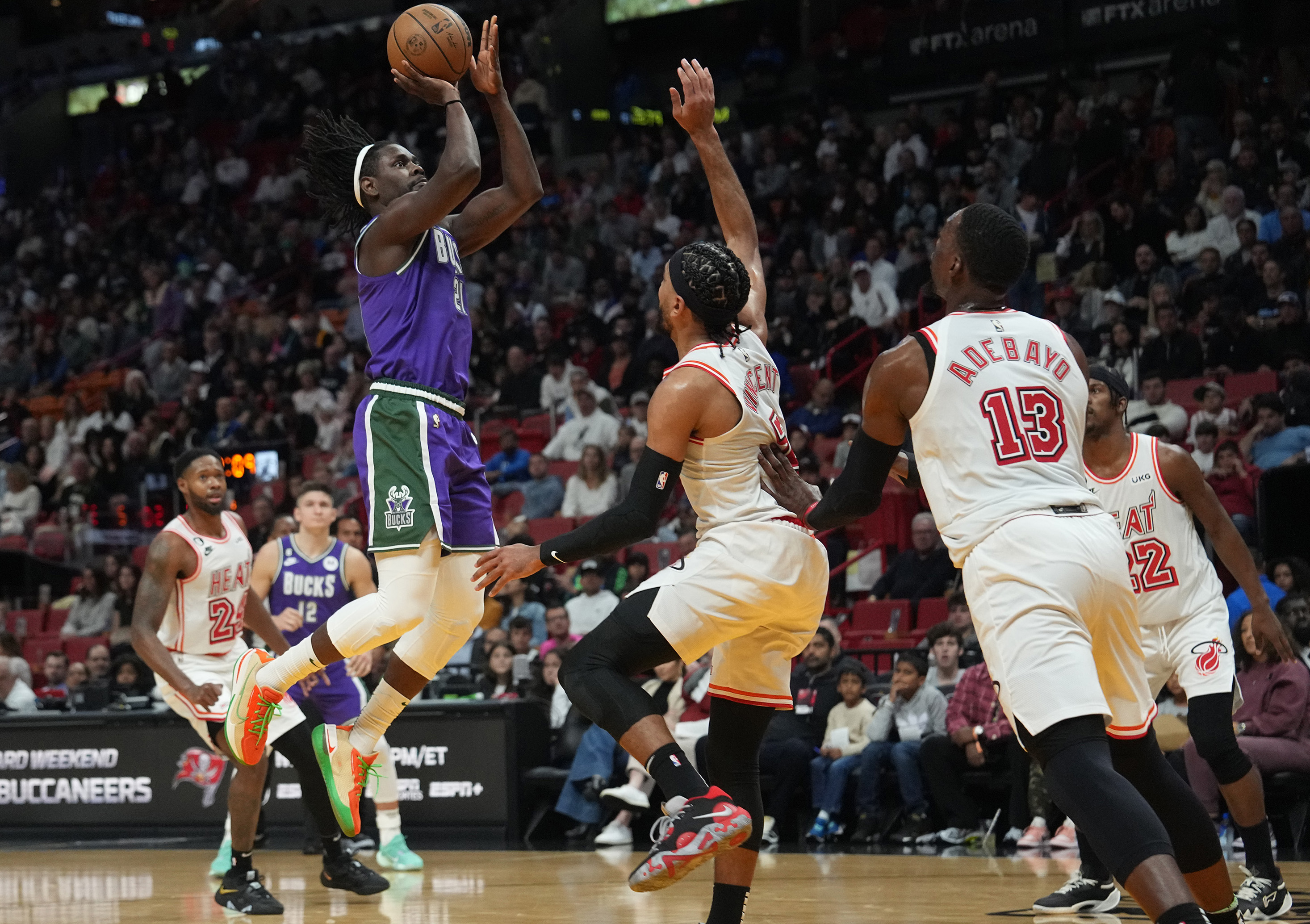 This season I will be breaking down every Milwaukee Bucks weekday game and giving my best bets for the contests. This will include spreads, moneylines, totals, and player props. And while we may not always favor the Bucks, the goal is to churn a profit by the season's end.
Doc's Sports offers NBA picks for every game on our NBA predictions page.
On Thursday night, the Bucks lost to the Heat 108-102. Both teams were severely shorthanded, as the Bucks were missing Giannis Antetokounmpo, Grayson Allen, and Joe Ingles, not to mention Khris Middleton, too. When the Bucks are missing Antetokounmpo, they have gone just 4-4, with all four of their wins coming against teams under .500. It is obvious he is a necessary component for the Bucks to compete, as the identity of the team drastically changes when he is not on the court.
From a betting perspective, we went 0-2. Bam Adebayo cleared his 21.5-point mark, dropping 24 points in the Heats' win. The other loss was on a plus money shot on Bucks moneyline, which also fell short. On Saturday night, the Bucks ran it back with Miami, missing Antetokounmpo and losing once again. No player on the Bucks scored over 15 points, and the Bucks will be desperate to get back on into the win column tonight.
Today is Martin Luther King Jr. Day, which means the whole league is playing matinee games. The Bucks (27-16) are no exception, as they take on the Pacers (23-21) at 2:30 p.m. EST. The Pacers got off to a hot start and found themselves sitting in 4th place in late November, with a 12-8 record. However, they have fallen out of form, going 11-13 since, and dropping down to 8th place in the East. The Pacers made a big move at the trade deadline last season, sending long time leading scorer Domantas Sabonis to the Kings, for budding superstar Tyrese Haliburton. That trade has paid dividends, as Haliburton instantly gelled with his new team, leading them with 20.2 PPG and 10.2 Assists. Unfortunately, Haliburton will be off the court for at least 2 weeks with a knee injury, leaving the supporting cast to step up in his absence. The Pacers have found success as a team, rather than relying on one player. Buddy Hield, Benedict Mathurin, and Myles Turner all put up between 17.0-18.0 PPG, allowing Indiana to develop a very balanced scoring attack.
There is no doubt the Pacers have the offensive capabilities to light up a competent Bucks defense, but on the other end of the court, there are growing concerns around this team's defense. The Pacers give up 115.9 PPG, the most for any Eastern Conference playoff team, and their defensive woes consistently cost them victories. A now healthy Bucks team should be able to take advantage and get back in the win column. The Bucks are 19-9 with Jrue Holiday and Antetokounmpo in the lineup, and a falling Pacers squad shouldn't pose much of a concern.
Holiday has been one of the Bucks' breakout stars this season, as he has taken massive strides on both ends of the court. He has been a consistently proficient defender throughout his career and was given a chance to shine on the offensive end in Middleton's absence. He stepped up and helped keep the team atop the standings and was a great second option behind Antetokounmpo. Against the Pacers, he once again will be needed on both ends of the court if the Bucks are to emerge victorious.
This matchup will come down to defense. If the Bucks can limit a potent Pacers offense, they will put themselves in a great position to win the game. This is easier said than done, as the Pacers have scored 110+ in each of their last 10 games. The Bucks will have their work cut out for them and must not let this game turn into a shootout, which is what the Pacers will be aiming for. On the offensive end, the Bucks will have to get inside and use their size advantage to pick up easy shots. Just 4 hours before tip off, Turner is still listed as questionable, which says a lot about where his health is, even if he plays. Brook Lopez, Bobby Portis, and Antetokounmpo comprise a fearsome trio of big men. And if Turner is not at the top of his game, the Pacers will not stand a chance.
The first bet for this afternoon is Milwaukee Bucks (-9.5). The stars are returning for Milwaukee, and they will be hungry to snap a 2-game losing skid. The Bucks position near the top of the standings is no longer safe, as they are just 3 games out of the play-in tournament. A 9.5 point spread is always tough to swallow, but the Bucks will win by double digits in front of the Milwaukee faithful.
The second bet for tonight is Jrue Holiday Over 18.5 points. Holiday is currently probable to play, and if he does, this line is disrespectful. Ingles and Middleton both remain out, leaving the Bucks shorthanded at the guard position. I expect Holiday to take lots of shots and easily surpass this total. The Pacers play fast-paced, high-scoring basketball. And considering Holiday averages 18.3 PPG this season, I expected this line to be much higher than this.
Pick: Milwaukee Bucks (-9.5) 2 Units
Pick: Jrue Holiday Over 18.5 Points 2 Units
2022 Season record:
ML Record: 6-8
Spread Record: 6-9
Total Record: 5-7
Player Props Record: 15-12
Total: 32-38
Down 2.4 Units ($240)
Get NBA picks on every single game, or if you want our very best bet premium picks by the experts, sign up for your free $60 account with a guarantee.