2020 Baltimore Orioles Predictions and Odds to Win the World Series
by Robert Ferringo - 3/31/2020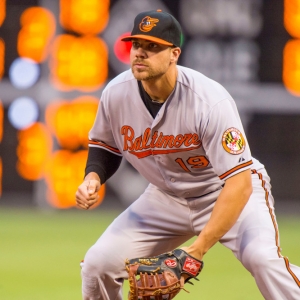 Baltimore made a seven-game improvement from 2018-2019. That's the good news. The bad news is that they still lost 108 games last season and that their win total over the last two years (101) is still two games short of the 103 games that New York won last season .
The Orioles are a disaster. They are going to be terrible again this year, and their biggest takeaway from the shortened season is that it means fewer losses for this wreck of a franchise.
Baltimore Orioles 2020 Projected Lineup (updated expert MLB picks daily)
1. Hanser Alberto - 2B
2. Anthony Santander - OF
3. Renato Nunez - DH
4. Austin Hays - OF
5. Rio Ruiz - 3B
6. Chris Davis - 1B
7. Dwight Smith - OF
8. Jose Iglesias - SS
9. Pedro Severino - C
The most entertaining thing about the Orioles lineup is their continued insistence of playing Chris Davis. Davis still has three years left on a disastrous seven-year, $161 million contract. He is by far the highest-paid player on the team, taking up nearly one-third of the overall payroll. Yet Davis has hit a combined .172 the past two seasons (134-for-777) with just 28 home runs and 85 RBIs. It's been a pretty humiliating run for a guy that nearly won the MVP while hitting 53 home runs and driving in 138 runs in the 2013 season. But the Orioles are so pathetic they don't really have a choice but to keep trotting him out there.
There is absolutely nothing exciting about the rest of this lineup. They aren't particularly young. They don't have many highly regarded prospects. And despite losing 223 games the past two seasons, they aren't particularly deep into their rebuilding effort.
Baltimore Orioles 2020 Projected Rotation And Closer
1. John Means (L)
2. Alex Cobb (R)
3. Asher Wojciechowski (R)
4. Wade LeBlanc (L)
5. Tommy Milone (L)
Closer: Mychal Givens
To say that the Orioles pitching staff was horrific last year is a massive understatement. At one point it looked as if they had a chance to be historically bad, barely missing out on posting a team ERA among the 10 worst in modern history (since 1900). They finished at 5.59 and nearly allowed 1,000 total runs on the year.
Baltimore also set a Major League record for home runs allowed (305). Actually, five teams broke or tied the record for homers allowed last year, and that was almost entirely the result of the juiced balls. The Orioles were still the worst of the worst, though.
They only nominally upgraded their rotation. Guys like Wade LeBlanc and Tommy Milone are journeyman lefties and both stink. Asher Wojciechowski is not a Major League-caliber starting pitcher and has proven it with a career ERA of nearly 6.00. And a full season of Alex Cobb will help but is hardly a salve; Cobb has a 4.72 ERA over the last four years (65 starts).
Oh, and projected closer Mychal Givens has been accused of abusing his wife, so his status is very much up in the air.
Baltimore Orioles Odds To Win The World Series
The Orioles are tied with the Tigers and the Marlins for the longest odds to win the World Series this year. Baltimore is posted at 750-to-1, but the real odds are probably closer to one million-to-one. They are 350-to-1 to win the American League and 250-to-1 to win the American League East.
Baltimore Orioles 2020 Predictions
I am basing all of my predictions on my belief in an 81-game season that starts on July 1. I have absolutely no inside information about MLB's plans for the 2020 season. However, for the sake of discussion, 81 games are what I have in mind while writing these previews.
It seems like forever ago that the Orioles were playing for the right to represent the American League in the World Series. In reality, it was just six years ago. They were at or above .500 in 2015 and 2016, making the playoffs after winning 89 games in 2016. But instead of turning the aging roster over or trying to deal valuable pieces and selling high, the front office stood pat and drove this team straight into the iceberg.
As I stated before, for as bad as they have been the past two years, this team should be further ahead in its rebuild. I don't even know that they have found their bottom yet. When all is said and done, they will be the beneficiaries of a shortened season. They weren't going to compete anyway, so this would have been simply another year of getting their brains beat in.
Because they are just starting to rebuild the franchise, it is too early to tell what direction they are going in or if they have any hope of success.
There won't be a ton of value betting on or against this team this season. They have been so horrific the past two years that they will be massive underdogs daily. And they aren't good enough to be considered a live underdog. I suppose the Orioles will be best as a potential slump-buster: a team to bet against for a cheap win while trying to snap a losing streak.
Robert Ferringo is a professional sports bettor and handicapper for Doc's Sports and is considered one of the top MLB betting experts in the country. He has posted three consecutive winning MLB seasons and closed the 2019 season on a +$10,000 baseball run for his followers. Robert has beaten the books for six of seven profitable seasons on the diamond and is looking forward to another winning season for his clients. If you would like some help winning more bets in MLB this season the good news is that you can try out Ferringo's MLB picks for free when you set up your complimentary $60 account here.