2021 Baltimore Orioles Predictions and Odds to Win the World Series
by Chris Vasile - 3/8/2021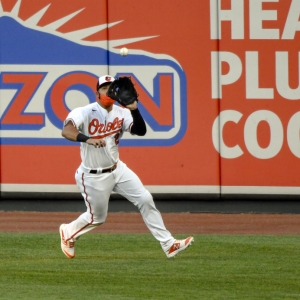 To say the Baltimore Orioles have been a miserable franchise would be an understatement. Since 1984, the Orioles have made the playoffs just five times. However, in four of those appearances, they managed to win a round. They've finished fourth or fifth in the AL East a whopping 24 times in that span and have lost 90 or more games in 14 seasons. It's incredibly sad how one franchise can be so bad for so long. But then again, there are teams like this in every sport. And its teams like these who feed their talent to the bigger and more dominant clubs (read: Manny Machado).
Doc's Sports offers free MLB picks for every game on our baseball predictions page.
Last year, the Orioles finished fourth in the AL East with a record of 25-35. They weren't extremely bad by any stretch of the imagination, but they weren't very good, either. The two seasons prior to that, the Orioles lost 115 and 108 games and were fielding a Triple-A caliber roster. What's in store for this year? Probably more of losing if I'm being honest.
The Orioles will open the regular season on April 1 with a three-game series at Fenway Park against the Boston Red Sox. From there, the Orioles will travel to Yankee Stadium for three against the Yankees before returning home and welcoming the Red Sox and Mariners for three and four games, respectively. The Orioles come into this season as afterthoughts to win the World Series (+12500). They are +7000 to win the American League and +10000 to win the AL East. Their win total has been set at 64.5, which means they are going to stink.
Orioles 2021 Projected Lineup
One quick look at the Orioles batting order and you'll quickly figure out why they are expected to be in the basement of the American League this year. Their projected lineup for opening day looks like this:
Austin Hayes
DJ Stewart
Anthony Santander
Trey Mancini
Chance Sisco
Ryan Mountcastle
Freddy Galvis
Rio Ruiz
Yolmer Sanchez
YIKES. Where do I even start with this team? They have an extremely young collection of players that have very limited time spent in the Major Leagues. However, they do have two first-round picks in the lineup with DJ Stewart and Ryan Mountcastle. Stewart will play left field and bat second behind Austin Hayes. Stewart appeared in 31 games last season and knocked out seven homeruns and drove in 15. He also batted .193, which just goes to show you how bad this team is. The projections aren't any better as he's projected to get around 380 plate appearances and boost up the average to .224 while hitting 14 homeruns and hitting 40 RBIs. The other first-round pick is Ryan Mountcastle. Mountcastle's scouting report says that he can hit but he can't play defense worth a lick. That's not good for a guy who has just one season under his belt where he hit five homeruns and 23 RBIs in 35 games while keeping his average to a respectable .333. This season, the projections call for around 20 homeruns and 66 RBI's with a dip in his batting average to around .260.
Beyond them, Anthony Santander led the team in homeruns last season with 11 and is projected to pace the team once again with 29 homeruns this season. The only guy in the batting order with legitimate service time is Freddy Galvis, who will bat seventh and play shortstop. It's going to be a long season for the Orioles with this batting lineup.
Orioles 2021 Projected Rotation & Closer
The Orioles starting rotation also leaves a lot to be desired. They are trotting out the likes of John Means, Keegan Akin, Dean Kremer, Jorge Lopez and Felix Hernandez.
Depending on how you view pitching stats, the best pitcher for the Orioles last season was John Means. He started 10 games for the O's and pitched to a 2-4 record with a 4.53 ERA. Sadly, that was the best ERA on the team which goes to show you why they finished 15 games below .500 last year.
The O's did make a big name signing this offseason by securing Felix Hernandez in free agency. Hernandez was the long-time 'ace' of the Seattle Mariners before really falling off a cliff with his performance the last couple of seasons. "King Felix" as he's known, did not pitch last year, but in 2019 he started 15 games and posted a 1-8 record with a 6.40 ERA. Should he be able to get back to respectability, the O's may have found a bargain and a leader of their staff.
As for the bullpen, I don't envision too many save opportunities for the O's this season. However, in the off chance that they have a lead heading into the ninth, Hunter Harvey will get the ball to close games. He's projected to save 22 this year with 63 innings pitched.
Orioles 2021 Predictions
FanGraphs projects the Baltimore Orioles to finish the season with a record of 66-96, which would have them dead last in the Major Leagues. It shouldn't be a surprise to see the win total as low as it currently is, and I think you still have to go under the number with the way the batting order and pitching staff are taking shape.
Get free MLB picks on every single game, or if you want our very best bet premium picks by the experts, sign up for your free $60 account with a guarantee.