Betting on the Super Bowl Coin Toss
by Ricky Dimon - 1/29/2020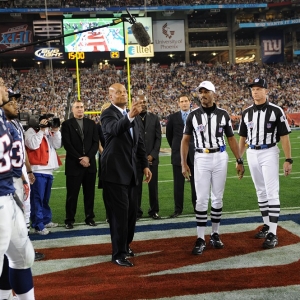 Pregame of the Super Bowl is not the most important coin toss in the world.

There have been more than a few monumental ones in history. The naming of what is now Portland, Ore., hinged on a coin toss. In 1845, Francis Pettygrove of Portland, Maine, and Asa Lovejoy of Boston, Mass., flipped a coin to see who would get naming rights for the location. Needless to say, Pettygrove won. In 1903, Orville and Wilbur Wright flipped a coin for the first attempt at flying. Wilbur won, but it ended up hardly mattering because his try barely got off the ground. It was Orville who successfully got their contraption airborne three days later. In 1969, horse-racing owners Penny Chenery and Ogden Phipps flipped a coin for the first pick of two foals sired by speedster Bold Ruler. Phipps won…but in doing so lost-because Chenery settled for the second-born horse. That colt was none other than Secretariat.


More grimly, a 1959 coin toss determined the fates of Tommy Allsup and Ritchie Valens. The two Buddy Holly band members went head-to-head for the last spot on a plane, while the loser would take a bus to the next tour stop. Allsup lost, avoiding a plane crash that killed Valens, Holly, and two others.

And, of course, there were several famous coin tosses in the 2007 film "No Country for Old Men." Lose and Anton Chigurh kills you; win and he lets you live.

So, no, the Super is not the most important coin toss in the world…. But it's close! It's not all about who gets the ball first: Patrick Mahomes and the Kansas City Chiefs or Jimmy Garoppolo and the San Francisco 49ers. It's about making money! Of all the prop bets for the biggest football game in the world, the coin toss may be the most fun. Everything about it is a 50-50 proposition; there is no skill involved in betting on the coin, and there is no skill involved in flipping the coin. This isn't Rock, Paper, Scissors we're talking about here! Your bet is totally up to chance, and you watch your money change hands with each revolution through the air as the silver spheroid seemingly moves slower than a last-second shot in the NBA Finals or National Championship replayed in slow motion. It doesn't get more exhilarating than that! As Allen Iverson said, we're not talking about the game. No, here we're talking about the coin toss. This is bigger than the game!
Doc's Sports offers free NFL picks for every game, every week of the NFL season. We have free 49ers vs. Chiefs picks and also free Super Bowl predictions for the big game.

But even though the toss is a game of luck, let's still break down the people involved. Kansas City is the designated home team, so it got the choice of uniform and selected red jerseys to with white pants. Thus, San Francisco, which will be in white jerseys and gold pants, is calling the coin toss. If there is one guarantee, it's that the 49ers will make a clear and concise call. After all, they have actually been involved in a coin-toss controversy already this season. Against Seattle in Week 10, Seahawks backup quarterback Geno Smith was determined to have called heads for the overtime toss. Contrary to what the official heard, however, many television viewers thought Smith called tails. Seattle won the toss with heads, although it hardly mattered because both teams ended up possessing the ball multiple times during an extra frame that was a defensive struggle (the Seahawks eventually prevailed 27-24 on a last-second field goal).

Although you know the Niners are not going to muff up the pregame coin festivities, the same cannot be said of head referee Bill Vinovich. Under no circumstances can Vinovich be trusted, as he was also head referee for infamous Rams vs. Saints NFC Championship in which New Orleans missed out on a trip to the Super Bowl because of a botched pass-interference call. You just know this clown is somehow going to find a way to come up with some kind of coin-toss fail.

Whatever the case, let's move on to some numbers.

The 49ers are 4-2 lifetime in Super Bowl coin tosses. They are 3-0 when they call is tails and 1-2 when the call is heads. Their first three trips resulted in coin-toss wins (all with tails) and game wins. Their last three trips have resulted in one coin-toss win (heads) and two game wins.

The Chiefs last appearance came way back in Super Bowl IV, three years after their debut in Super Bowl I. They are 0-2 in tosses, once losing with a tails call and once failing with heads.

The props for the coin toss are as follows:

*Heads and tails are both -105
*Kansas City and San Francisco are both -105 to win it
*Yes and no that the team who wins the toss wins the game are both -105
*Yes and no that San Francisco calls the toss correctly are both -105
*Heads and tails to be the side called by San Francisco are both -105
Want free NFL Super Bowl picks? Doc's has you covered. New clients can take advantage of this great offer of $60 in free Doc's Sports members' picks for any handicapper on Doc's Expert Handicapper list. Just check out these guys' pages and see what great work they have done making money for themselves and their clients over the years. Get $60 worth of premium members' picks free .

In the last 10 Super Bowls, both heads and tails have a 5-5 record. There is one notable trend, however: the NFC has been utterly dominant of late. That conference boasts an incredible 19-3 record in the last 22 tosses. During this stretch, the NFC won a hard-to-believe 14 consecutive flips between 1998 and 2011. We will just have to trust mathematicians who say that winning 14 in a row is 16,000-to-1 probability. Or more like improbability.

For the most part, though, the coin toss has been competitive. Overall, it has landed on tails 28 times compared to 25 for heads in 53 previous Super Bowls. Teams that won the toss have won 24 of the 53 Super Bowls, and both heads and tails have shown up 12 times in those 24 wins.

In summary, the bad news is that you have no idea what's going to happen. The good news is that this isn't a life or death situation. Just have fun with it!