Betting on the Super Bowl Coin Toss: Expert Advice
by Chris Vasile - 1/22/2018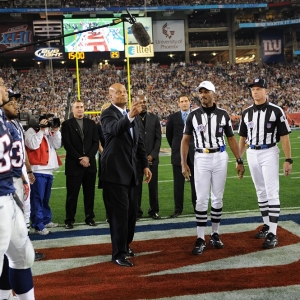 Ladies and gentlemen, boys and girls, gamblers of all ages. This is the co-main event of the evening, sponsored by (insert beer + car company here).
When the action begins, the referee in charge will be none other than Gene Steratore.
AND NOW!! This is the moment NFL fans around the world have been waiting for! Live from U.S. Bank Stadium in Minneapolis, Minnesota. Its time! Scheduled for one flip under the NFL guidelines, to determine who gets the right to (likely) defer to the second half.
Free $60 in Member MLB Picks No Obligation Click Here
Introducing first, flipping out of the red corner and checking in at 1.5 inches in diameter, flipping out of NFL headquarters in New York, New York, ladies and gentlemen, introducing the challenger, who owns a professional flipping record of 24 wins and 27 losses, give it up for Heads!
*crowd goes wild*
And now, flipping out of the blue corner, also checking in at 1.5 inches in diameter and also flipping out of New York, New York, with a professional record of 27 wins and 24 losses, introducing, the reigning and four time defending Super Bowl Coin Toss champion, Tails!
Hands up if you read that introduction in Bruce Buffer's famous voice.
Now, imagine calling yourself a professional handicapper. You devote hours upon hours to crunching numbers, sifting through news reports, creating formulas, power rankings and watching games in order to find the slightest edge possible over the sportsbook. You preach money management and patience and are legitimately convinced every single bet you make is destined to win.
For 363 days a year -- the day after the Super Bowl, to the day before the big game -- you follow your rule book word for word -- no deviation for anything. That is until February approaches and Super Bowl Fever hits. The hoopla surrounding the Super Bowl and the hundreds of wagering possibilities it offers simply becomes overwhelming and fries your brain. You start to believe every single article you read from experts giving their "expert opinion". That's fine, because you've read these kinds of articles before. You can process this info with a grain of salt and refer back to your tried-and-tested methods. The problem is, articles are being published faster than you can read them, and they are starting to become more and more obscure. You start allocating time to research the history of the Gatorade color dumped on the winning coach, the network ratings for the last 10 Super Bowls, the length of the National Anthem, the color of the half time performer's shoes and this and that and this and that and it never ends. Until, you get to the very bottom of the rabbit hole and come across the Super Bowl coin toss prop.
Normally, you don't bat an eye at unconventional props such as these. You know the odds of winning are literally 50/50 and the price, which is usually -120 on each side, is a terrible price to lay on a 50/50 prop. Unfortunately, as you start doing the research your eyes light up when you find trends like these that you can manipulate in your favor to justify a wager;
• Heads has been flipped 24 times compared to 27 times for tails.
• Teams that have won the toss have won 24 of 51 Super Bowls, with both sides turning up 12 times a piece.
• The NFC has won 18 of the last 20 coin flips heading into this year's Super Bowl.
• And the team that has won the coin toss is riding a three-game losing streak.
So with your new information in tow, you go back to the drawing board and start to change your analysis of the game. You begin coming up with theories like "If New England wins the coin toss, they are going to lose this game because in each of their five Super Bowl triumphs they've lost the flip".
STOP. Don't be a complete fool.
The coin flip has absolutely nothing to do with the actual game itself. The winner of the flip is going to defer to the second half and the game will get underway like it always does, with a touchback through the back of the end zone.
The main goal of betting the Super Bowl is to turn a profit. You must not lose track of the fact that the Super Bowl is ultimately just another football game (albeit the last game of the season) to wager on. One team will win, and one team will lose. One team will cover the spread , while the other will not. You've laid down millions of wagers before Super Bowl Sunday, and you've trusted and stuck to your methods. Don't deviate now.
The endless number of prop bets are offered by sportsbook to overwhelm you. Sure, some of them have a slightly bigger edge than others, while some of them (read: The Coin Flip) are a losing proposition before they even take place.
To compare how tempting and utterly useless prop bets are on Super Bowl Sunday, imagine yourself as a 21-year-old hitting the Las Vegas Strip for the first time. You have $500 to spend and your main goal is to make it to the best casino on the strip to do a little gambling. You're walking down the strip and got the deer-in-the-headlights look going on. It's all happening so fast. The buzz is electric and your throwing around cash on a whim. $50 for dinner, $100 for drinks, $50 for a tattoo you'll regret when you sober up, another $50 to get on the guest list at the after-party spot and so on. By the time you get to the Casino, you're left with $55, and that doesn't go a very long way in a casino.
That scenario is the same thing as betting on the game itself and prop bets. Losing prop bets before the actual game starts will only piss you off and hamper a potentially big night if you were to win your main Super Bowl bet. Don't do it. And for the love of god, don't bet on the Coin Flip. The only thing that should be flipping is your middle finger to the TV when your team can't get off the field on third-and-seven or when the ref takes eight minutes too long to review a play we already know the outcome of.
For those still curious, Bovada should be your one stop shop for Super Bowl Prop Bets.
Are you ready for some winners? Doc's Sports can help you out. We are giving any new clients $60 worth of free picks. These aren't throwaway picks. They are actual member's picks from our expert handicappers. Get $60 worth of premium members' picks free . Get free NFL betting picks weekly on Doc's Sports free football picks page .