2020 Big East Tournament Predictions and Betting Odds
by Robert Ferringo - 3/10/2020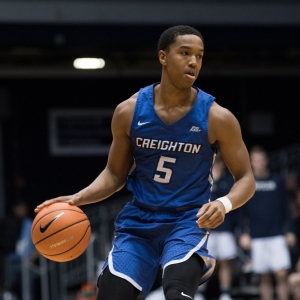 The Big East is currently ranked as the No. 3 conference in the country, behind the Big Ten and Big 12. However, I think that this is by far the strongest top-to-bottom league in college basketball. And if I'm right, this week's Big East Tournament should make for one of the wildest championships in the nation.
The Big East Tournament is always one of the best events of March. The league's championship has been held at The Mecca of Basketball, Madison Square Garden, every season dating back to 1983. This year's Big East Tournament will be held there from March 11 through March 14, and it should be one of the most exciting, most unpredictable, and most emotional tournaments in the sport.
Here is Doc's Sports 2020 Big East Conference Tournament preview and predictions:
The Favorite: Creighton (+240)
Creighton won its first Big East championship this year and was declared the No. 1 seed by virtue of tiebreakers. It doesn't really matter that the Bluejays didn't win the title outright; they have been the league's best team over the last two months while going 11-2. That stretch includes a 3-0 record against the other co-champs, Villanova and Seton Hall. Creighton has a very tight seven-man rotation and seemingly everyone they play can shoot, pass and handle the ball. They have four players averaging between 11-17 points per game, and all four hit between 36-43 percent from 3-point range and make between 74-86 percent of their free throws. Simply put, they have a lot of guys that can put the ball in the hole.
Doc's Sports college basketball handicapping team has set some lofty standards worldwide for college basketball handicapping. Get $60 worth of premium members' picks free. No credit card needed, and you will never deal with a salesman. Get daily college basketball picks on Doc's Sports NCAA hoops predictions page.
The Contender: Villanova (+315)
Testing themselves against a tough nonconference schedule paid dividends for the Wildcats later in the season. Somewhat written off after a three-game losing streak to start February, the Cats rallied for a 7-1 run to end the season. This is a young team without the championship pedigree of some recent Villanova versions. They also have zero bench depth. But this is a versatile group that plays a quirky style. And with Collin Gillespie triggering the offense, Villanova can be a tough team to prepare for and defend. Regardless of their recent run, I still think that the ceiling for this Villanova team, nationally, is pretty low. That doesn't mean that they can't put together a run this week and win three games in three days, though.
The Sleeper: Seton Hall (+385)
I have said all year long that I think that Seton Hall is the best overall team in the Big East. I still believe that, despite them blowing a shot at the outright league title with back-to-back regular season losses to Villanova and Creighton. Myles Powell is a hero. Quincy McKnight is rock solid at the point. Sandro Mamukelashvili is an X-factor. And with four guys in the regular rotation standing 6-11 or taller, the Pirates have one of the deepest and largest frontcourts in the country. As great as Powell has been in his four-year career, he is having his worst season, statistically. But he is good enough to get hot and carry this team to a title in his final tournament.
The Spoiler: Butler (+500)
It has been an odd season for the Bulldogs. They roared out to a 15-1 start to the season and planted their flag as a contender in the Beast with a 3-0 open. Then they suffered a pair of three-game losing streaks and stumbled to a 7-8 league record the rest of the way. Make no mistake, though: the Bulldogs are legit. Kamar Baldwin might be the most underrated player in the country. And I think he is just as capable of carrying a team to a title as Markus Howard or Myles Powell. Butler's shooting became more erratic as the year wore on. But I Sean McDermott and Jordan Tucker can get hot from the outside then this offense becomes really tough to stop to go along with a Top 40 defense.
Early Round Matchup To Watch:
No. 4 Providence (+3) vs. No. 5 Butler (2:30 p.m., Thursday, March 12)
I think that this is a huge game in this tournament. The winner is going to have great momentum heading into a semifinal showdown with top seed Creighton, and both the Friars and Bulldogs match up really well with the Bluejays. Someone has to win the rubber match in this series, though. Providence and Butler both won on the road against one another during the regular season, and this one should be a grinder. Providence is the hottest team in the league entering this tournament, winning six straight. They have a really experienced team, with four senior starters, and one of the best frontcourts in the league. The key for the Friars is simply making shots. Their guards are boom-or-bust, and forwards Alpha Diallo and Nate Watson have been maddeningly erratic. This is a huge game for Providence, which is trying to play its way into the NCAA Tournament. But the fact that Butler is favored as the lower seed is a red flag.
2020 Big East Conference Tournament Predictions: Along with the Big Ten and Pac-12, this is the most wide-open conference tournament in the country. I can honestly see any one of six teams cutting down the nets at MSG, and I think there will be no shortage of drama in this championship clash. I think that the winner of the Butler-Providence game is going to upset top-seeded Creighton - which will have its hands full with St. John's in the quarters. I also think that Seton Hall is going to be able to find a way to put away Markus Howard and then beat Villanova in the rubber match between those two teams. And I am sticking with my irrational faith in the Pirates, who I see cutting down the nets after a spirited final.
Robert Ferringo is a member of the Basketball Writer's Association of America and a professional sports handicapper for Doc's Sports. He is considered one of the best college basketball handicappers in the country and has posted 11 of 13 winning seasons. He is looking for a monster March run and will have an 8-Unit Conference Tournament Game of the Year this week. You can sign up for his college basketball picks and get more information here.
---
Most Recent College Basketball Handicapping