2021 Big Ten Tournament Predictions and Betting Odds
by Robert Ferringo - 3/10/2021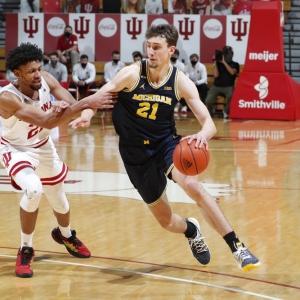 All season long we've listened to members of the bobblehead media fawn over the Big Ten as the Best Conference In College Basketball. That claim is tough to dispute. The Big Ten is loaded this year, as it was last year. And this Sunday as many as nine teams could hear their name called for the NCAA Tournament.
Get daily college basketball picks on Doc's Sports NCAA hoops predictions page.
Yet despite the depth and overall talent level of this conference, it remains to be seen if anyone in this league is National Championship caliber.
The Big Ten has had just one National Champion in the past 30 years and none since Michigan State cut down the nets in 2000. They've come close. Six Big Ten teams have made it to the national title game over the last 15 years. All have come up short, though.
Someone will be crowned a champion this week at the Big Ten Tournament. And as deep as this field is, there still appears to be only two or three programs capable of carving their way through this field.
We will find out this week as the Big Ten Tournament takes place at Lucas Oil Stadium in Indianapolis. It begins Wednesday, March 10 and ends on Sunday, March 14. Here is Doc's Sports 2021 Big Ten Conference preview and predictions:
The Favorite: Michigan (+200)
After an 18-1 start the Wolverines finally showed some weakness down the stretch, losing two of their final three regular season games. Despite that brief slide Michigan is still a healthy favorite to cut down the nets in Indianapolis – either in the Big Ten tournament or the NCAA Tournament. Juwan Howard's team has been a model of efficiency on both ends of the court and they can beat teams a variety of ways. Mountainous center Hunter Dickinson is a beast, and supplemented by crafty power forward Franz Wagner on the interior. Mix in three senior guards – Mike Smith, Eli Brooks and Chaundee Brown – and senior swingman Isaiah Livers and there isn't much this squad can't do. If the Wolverines do have a weakness it is lack of depth. Only six guys average more than 12 minutes per game and they don't go more than seven or eight deep. Tired legs could come up with them over the weekend.
The Contender: Illinois (+250)
Who is hotter than Illinois right now? The Illini have lost just once over the last two months (11-1 SU) and closed the season with road wins over Wisconsin, Michigan (by 23) and Ohio State. In Ayo Dosunmu and Kofi Cockburn the Illini have the best one-two punch in college basketball and two future NBA starters. The Illini gained a lot of confidence playing (and winning) three games without Dosunmu, who is rocking a sweet mask since his return from a facial injury. Vets like Trent Frazier, Giorgi Bezhanishvili and Da'Monte Williams can all contribute and Brad Underwood's aggressive defensive approach allows Illinois to control the tempo. This team is absolutely legit.
The Dark Horse: Iowa (+325)
Two-time Big Ten Play of the Year Luka Garza is the sun; everything the Hawkeyes do revolves around him. Garza can't be stopped. He can be fouled or somewhat contained. He can't be stopped. And Garza sits at the center of the nation's No. 4 scoring offense (85 points per game) and No. 6 offensive rebounding team. Iowa surrounds Garza with sensational shooters (No. 3 in the country). However, No. 2 scorer Joe Wieskamp is questionable because of an ankle injury. If he can't go or isn't 100 percent then this team becomes very limited very quickly. Other players on the team can shoot. But Wieskamp is the only one other than Garza that can really generate his own offense. Iowa also has a love/hate relationship with defense. So unless their offense is firing on all cylinders this team is vulnerable.
The Spoiler: Ohio State (+900)
Early in the season I consistently and stubbornly bet against the Buckeyes. This team, which lost three starters and four of its top seven guys from last year, wasn't supposed to be this good. Yet the Buckeyes kept winning and climbing the charts, peaking at an 18-4 mark in mid-February. Then the wheels fell off. Ohio State went 0-4 to close the regular season. Granted, three of the four losses were to Top 15 opponents and the fourth was at Michigan State. Still, the question now becomes which part of the season was a mirage: the early surge or the late swoon.
Bubble Team To Watch: Rutgers
COVID robbed Rutgers of the program's first NCAA Tournament berth since 1991 last year. With the core of the team returning expectations for this group have been high all season. They have not lived up to them. Rutgers is just 14-10 and desperately needs to beat a sneaky good Indiana team in its opening round game. A win there should seal the deal for the Scarlet Knights, who are also a sentimental favorite to earn an at-large bid. However, if Rutgers loses that game they are going to be in big trouble on Selection Sunday. Jacob Young is not as talented as Ron Harper or Geo Baker. But right now Young is the best triggerman for this offense and he will need to play at a high level in order to make a run this weekend.
Early Round Matchups To Watch:
No. 8 Maryland (+3) vs. No. 9 Michigan State (12:30, Thursday, March 11)
This is a big game for both teams. Both are trying to claw their way into the NCAA Tournament. And both are going to max out trying to fight their way to that one final win that might make a difference. Michigan State has made a furious stretch run, beating Illinois, Ohio State and Michigan in the last three weeks. Will they have a letdown after that monster rivalry win over the Wolverines on Sunday? Maryland's best win in the last month came at home against Michigan State in an 18-point blowout. That capped a five-game winning streak, followed by the Terps blowing winnable games against Northwestern and Penn State. The ante is pretty high for both teams and that should create a lot more intensity than most early afternoon games have. This one should be a war.
2020 Big Ten Conference Tournament Predictions: The Big Ten is the deepest conference in college basketball. There is no denying that. However, I think it would have to be considered a major upset if anyone other than Michigan or Illinois cuts down the nets on Sunday. Sure, plenty of teams are capable of pulling an upset or two. Ohio State and Wisconsin both have the potential to bust open their portions of the bracket. But Michigan and Illinois look like the two top teams in this league by a relatively wide margin. And they could be on a collision course for the conference tournament and a No. 1 seed in The Big Dance.
Robert Ferringo is a member of the Basketball Writer's Association of America and a professional sports handicapper for Doc's Sports. He is considered one of the best college basketball handicappers in the country and has posted 12 of 14 winning seasons. He is looking for a monster March run and you can sign up for his college basketball picks and get more information here.