2021 Chicago Cubs Predictions and Odds to Win the World Series
by Chris Vasile - 3/4/2021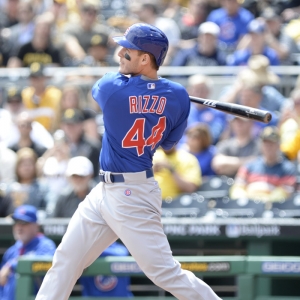 After ending the century-plus wait for a World Series title in 2016, the Cubs have had three good years where they made the playoffs and one year where despite finishing six games above .500, they missed out on October baseball. That includes last year's COVID shortened season where the Cubs finished with a record of 34-26 and first place in the NL Central, only to be ousted by the Miami Marlins in the wild-card round, two games to none.
Doc's Sports offers free MLB picks for every game on our baseball predictions page.
There is a lot of cautious optimism heading into this year surrounding the Cubs, and one quick look at the roster is all the indication you need that this could be a very promising season.
This year, the Cubs open the regular season with a six-game homestand that will see the Pittsburgh Pirates roll through for three followed by the Milwaukee Brewers. From there, the Cubs travel to Pittsburgh for three and Milwaukee for three for the return matchup. The Cubs +5500 to win the World Series, +2500 to win the NL and +500 to win the NL Central.
Cubs 2021 Projected Lineup
The 2021 batting order is once again littered with all-star talent. The projected batting lineup features seven position players that helped the Cubs to another playoff berth last year. This year's lineup should look something like this:
Ian Happ
Anthony Rizzo
Kris Bryant
Willson Contreras
Javier Baez
Joc Pederson
Nico Hoerner
Jason Heyward
Pitchers Spot
As you can see, the lineup is once again stacked from top to bottom. Bryant and Rizzo combined for 197 runs scored, 58 homeruns and 171 RBIs in the last full season (2019). Last year was so obscure that the pair hit just 15 dingers between them and each batted well below .225. If I was a betting man, it's safe to say I'd be on these two guys finding a good groove and putting up excellent production once again this season. They are projected to combine for 54 long balls and hit around .255 each.
Behind them, the projections for Contreras, Baez and Pederson look amazing. The trio is expected to hit 78 home runs, with Baez leading the way with 31 followed by Pederson's 30. Both of those players had so-so seasons last year, but Pederson is fresh off a World Series title, so that experience will only help the Cubs roster perform to its maximum ability.
Further down the lineup, Hoerner and Heyward are projected to hit 23 homeruns this year, but that would be gravy. What they are supposed to do is set the table for the top of the lineup to produce. And with both players hitting for weak averages last season, it could pose a problem over the extended 162-game season.
Cubs 2021 Projected Rotation & Closer
What's old is new again. Or something like that.
The Cubs managed to sign Jake Arrieta this past offseason from Philadelphia, which brings the former World Series winner back to Chicago where he had four incredible seasons. During his first stint with the Cubbies, Arrieta went 10-5 with a 2.53 ERA, 22-6 with a 1.77 ERA and 18-8 with a 3.10 ERA and 14-10 with a 3.53 ERA. His three years in Philly weren't a complete disaster, but Arrieta didn't finish with a record above .500 or an ERA below 3.95. So, what are the Cubs getting? Well, it's tough to say since Arrieta is pushing 36, but if he can just be serviceable and compliment the other guys in the rotation, the Cubbies may have found a bargain.
The other guys in the rotation include Kyle Hendricks, Zach Davies, Alec Mills and Trevor Williams.
Hendricks pitched extremely well last season. He started 12 games and finished with a 6-5 record and a 2.88 ERA. He's going to need to take another step in the right direction this year as he's the projected "ace" of the staff and is projected for a 12-10 record in 30 starts, with an ERA hoovering around 4.00. If he can exceed those projections and hit the 17- or 18-win mark with an ERA of around 3.25, the Cubs are going to be in good shape.
Behind those two guys, Davies, Mills and Williams are coming off years that saw each of them perform differently. Davies had the best ERA at 2.73, while Mills checked in at 4.48 and Williams at 6.18. Those numbers aren't going to cut it for the latter pair, but the projections don't look promising. Hopefully, they can get enough run support to offset that issue.
Over the last handful of years, there has been some serious turnover in the Cubs' bullpen. Entrusted with the closing duties this year is Craig Kimbrel, who managed just two saves last year but is projected to hit 32 this year in around 63 innings of work. Setting things up for him will be Ryan Tepera (who I love betting against) and Andrew Chafin. Both guys have ERAs above 3.87. Therefore, if you bet the Cubs in any game, prepare yourselves for a wild ride when the bullpen enters the game.
Cubs 2021 Predictions
FanGraphs projects Chicago to finish this season with a 77-85 record, which would have them in third place in the NL Central and miss the playoffs for the second time in three seasons. I'm not entirely sold on the NL Central this year as a "good" division, so that number seems relatively low to me. It could be because the bullpen has issues or because the entire batting order is in need of a very big bounce-back season. Either way, Vegas has the win total at 79,5, so I'm going to side with them on this one and go under the number.
Get free MLB picks on every single game, or if you want our very best bet premium picks by the experts, sign up for your free $60 account with a guarantee.