Sports Betting Tips: Contrarian Betting on Inflated Lines
by Chris Vasile - 4/14/2021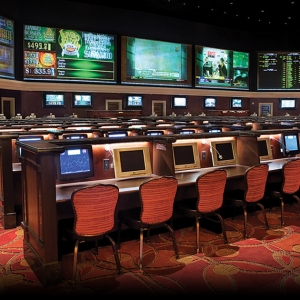 Perception is everything in today's world. Everyone has an opinion, and voicing it is all too easy with the many platforms of social media we are currently using. In the sports betting industry, perception is a tricky proposition, because most public bettors can only see a team for what they've done in the last 24-48 hours. Sure, momentum can be carried over from game to game. However, there is one lesson that every bettor should learn early in their sports betting career, and that's the fact that a team is never as good or as bad as they looked in the previous game or two. Over the next 1,100 words, I'll help you understand what it means to be a contrarian when it comes to betting on inflated lines. And if you don't think sportsbooks purposely and skillfully inflate the lines on publicly backed teams, I got an ocean view property you might enjoy down in Kansas.
What does Contrarian Betting Mean?
To start this article, we must first understand the concept of what it means to be a contrarian bettor. A contrarian bettor is someone who takes the opposite side of a lopsided game. For example, if the Yankees were taking on the Tigers and the Yankees were getting about 80 percent of the action, you would, by default, take the value offered with the Tigers and bet against the public. If you've been in the industry long enough, you would know the phrase, "the house always wins". In this case, the "house" is the sportsbook, and it's usually better to be on the side they require than to try and beat them with 80 percent of the public.
What Are Inflated Lines?
Inflated lines are a real thing when it comes to sports betting, and it's always a good thing to know how to spot them and what to do when you see them. Typically, inflated lines are found more in NFL or NBA point spreads, so we'll use an example involving the NFL. There are certain teams in the NFL that the public loves to bet on. They are the Cowboys, the Patriots, the Chiefs, and the Packers. These teams will be bet on regardless of what the spread is in their games, and sportsbooks/oddsmakers know this and will adjust accordingly. Let's say the Cowboys are taking on the Lions on Sunday Night Football in Big D. The sportsbooks already know that the public loves betting home favorites and "overs" in primetime football games. So, what they will do is inflate the spread – and total - by about a point or two regardless of the form that each team has shown coming into this game. For example, the spread on this game should be Cowboys -6.5, but the sportsbooks know they will get around 75 percent of the action on the Cowboys regardless of the line, so they inflate it to seven or seven-and-a-half, thus leaving no value on the Cowboys.
Contrarian Betting on Inflated Lines
So, what does that mean for the topic of this article? Well, if you put the definition of contrarian bettor and inflated lines together, you would get something that looks like the following:
Betting on contrarian lines is something that works well if you know where to look. It's not a foolproof method of getting rich while betting on sports, but it's always nice to know that you are on the side that Vegas (sportsbooks) would need to help cover their exposure. Let's use an example from the NBA for this section.
Let's say the Toronto Raptors are taking on the Los Angeles Lakers and the Lakers opened up at -2.5 favorites. The Lakers are one of the biggest publicly backed teams in the NBA and the public is hammering the Lakers to the tune of 74 percent of the action. The sportsbooks reaction to this would be to inflate the line to LA -4 to try and get some buy back from the public on the Raptors. If you were a bettor that got the Lakers right at the opening line, that would be considered a smart bet as you are beating the "closing line value". Closing line value is when you beat the market on a closing line – for example: you get -2.5 while the line closes at -4. However, if you missed the boat on the Lakers opening line and still wanted to bet them at -4, you would be getting the worst number possible and thus betting into a line that has absolutely no value left in it. What contrarian betting on inflated lines entails, would be to bet the Raptors at +4 because now you are getting an extra point-and-a-half of security and value.
To break it down in as simple a way as possible, the bookmakers opened this game at Lakers -2.5, which tells us they thought it was going to be a close game. Because the public is hammering the Lakers, causing the line to shoot up, you can now get the Raptors at a better line, which holds more value. In short, you are getting one-and-a-half free points because of the public's overreaction to the opening line.
Is Playing Contrarian a Risk Worth Taking?
In sports betting, much like life in general, you have to take a few risks now and then to get where you want to go in life. Playing contrarian in the sports betting industry requires some patience and some real guts. Betting on contrarian teams means you will likely never get to wager on popular teams, home teams, favorites, and overs. You'll be stuck betting the sub-.500 teams, road teams and teams that look like they have no way in hell of winning outright or at the very worst covering the spread. You will be stuck betting games to go "under the total," and we know how boring and mind-numbing it can be to root for no points in a football game or brick after brick in a basketball game.
However, the way I see it is, as long as you are winning bets, it doesn't matter which side you need to come through for you. Siding with the house is usually a winning proposition, but it's up to you to find which spots you need to be zigging on when the public is zagging. It's also important to understand that sometimes a line will be increased because of a group of sharp bettors placing big wagers on it. This is typically a spot where you'd avoid playing contrarian and just passing on the game itself.
Doc's Sports is offering $60 worth of member's picks absolutely free – no obligation, no sales people – you don't even have to enter credit card information. You can use this $60 credit any way you please for any handicapper and any sport on Doc's Sports list of expert sports handicappers. Get $60 worth of premium members' picks free.