2011 Cy Young Award Odds and Predictions
by Trevor Whenham - 6/28/2011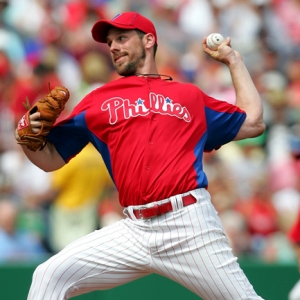 As we reach the halfway point of the 2011 baseball season (hard to believe it is here already), it is a good time to look at the Cy Young races to see how they are turning out. More importantly, let's look to see if there is any betting value. I will offer some Cy Young predictions for betting, along with some odds. Check your local book for the best odds available for this prop.
American League
Justin Verlander, Detroit (+125)
Verlander has emerged as the solid favorite here, and it's hard to argue with that too much. Voters have rewarded American League pitchers with less-than-shiny records the last two years, so they are probably ready for some gaudy numbers again, and at 10-3 with a 2.38 ERA and 0.84 WHIP Verlander is certainly on track to provide those.
In 17 starts this year he has only had one start that wasn't a quality one, and he also has that no-hitter to get the attention of voters. There are a couple of areas for potential concern, however.
First, his success so far has him on track to pitch a career high in innings- - perhaps by quite a bit. He has been a very healthy pitcher in his career, but that is still a concern. More significantly, his luck factors -- especially on balls in play -- are likely too high to be sustainable, so he could come down to earth a bit.
I think he is a justifiable favorite, and the AL isn't where the power pitching is this year. However, I'd sure like his price to be better than it is before I threw my money down on him.
Josh Beckett, Boston (+250)
Beckett leads the way in ERA at 1.86. He has also been incredibly tough to hit against -- the last time he averaged even one hit per inning was April 27. His record of just 6-2 isn't as shiny as Verlander's, but Beckett has had lousy luck -- despite playing for an explosive offense he has regularly struggled to get run support.
My biggest concern is that his ERA and WHIP numbers are well below his typical career numbers, so it's hard to have faith he can sustain his play in the second half.
Jered Weaver, Anaheim (+350)
Weaver is the kind of guy that I can't wait to bet against. He has been very solid all year (with a couple of blips along the way), but every time I watch him I can't help but feel like I am just waiting for the bubble to pop. I don't believe he is built to last, and his team isn't good enough to lift him up.
James Shields, Tampa Bay (+650)
This is where I would put my money. Shields has been a machine this year, with six complete games so far. He's getting stronger as the season progresses, he's striking out a lot of hitters, and he provides excellent value for the price compared to the others in front of him.
Felix Hernandez, Seattle (+800)
The defending champ is always a factor, but thanks to Michael Pineda's start to his career I don't even think Hernandez is the best pick on his team right now. It's not going to happen.
National League
Two teams have an embarrassment of riches here -- the Phillies have three pitchers in the top seven in the odds, and the Braves have two. That means that vote splitting could be a factor and could let someone come right up the middle to win.
Roy Halladay, Philadelphia (+150)
The best pitcher in baseball is pitching like the best pitcher in baseball. His numbers have been ridiculous. He leads the league in wins, K/BB, and complete games, and his strikeout numbers, ERA and WHIP are all very solid.
His biggest problem is that he is up against the expectations of his past, and so people might be tempted to look elsewhere if he shows even the slightest cracks. I think he is an all-time great in his prime, but at this price I have to look elsewhere.
Cole Hamels, Philadelphia (+175)
I have been really impressed by Hamels this year. His big problem, though, is that he isn't going to outshine his two stellar teammates by enough to stand out and draw the majority of votes. His numbers are very good, but aren't dramatically better than Halladay or Lee in any major area, and that will be fatal. At +475 I'd look hard at him, but at this price he is easy to dismiss.
Jair Jurrjens, Atlanta (+500)
It's tough to separate Jurrjens and Hamel in this race. Both have been relatively comparable all year. I give Jurrjens the edge for two reasons, though.
First, he is the biggest star in his rotation -- especially with Tommy Hanson having tendinitis issues -- so it will be easier for him to get votes if he keeps on track. Second, his price is nearly three times higher than Hamels, so he unquestionably offers more value. I'd happily back Jurrjens at this price.
Cliff Lee, Philadelphia (+10000)
Lee's numbers have not been quite what his teammates have put up, but at this price you could argue he packs in a ton of value.
He has been a pitcher in recent years who can get hot late in the season. If he can get on a hot streak then he'll catch up and perhaps even surpass the numbers of Halladay and Hamels, and he'll have momentum on his side.
If I was going to bet on one of the Phillies at these prices it would unquestionably be Lee.