2012 Detroit Tigers Predictions and MLB Futures Odds
by Robert Ferringo - 2/27/2012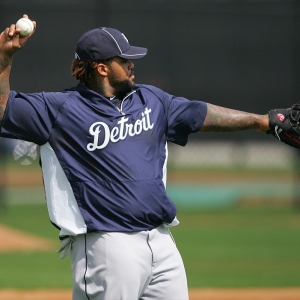 There is a new Fielder hammering long flies in Motown.
Prince Fielder, who along with Albert Pujols was one of the two biggest free agents available this offseason, signed with the Detroit Tigers this winter, much to the shock and awe of the Major League Baseball establishment. But Fielder now is following in the footsteps of his old man, Cecil Fielder, who knocked 245 home runs in seven seasons in the Motor City.
Fielder's signing has brought a renewed sense of optimism to Detroit and has established the Tigers as one of the teams on the short list as World Series favorites. They worked their way into the playoffs last year as the American League Central Champions. And now with their prize pickup they are heavy favorites to make a return trip to October baseball.
Instant $250 Free Bonus Bet from Bovada -
CLICK HERE
However, things are never that simple on the diamond. And every year about this time the team that made the biggest free agent splash enters the year with all sorts of wild, overhyped expectations. Remember The Greatest Rotation Ever that Philadelphia assembled last year? Or how about Boston's unstoppable lineup? Neither of those teams was still playing in mid-October, so just because Fielder is a feel-good story in February that doesn't mean that he'll be dropping bombs in big games this fall.
Here are Doc's Sports 2012 Detroit Tigers predictions and MLB futures odds:
2011 Record: 95-67
2012 Wins Over/Under: 94.5
Odds To Win 2012 AL Central: 3.5/1
Odds To Win 2012 AL Pennant: 3/1
2012 Detroit Tigers Odds to Win World Series: 6/1
Pitching: Justin Verlander put forth one of the greatest pitching seasons of the last half-century last year and was rewarded with both the Cy Young and MVP awards. He has led the league in wins and innings in two of the last three years and anchors a tough, hard-throwing rotation. Max Scherzer is a little overrated but is a decent No. 2 starter and has averaged around 176 strikeouts, 180 innings and 12 wins over his last three years. Doug Fister had a quietly brilliant 2011 and was in the Top 10 with WHIP. He went 8-1 after being traded from Seattle, but I think he will have a regression this year. He was just 9-18 with an ERA over 4.00 his first two seasons. Beyond that is Rick Porcello, a soft, back-end arm, and then Detroit will likely fill its No. 5 slot with one of its prospects.
Jose Valverde was a perfect 52-for-52 last year with saves. Yeah, that's not going to happen again. I was stunned he was that good last year and I think he'll come back to reality and just be a solid option to close. They lost their best setup man, Al Albuquerque, until at least after the all-star break. That is a problem for a team with the No. 25 bullpen ERA in baseball last year. But they still have some life young arms and decent situational guys in the pen. And if the starters can continue to log big innings they will protect a potential weakness.
Hitting: With Fielder and Cabrera anchoring the middle of the order you can pretty much guarantee that the Lions are going to score a load of runs. They were No. 4 in the Majors in runs scored last year and could be even better this time around. But as much as the two towers overshadow the rest of lineup, the complimentary players here can't be overlooked.
Leadoff man Austin Jackson needs to bounce back from a dreadful sophomore season and he still strikes out way, way too much. But he has a spark and is a real X-Factor at the top. Brennan Boesch has gone the other way, improving significantly in his second year and he has some breakout potential. Also, Delmon Young murders lefties and is just two years removed from a No. 10 finish in A.L. MVP voting. Alex Avila and Jhonny Peralta are two more pros and if they can keep Brandon Inge healthy they have a nice bat off the bench. Runs shouldn't be a problem.
2012 Detroit Tigers Predictions: This team should just bludgeon the opposition in the Central this year. And the best part is that their two usual primary competitors, the Twins and White Sox, are both beat up and transitioning this season. Detroit is going to win the division. But they aren't without weakness. I think their bullpen could develop into a big problem. They could also be one of the worst defensive teams in the Majors and their base running outside of Jackson is going to be nonexistent (they were No. 30 in the Majors in steals last year). None of those things – relief pitching, defense, base running – are sexy. But baseball is an intricate game and those are key components. They likely won't slow Detroit up in the Central. But I don't think they can win a championship in spite of all of those issues.
2012 Detroit Tigers MLB Season Win Totals Predictions: Take 'Under' 94.5 Wins. I wouldn't touch this season win total because I think that it is spot on and the Tigers will likely be in the 93-97 win range. They have only won more than 94 games twice in the last six years and three times in the last 25 years. The A.L. Central always seems to have a surprise team or two and when they do that this year that X-Factor team could siphon off a few W's from the Tigers. But they are also head and shoulders above the rest of the division. And they will enter the year with a ton of confidence.
Robert Ferringo is a professional sports handicapper for Doc's Sports. He is considered one of the top MLB cappers in the country and has turned a profit in four of the last six years on the diamond with his baseball picks. He closed 2010 with $6,000 in earnings over the last four months and is looking forward to a great upcoming season against the MLB odds. Click here for more information on his MLB picks.