2021 Houston Astros Predictions and Odds to Win the World Series
by Chris Vasile - 3/24/2021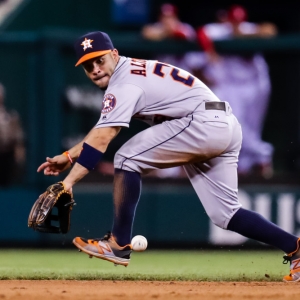 After losing to the Chicago White Sox in the World Series in 2005, the Houston Astros went through a very rough stretch of years where they finished better than .500 just twice and missed the playoffs in each of the nine seasons that followed. Since 2015, the Astros have turned their fortunes around, and it all started with a roster that was one of the best up-and-coming bunch of players baseball had. They won a playoff series that year with Dallas Kuechel winning the AL Cy Young and Carlos Correa winning Rookie of the Year. They had a down year in 2016 as they finished third and missed the playoffs. The following year, they went on to win the World Series, with Jose Altuve bringing home an MVP Trophy and George Springer coming away with World Series MVP. Since then, they've lost in the ALCS in 2018, lost in the World Series in 2019, and lost in the ALCS just last year. We all know about the sign-stealing the Astros got caught doing, so I won't touch on that. I will say that for them to come back with an ALCS appearance last year (after finishing with a 29-31 record and going the Wild Card route) is impressive given the fact that everyone was pissed off at them and gunning for them.
It'll be interesting to see what the difference a year makes and what a full-length season has in store for an Astros team that is, for the most part, unchanged from last season.
Doc's Sports offers free MLB picks for every game on our baseball predictions page.
The Astros will open the regular season on April 1 with a four-game series at RingCentral Coliseum against the Oakland Athletics. From there, the Astros will travel to LA for a two-game set against the Angels before returning home and welcoming the A's and Detroit Tigers for three games apiece. The Astros come into this season as possible World Series contenders as they check in at +2500. They are +1000 to win the AL Pennant and +125 to win the AL West. Their win total has been set at 86.5.
Astros 2021 Projected Lineup
One quick look at the Astros batting order, and you'll quickly see why they are projected to make the postseason and quite possibly make some noise once they are there. Their projected lineup for opening day looks like this:
Jose Altuve
Michael Brantley
Alex Bregman
Carlos Correa
Yordan Alvarez
Yuli Gurriel
Kyle Tucker
Myles Straw
Martin Maldonado
The biggest news for the Houston Astros this past offseason was not who they acquired, but who they lost. They lost lead-off man George Springer in free agency to the Blue Jays, and they are going to miss his ability to get on base and set up the table for the guys further down the lineup. With Springer gone, Altuve will be the one to handle leadoff duties, and he's more than capable of doing so.
Altuve had a relatively quiet season last year as he managed just five homeruns, 32 runs scored and 18 RBIs. His average was a terrible .219, which was the lowest it's been since .276 back in 2011. You can insert any garbage can or sign-stealing joke and it would be funny, but the reality of the matter is that until he's shown us that he's fallen off a cliff because he doesn't know when a fastball is coming, you have to like his chances at bouncing back. I mean, he won five Silver Sluggers in a row between 2014-18 and his average never dipped below .313. The projections for this year have Altuve hitting 20+ homeruns and scoring 90+ runs while driving in around 80. His average is bound to bounce-back to around .280 based on the numbers.
Behind him, you have the ever-present Michael Brantley, who just doesn't seem to slow down. He was linked to a few teams in the offseason but ultimately chose to resign with the Astros. He's coming off a season in which he hit just five homeruns, but his average was .300 and he had a .476 slugging percentage.
Hitters three through five in the lineup are where the Astros are supposed to get the most production from. Bregman, Correa, and Alvarez are projected to hit 94 homeruns, with Alvarez pacing them at 34.
Further down the lineup, Gurriel is projected to contribute with 21 long balls of his own, while Kyle Tucker is projected to hit 30 and have a .270 batting average. For a guy in the seven-hole, that's solid production, and it's why the Astros have a lineup that can do some damage in October.
Astros 2021 Projected Rotation & Closer
As far as the rotation goes, the Astros will trot out familiar names from last season.
Zack Greinke leads the rotation as the ace of the staff, and he's coming off a season in which he started 12 games but only posted a 3-3 win/loss record. He had an ERA of 4.03, which is his highest ERA since 2016 season when he went 13-7 with the Arizona Diamondbacks. Greinke has been reliable and steady over the last decade as he's never finished with a losing record since 2011.
As for the guys behind him, it's a bit of a crapshoot.
You have Lance McCullers Jr. who is coming off a similar 3-3 campaign last season with a 3.93 ERA. He's only been in the league a handful of years, so it'll be interesting to see if he can take the next step and progress into a bonafide shut-down pitcher.
Behind him, you have a trio of Jose Urquidy, Brandon Bielak and Cristian Javier. If you had to Google those three guys to find out who they were, don't worry, you wouldn't be the first to do so. The trio had just 21 starts between them last season, but that was a shortened season and so the ERA's are skewed. The projections for this season are more likely what the Astros will get out of those guys and that's pitchers who need time to develop and work on bringing their ERA's down from the projected 5.00+ it's supposed to be.
As for the bullpen, it's much of the same from last season, with Ryan Pressly getting the closing role and Enoli Paredes and Blake Taylor acting as set-up men. They did acquire Ryne Stanek from Miami and Steve Cishek from Chicago to add a little veteran presence in the pen.
Astros 2021 Predictions
FanGraphs projects the Astros to finish with a record of 88-74, which would win them the AL West and get them back into the playoffs where they seem to thrive. Even without Springer, the Astros have guys that can hit and produce, and I think that's going to be their biggest strength in a division that has a collection of mediocre pitchers all the way around. I'd grab a piece of the over on the Astros.
Get free MLB picks on every single game, or if you want our very best bet premium picks by the experts, sign up for your free $60 account with a guarantee.