2021 Los Angeles Angels Predictions and Odds to Win the World Series
by Chris Vasile - 3/24/2021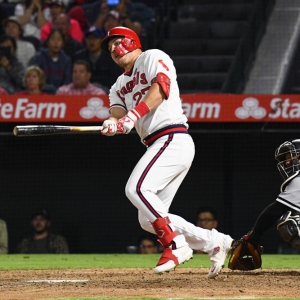 Since the Los Angeles Angles became a Major League team back in 1961, the squad has made the playoffs 10 times and has had five name changes. I'm not exactly a math major, but 10 playoff appearances in 60 years is pathetic, not to mention they've changed their team name HALF as many times in that span. The only thing the Angels can hang their hat on is the 2002 World Series championship. Since then, they've won just two playoff series in five tries and are essentially wasting away all of Mike Trout's prime years. Trout is one of, if not the best, player in the game today, and he's got two MVP awards and a ROY to show for it. Still, the Angels have not made the playoffs in six seasons, finishing below .500 in five of them, including last year's shortened season when they finished with a record of 26-34.
Doc's Sports offers free MLB picks for every game on our baseball predictions page.
The Angels will open the regular season at home on April 1 with a two-game set against the White Sox before welcoming the Houston Astros to town for a four-game set. From there the Angels head to Dunedin for a three-game set against the Blue Jays and then to KC for a set against the Royals. The Angels come into this season outsiders to win the World Series as they check in at +4000. They are +2000 to win the AL Pennant and +375 to win the AL West. Their win total has been set at 84.5.
Angels 2021 Projected Lineup
One quick look at the Angels' batting order will have you thinking about why they are so inconsistent each year. Their projected lineup for opening day looks like this:
David Fletcher
Shohei Ohtani
Mike Trout
Anthony Rendon
Justin Upton
Albert Pujols
Jose Iglesias
Max Stassi
Dexter Fowler
After last year's disappointing season, the Angels are hoping to turn their fortunes around this year, and if they are to do so it'll be on the strength of a really good batting order. If you go by just projection, the Angels have the chance to produce a lot of runs, but it will be up to a collective team effort instead of just relying on Trout.
Fletcher is slated to hit .279 on the season, which should be good enough to get on base and set the table for the power hitters. Ohtani is slated for 24 homeruns and 14 stolen bases to go along with a .258 batting average. Those are solid numbers. Trout will be looking to back up his 17-homer season last year with a 43 homerun season this year, which would lead the team, along with his .581 slugging percentage projection.
Further down the lineup, Rendon and Upton are projected to combine for 56 homeruns (28 each) and bat .280 and .229, respectively. The ever-aging Pujols may still have some pop in his bat (15 projected long balls), but the batting average and stolen bases are projected to be way down.
Iglesias, Stassi, and the newly acquired Fowler are each projected to reach the double-digit homerun mark. So, as I stated, this lineup has some solid potential.
Angels 2021 Projected Rotation & Closer
The Angels' pitching staff will be the biggest question mark for this season. They are trotting out four of the five guys they trotted out last year, with the exception of two new faces – Alex Cobb and Jose Quintana.
Cobb was acquired via trade with Baltimore, and he'll be looking to improve on his 2020 season where he started 10 games and posted a 2-5 record with a 4.30 ERA. That was on a very bad Orioles team, so with some run support from the Angels, Cobb could be in line to have a bounce-back season. As for Quintana, he comes over from the Cubs, where he posted a 4.50 ERA in just one start and four appearances. The year prior, he posted a 13-11 record with a 4.68 ERA, so he's not the most worrisome pitcher on the Angels roster.
As for Dylan Bundy and Andrew Heaney, they are the go-to pitchers for the Angels and both had respectable years last season, posting a 3.29 and 4.46 ERA, respectively. They are projected to post around the same sort of numbers this season, and that will only bode well for the team.
And then you have Ohtani – the multi-position wonder. Ohtani did not pitch very well last season. He posted a 0-1 record in two starts and his ERA was a very high 37.80. He's projected to start around 20 games this season and hold his ERA to around 4.30. That would be solid production from him, but I'm still of the opinion to not let him pitch and just worry about producing runs.
As for the bullpen, there are a few new faces this season, but they are still one of the weaker links on the team. The Angels acquired Junior Guerra from Arizona and Jesse Chavez from Texas. They will be part of a setup rotation for closer Raisel Iglesias, who is projected to save around 30 games.
Angels 2021 Predictions
FanGraphs projects the Angels to finish with a record of 84-78, which would put them second in the AL West, and that record would have them fighting it out for a wild-card spot with teams in similar positions. I think this Angels team has the chance to be good, but the offense will only carry them so far. It'll be up to the rotation to hold its own and limit the meltdowns and throwaway games.
Get free MLB picks on every single game, or if you want our very best bet premium picks by the experts, sign up for your free $60 account with a guarantee.