2021 March Madness Bracket Predictions: South Region
by Robert Ferringo - 3/18/2021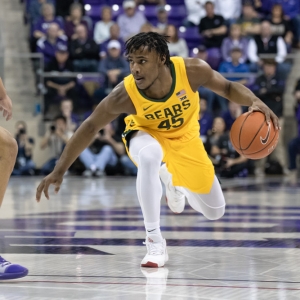 The South Region is full of fatally flawed teams. Baylor (no momentum), Ohio State (injuries), Arkansas (general weirdness), Purdue (youth), Villanova (injuries) and Texas Tech (inability to close games) all enter the NCAA Tournament with major question marks. That sets up the South Region as a bracket that could either be a dull bore, with the Bears and Buckeyes eventually duking it out for a slot in the Final Four, or a bracket that could go hilariously wrong, with all of the top seeds having their weaknesses exposed in the opening weekend.
Get daily college basketball picks on Doc's Sports NCAA hoops predictions page.
Here are Doc's Sports March Madness bracket predictions for the South Region:
No. 1 Seed: Baylor Bears (+100 to win South Region)
This Baylor squad is an amazing 48-6 straight up over the past two seasons. Yet despite that level of domination – while playing in one of the best conferences in the country – I feel like there are a lot of people jumping off the Baylor bandwagon right now. No, the Bears have not been the same since their three-week COVID sojourn to start February. They are 5-2 straight up and just 3-4 against the spread in seven games since their return. And the bar has been set pretty high for this team after it opened the season with a devastating 18-0 start that included a 13-point mauling of Illinois. Despite one of the smallest rosters in the field (just one player, Flo Thamba, is taller than 6-8), Baylor is one of the best defensive teams and most efficient offensive teams in the field. Seventeen of their 22 wins this year have come by double-figures, and I expect this veteran team to be ready to go once the ball tips.
Baylor NCAA Tournament Predictions: I think the Bears are on a bit of a collision course with Ohio State and the South is one of the few regions where I could see both top seeds making the Elite Eight. Baylor's toughest game may be their second rounder versus either UNC or Wisconsin. If they survive that, I think the Bears will punch their ticket to Scott Drew's first Final Four.
No. 2 Seed: Ohio State Buckeyes (+350 to win South Region)
The Buckeyes balanced out a four-game swoon to close the regular season with a four-game march in the Big Ten Tournament. That yin and yang should have plenty of bettors nervous about which Ohio State team will show up in Indiana this week. The Buckeyes were dealt a huge blow when power forward and team heart-and-soul Kyle Young went out with a concussion in the Big Ten Tournament. That was his second concussion in three weeks, and his status for this week is questionable. Young does a lot of dirty work on the interior for this undersized squad. That helps open up the perimeter for sensational scorer Duane Washington, versatile swingman E.J. Liddell and veteran point guard C.J. Walker. The Buckeyes are definitely banged up after a physical weekend in their conference tourney. But if they regroup, this team is more than capable of winning the South.
Ohio State NCAA Tournament Predictions: Seven of Ohio State's last eight games (in which they are 3-5 SU) have been decided by five points or fewer or in overtime. They are riding the rails a bit. Like Baylor, their biggest challenge may just be finding the energy to survive this weekend. If they do that, this team is neck-and-neck with the Bears to win this region.
No. 3 Seed: Arkansas Razorbacks (+925)
The Razorbacks have been one of the best teams in the SEC and one of the hottest teams in the country over the past two months. Ever since Justin Smith came back from injury in late January, the Razorbacks have gone 12-2 SU. That includes a 9-1 mark in their last 10 games and a 15-point blowout win over Alabama. The Razorbacks are built very similar to Baylor in that they often play with five guards/wings, and they use only one player that's taller than 6-foot-8 (Connor Vanover is 7-3). Freshman Moses Moody is an absolute force, and transfers J.D. Notae and Jalen Tate are both capable of exploding on the perimeter.
Arkansas NCAA Tournament Predictions: Arkansas, the No. 7 scoring team in the country, is 8-2 ATS in its last 10 games and 17-8 ATS on the season. They aren't going to sneak up on the books. And I have a hard time trusting a team that still needs to prove that it an consistently win outside of its home arena. This team looks primed to be a heartbreaker this weekend.
No. 4 Seed: Purdue Boilermakers (+1600)
I don't like Purdue. I haven't liked Purdue all season long. That doesn't mean that they aren't a good team. It just means I can't believe they played well enough to earn a No. 4 seed. Purdue is basically a bigger, tougher version of Virginia. I don't really mean that as a compliment. The Boilermakers play tough, physical defense, and they win games by trying to grind opponents down. Purdue is a really young team with four freshmen; Zach Edey, Jaden Ivey, Brandon Newman and Mason Gillis; among its top seven players. Edey is the key. The 7-foot-4 center pairs with Trevion Williams to give Purdue one of the best frontcourts in the country. That hasn't exactly been a winning tournament formula for Matt Painter, though. He has twice as many first round exits (two) as he does Sweet 16 wins (one) in his 11 NCAA Tournament appearances.
Purdue NCAA Tournament Predictions: Williams has looked worn down as the season has worn on. If he isn't at his best, then Purdue is ripe for an opening weekend upset. They will have to face a perimeter-oriented team in the second round (Villanova or Winthrop). And unless the Boilermakers find a way to make some threes (No. 191 in the country at 33.5 percent), this could be a boom or bust team.
No. 5 Seed: Villanova Wildcats (+1900)
Three weeks ago, Villanova looked like a legitimate National Championship contender. Now they look like a team that will be lucky to win a game. The Wildcats season caved in when point guard Collin Gillespie tore his MCL in a March 3 win over Creighton. The senior point guard was the most indispensible player on this roster. Justin Moore, the team's only other ball handler, has also been battling a sprained ankle. This is not a deep Villanova team. They are No. 322 in bench minutes. So losing one guy from a seven-man rotation is devastating, and losing two guys is catastrophic. The Wildcats have won just once (1-3) since Feb. 24 and they are just 5-5 in their last 10 games.
Villanova NCAA Tournament Predictions: Jay Wright will have his guys ready to play. But without Gillespie, their ceiling dropped from making the Final Four to surviving the opening weekend.
No. 6 Seed: Texas Tech Red Raiders (+1300)
Chris Beard's Red Raiders have been more sizzle than steak this season. Mac McClung is one of the most entertaining and explosive players in the tournament field. But since Feb. 2, Texas Tech has just one win (Texas) over a team in the NCAA field and is just just 5-10 SU this year against other tournament teams. In fact, the Red Raiders played the No. 288 ranked nonconference schedule in the nation this season and haven't proven that they can string together enough solid play to be a factor in this region.
Texas Tech Tournament Predictions: There hasn't been a No. 6 seed in the Final Four since 1992. Texas Tech absolutely is NOT the team to break that streak. Over the last 10 years, No. 6 seeds have a losing record in the first round, and it wouldn't shock me if the Red Raiders were an early casualty.
Best first-round match up: No. 8 North Carolina (-1.5) vs. No. 9 Wisconsin
This one will have plenty of cache because it features two big name teams from two top conferences. However, this is also a great matchup because it features two teams with Elite Eight talent that just haven't put things together this season. Six of Wisconsin's top eight players are seniors, including 24-year-old D'Mitrik Trice, and they are one of the most experienced teams in the country. North Carolina has one of the youngest teams in the nation. But they have one of the top frontcourts in college hoops, with four guys standing 6-10 or taller, and they could bully their way through the Badgers. UNC wants to run and hit the offensive glass. Wisconsin wants to walk and hopes it can make enough shots. Tempo and execution will determine which big name moves on.
Best potential second-round match up: No. 3 Arkansas vs. No. 6 Texas Tech
Let's dive into some sweet, old-time SWAC action! The odds of this game coming to pass seem pretty slim because first round upsets always sabotage fun second round games like this. But if it does line up, there is going to be a lot of talent and athleticism on the court. Both teams are sturdy defensively. Yet they both also have plenty of playmakers. In the Big 12-SEC showdown, Arkansas played an 81-77 barnburner against Oklahoma State and Texas Tech won a 76-71 decision against LSU. I could see a similarly exciting game between these two with the Sweet 16 on the line.
Upset Alert (first round): No. 5 Villanova (-6.5) vs. No. 12 Winthrop
I've already given the rundown on why Villanova is the broken husk of the team that it was just a month ago. They've lost their last two games, and three of four, and now they face an upstart Winthrop squad that is 23-1 on the season and 47-11 SU over the last two seasons. Last year the Eagles beat St. Mary's and threw a scare into No. 4 Duke in Cameron Indoor. So they are capable of giving the Wildcats a game here. Winthrop plays at one of the fastest paces in the country. Villanova plays at one of the slowest. Whoever can dictate tempo will have a major edge in this game and the final say in who advances.
Upset Alert (second round): No. 1 Baylor vs. No. 8 North Carolina/No. 9 Wisconsin
I think that Baylor will handle either North Carolina or Wisconsin in the second round. That doesn't mean the Heels and Badgers aren't fully capable of toppling the region's top seed. Baylor doesn't have a big man. That hasn't hurt them much in a Big 12 that lacks many true post players. But UNC and Wisconsin both have large, talented frontcourt players that can punish Baylor in the paint. Also, unlike some hokey mid-major team, both UNC and Wisconsin have played enough Top 10 teams this year not to be scared of a date with the dangerous Bears.
Dark Horse team: No. 4 Purdue
I repeat: I don't like Purdue. But that doesn't mean that they don't have a great path in this region. North Texas was probably the fifth-best team in Conference USA this year. After that, the Boilermakers will either face a Winthrop team that has one guy taller than 6-7 or a Villanova team that is running on fumes. If they make it through the opening weekend, Purdue would likely match up with Baylor. As we've pointed out, the Bears are vulnerable on the interior. And after getting pounded on the inside by either UNC or Wisconsin, we'll see if they can hold up against the Boilermakers. Look, a lot of people are going to point to Arkansas as the South's sleeper. But I think that if we get a surprise team in the Elite Eight, it will be either Purdue or Florida.
Team That Makes Me Nervous: No. 3 Arkansas
I've seen teams with this exact makeup 1,000 times in the NCAA Tournament. They have enticing talent, a fun, high-scoring style, and a lot of buzz from the bobblehead media and square bettors. I promise you: it rarely ends well. Arkansas has had the same Achilles heel all the way back to Nolan Richardson: they are amazing at home and they don't win on the road. Also, it's been 25 years since the Razorbacks have made the Sweet 16! There's no denying that they have been hot heading into The Dance. There's also no denying that this team hasn't had a sniff of postseason success yet this century. Proceed with caution.
2021 South Region Predictions: I don't know, man. Regions like this are usually where things go haywire. The South doesn't have the COVID-related uncertainty of the West or the low-end talent handicap of the East. But it is just as unpredictable because, other than Baylor and Ohio State, none of the top seeds are any real threat to compete for a title. I mean, seriously, is Arkansas going to the Final Four? Hell no. Villanova? Nope. So this whole bracket just feels a bit like fodder.
Baylor and Ohio State are both still legit. The Buckeyes would be a real Final Four contender if Kyle Young were at full strength. But he's not. So I have to give Baylor the edge. In 32 of the last 35 Elite Eights, there has been at least two No. 1 seeds. I think Baylor survives its first three games and then bests the Buckeyes in a classic regional final. There should be plenty of upsets and general nonsense in this bracket. But at the end of the end of the day, the two best teams should end up playing for the right to advance.
Robert Ferringo is a member of the Basketball Writer's Association of America and a professional sports handicapper for Doc's Sports. He is considered one of the best college basketball handicappers in the country and has posted 12 of 14 winning seasons. He is looking for a monster March run and you can sign up for his college basketball picks and get more information here.
Doc's Sports college basketball handicapping team has set some lofty standards worldwide for college basketball handicapping. Get $60 worth of premium members' picks free. No credit card needed, and you will never deal with a salesman.