2021 Milwaukee Brewers Predictions and Odds to Win the World Series
by Chris Vasile - 3/3/2021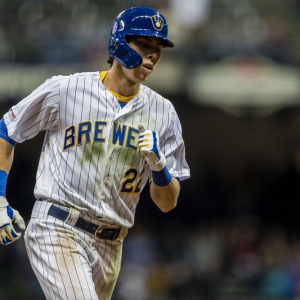 Prior to the 2018 season, the Milwaukee Brewers had been to the postseason just four times in their franchise existence. They were an afterthought among many bettors and fans of the NL Central until they took a giant leap in 2018 and won the division. Since then, the Brewers have made the postseason in each of the last three years, and that includes last year's COVID-shortened season. The Brewers finished last year with a record of 29-31, which was good enough to grab them a wild-card spot despite being below .500 all thanks to the extended playoff format. They would proceed to lose the wild-card series against the Dodgers. However, Brewers' fans hope they can get back to playing October baseball once again.
Doc's Sports offers free MLB picks for every game on our baseball predictions page.
The Milwaukee Brewers open their season on April 1 with a three-game home series against the Minnesota Twins. From there, the Brewers head to Chicago for three with the Cubs and then to St. Louis for three against the Cardinals. The Brewers are currently +5000 to win the World Series, +3500 to win the NL Pennant, and + 350 to win the NL Central crown. The season wins total is 82.5, which means that the Brewers are expected to be competitive this season and potentially battle for a wild-card spot.
Brewers 2021 Projected Lineup
When I first looked over the Brewers projected lineup, one thing stood out to me. The Brewers have done a phenomenal job of building a roster that combines both power and speed. As of writing this, the Brewers' batting lineup looks something like this:
Kolten Wong
Lorenzo Cain
Christian Yelich
Keston Hiura
Omar Narvaez
Avisail Garcia
Travis Shaw
Orlando Arcia
Pitchers Spot
The top of the order features the Brewers' newest acquisitions this offseason in Kolten Wong. Wong comes over from divisional rivals St. Louis and brings both power and speed to the Brewers lineup. Last year was a bit of a down year for Wong as he managed just one homerun and stole just five bases in 208 plate appearances. In the last full season (2019), Wong notched 11 homeruns, scored 61 and drove in 59 while stealing an impressive 24 bases. If he can continue to hit for average, get on base, and set the table for the big guys behind him, the Brewers will have gotten themselves a bargain.
Behind Wong is where you'll find the bulk of the run production. Cain and Yelich have transformed themselves into a very scary two-three hitter duo. Cain didn't do much worth noting last season. However, the year prior, he notched 11 homeruns and 18 stolen bases while hitting for .260. Yelich, a former MVP, is coming off a year where he hit 12 homeruns and stole four bases. Not exactly impressive, but in his last full year (2019), he connected for 44 homeruns, scored 100 runs and drove in 97. The projections for Yelich are solid this year as he's projected to hit 35 dingers, score 105 runs and drive in 100 while hitting around .280.
Further down the lineup, Hiura, Garcia, Shaw and Orcia are all projected to hit double-digit homeruns, with Hiura projected to lead the way with 29. He's also expected to steal 12 bases and hit for .250 on the year. I like this Brewers lineup from top to bottom, and they could be up near the top of the Majors in runs scored when it's all said and done.
Brewers 2021 Projected Rotation & Closer
The Brewers' pitching rotation isn't exactly the greatest collection of talent, but each one of their five starters has enough Major League experience to be effective and reliable options. Brandon Woodruff is all but guaranteed to take the ball every fifth day as the ace of the staff. He had a stellar 2019 campaign where he pitched to an 11-3 record with a 3.62 ERA but only a 3-5 record with a 3.05 in last year's shortened season. His projections see him as a double-digit winner with an ERA of 3.25
Behind Davies, the Brewers will rely on a quartet that includes Corbin Barnes, Josh Lindblom, Adrian Houser and Brett Anderson. Barnes figures to be the best pitcher of the bunch as he performed admirably last season, starting nine games and holding opponents to a 2.11 ERA. That was two to three points better than the remaining trio, and the projections for this year have him at a 3.77 ERA, which is .52 better than Houser's 4.32 projected ERA.
The Brewers bullpen is also respectable. They will once again rely on Josh Hader to do the closing and the combination of Devin Williams and Brent Suter as the setup men. Hader had a stellar season last year, converting on 13 save opportunities and holding opponents to a 3.79 ERA. He's expected to save 25 games this year and keep his ERA under three.
Brewers 2021 Predictions
FanGraphs projects Milwaukee to finish this year with a record of 80-82, which would earn them top spot in the NL Central (somehow). I'm not sure I agree with that win-loss regard, but I do think the Brewers batting order can compete with the best in the division. Gun to my head, I'd take the over on their win total, as I see the pitching staff being better than advertised and I'd bank on Yelich returning to his MVP form.
Get free MLB picks on every single game, or if you want our very best bet premium picks by the experts, sign up for your free $60 account with a guarantee.