2020 Milwaukee Brewers Predictions and Odds to Win the World Series
by Robert Ferringo - 4/7/2020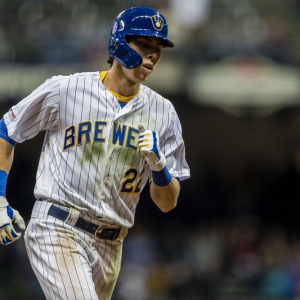 Milwaukee has overcome near-constant roster turnover and repeated front office tinkering to claw their way to the playoffs each of the past two seasons. The Brewers have posted three straight winning seasons and, according to their initial MLB season win total of 82.5, they were expected to make it four in a row.
However, if the Brewers were to finish over .500 again this season, it would be the first time in franchise history that they've ever done so four seasons in a row.
The National League is loaded. And the National League Central is as competitive of a division as there is in baseball, with four teams capable of winning it. I think that's really bad news for the Brewers and their run of consecutive winning seasons. This team lost more than it gained in the offseason, and I don't know that they have enough top-end talent to keep them among the league's elite.
Milwaukee Brewers 2020 Projected Lineup (updated expert MLB picks daily)
1. Eric Sogard - 3B
2. Lorenzo Cain - OF
3. Christian Yelich - OF
4. Keston Hiura - 2B
5. Justin Smoak - 1B
6. Avisail Garcia - OF
7. Omar Narvaez - C
8. Orlando Arcia - SS
9. Pitcher
The Brewers really epitomized MLB's current "three true outcomes" approach to hitting last season. They were No. 7 in the league in home runs and No. 2 in walks. But they were also No. 5 in strikeouts, and they were the second-worst team in the league hitting with runners in scoring position. That was the third time in four years they had finished in the bottom five in baseball with RISP.
Milwaukee's offense starts and ends with Christian Yelich. The 2018 N.L. MVP was actually better, statistically, last season, pumping out 44 home runs and 97 RBI while hitting .329 and leading the Majors with a 1.100 OPS. He finished second in the MVP race last year and then signed a nine-year, $215 million contract in the offseason.
They also have two-time all-star Lorenzo Cain, who is a solid clutch performer. And this is the final year on the contract of Ryan Braun, who has been the face of the franchise most of his career.
The Brewers lost their second-best hitter last year when Mike Moustakas signed with rival Cincinnati. However, they are excited for a full season of action from 23-year-old Keston Hiura. In just 84 games at second base last season Hiura managed 19 home runs and 49 RBI while hitting .303.
They also swapped catchers, losing Yasmani Grandal but replacing him with Omar Narvaez. Narvaez was very good at the plate last year, hitting .278 with 22 home runs in the middle of an inept Seattle lineup.
Milwaukee Brewers 2020 Projected Rotation And Closer
1. Brandon Woodruff (R)
2. Adrian Houser (R)
3. Brett Anderson (L)
4. Josh Lindblom (R)
5. Eric Lauer (L)
Closer: Josh Hader (R)
The Brewers are extremely reliant on their bullpen over the last two seasons. In both 2018 and 2019, Milwaukee's bullpen logged the most innings in the National League and was ranked No. 5 in innings both years. Last year they finished fourth in strikeouts and seventh in batting average against one year after finishing in the Top 5 in both categories.
However, the Brewers bullpen ERA dropped from 3.47 in 2018 (No. 5) to 4.39 in 2019 (No. 17). They have also blown 53 saves over the past two years, among the highest totals in the game.
Part of Milwaukee's reliance on their relievers is by design. Part of it is out of necessity. The Brewers had one of the weakest starting rotations in baseball last season, and it got worse over the offseason. Milwaukee lost five of seven guys that started at least 11 games for them last year.
Brandon Woodruff made a successful conversion from the bullpen to starter last year, taking the ball 22 times and posting an 11-3 record to go with a 3.62 ERA. He had a strikeout-to-walk ratio of nearly 5-to-1 and is now the de facto ace of this staff.
Things are pretty murky behind Woodruff, though. Adrian Houser is more of a bullpen arm than an innings eater. Brett Anderson had a bit of a career resurgence in Oakland last year. But 2019 was just the second time in the last decade that he's made more than 20 starts in a season and Anderson carried a 5.75 from 2016-2018 (34 appearances), making him completely unreliable.
Josh Lindblom has been in Korea the past two years, and Eric Lauer is a replacement-level lefthander. So look for the pressure to fall on the bullpen for most of this season again.
Milwaukee Brewers Odds To Win The World Series
The Milwaukee Brewers were posted at around 28-to-1 to 30-to-1 to win the World Series. They are just 3-to-1 to win the National League Central. But despite that small number, they are actually No. 4 behind the Cubs , Cardinals and Reds in terms of odds to win the division. Milwaukee is also 15-to-1 to win the National League.
Milwaukee Brewers 2020 Predictions
I am basing all of my predictions on my belief in an 81-game season that starts on July 1. I have absolutely no inside information about MLB's plans for the 2020 season. However, for the sake of discussion, 81 games are what I have in mind while writing these previews.
I'm selling the Brewers this year. This is an extremely competitive division, and the National League is absolutely loaded this year. There is no way that the Brewers are going to be able to compete at an elite level because of their pitching staff. Their starting staff is incredibly weak. And after two straight years of logging serious innings, the bullpen started to show cracks late last season.
Whatever version of the 2020 season we get, it is going to be truncated. That's going to benefit teams with high-end players and teams built for a sprint, rather than a marathon. That doesn't describe Milwaukee. I don't think that their lineup is going to be as potent this year after losing three of their top four power hitters. And I don't think that their pitching staff is going to be able to pick up the slack.
Robert Ferringo is a professional sports bettor and handicapper for Doc's Sports and is considered one of the top MLB betting experts in the country. He has posted three consecutive winning MLB seasons and closed the 2019 season on a +$10,000 baseball run for his followers. Robert has beaten the books for six of seven profitable seasons on the diamond and is looking forward to another winning season for his clients. If you would like some help winning more bets in MLB this season the good news is that you can try out Ferringo's MLB picks for free when you set up your complimentary $60 account here.
Get all of Today's MLB Picks
Get all of Today's Guaranteed Expert MLB Picks