Most Super Bowl Rings by a Player or Coach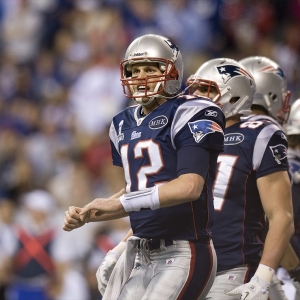 This year, and every year, every player on the two teams playing in the Super Bowl cares about precisely one thing - getting a Super Bowl ring. For many - players and coaches - it will be a first ring. And for most on the other side it will be yet another in what has become a very sizeable collection. In fact, last year the two main architects of this incredible New England run - Tom Brady and Bill Belichick - made some history with the rings they won. And that's what we are here to look at today.
Until last year, Charles Haley, who was elected into the Hall of Fame in 2015, stood alone atop the Super Bowl player mountain. He was far from the most likeable guy, but he won two rings with the 49ers, lost a personality clash with Steve Young, fled to Dallas, and won three more titles. So, five rings was a record, and it was one that seemed insurmountable - until Brady matched it last year. And he can climb to the next rung of the ladder - one that very likely will never be reached by someone else - with a sixth win here.
Free $60 in Member Super Bowl Picks No Obligation Click Here
Brady's accomplishments have been very impressive, but they aren't even the best on the team. Like Brady, Bill Belichick moved into a tie with a long-time record holder last year when he claimed his seventh ring. Belichick has won his five in New England and had previously won two as an assistant with the Giants. The only guy who can match that is much lower profile. Neal Dahlen worked in various player personnel roles with the Niners from 1982 and 1995, and he won five rings in that time. Then he got a chance to run his own team as he took over as GM for the Broncos. There he earned two more rings with John Elway as his quarterback. Now, Belichick can move to the top of the pile alone and force himself to buy a new boat - he traded in the vessel Six Rings for VII Rings after the win last year.
Belichick does have one claim alone already - by winning his fifth title he passed Chuck Noll to become the winningest head coach ever.
If anyone is going to catch and eventually pass Belichick it is likely to be Josh McDaniels, the offensive coordinator of the Patriots. He has been aboard for all five Super Bowl titles for the Patriots and has done so in four different roles - a personnel assistant, then a defensive coaching assistant, followed by QB Coach, and then offensive coordinator for the last two and, if he has his way, this year. McDaniels is only 41-years-old and seems poised to get his second chance as a head coach with the Colts next year. He could have 20 years or more in the league to add to his title, and Belichick can't coach forever - assuming he is actually mortal. McDaniels already is tied for the most titles ever for an assistant coach, and he can take the record for his own this year. Another Belichick disciple, Romeo Crennel, is currently tied with McDaniels. He won the two titles with the Giants alongside Belichick and then the first three in New England.
The Eagles, not surprisingly, have far less Super Bowl experience, but they aren't totally lacking. Seven active players have Super Bowl rings. Technically it is eight, but OT Will Beatty was on the IR for the Giants when they beat the Patriots, so he got a ring but didn't play. Of those seven or eight, the most interesting are Chris Long and LeGarrette Blount, who both earned their rings last year with the Patriots. No Eagle has played in more than one Super Bowl, and no player has lost a Super Bowl game (a good omen, perhaps). So, that means that Tom Brady alone has played in as many Super Bowl games as the entire Philadelphia roster.
The Eagles also have some Super Bowl experience on the coaching staff - though not nearly as much as their rivals, obviously. Doug Pederson won once with the Packers as backup QB, so he knows what victory looks like from the sidelines. And running backs coach Duce Staley won a ring with the Steelers, though he was a very lightly used third-stringer by that point in his career.
Finally, we shouldn't talk about winning rings in bulk without discussing Willie Davis, who has seven titles as well, but bad timing means he doesn't technically share Belichick's record. He was a defensive end with the Browns from 1958 to 1969, and he won five titles in that time, though the first three came in the form of NFL Championship Games because the Super Bowl had not been created yet. Later, he won two more Super Bowls as an executive with the Packers.
Want free sports betting picks? Doc's Sports has you covered - get $60 worth of picks free from any of Doc's Sports expert handicappers. Get $60 worth of premium members' picks free .
Read more articles by Trevor Whenham