2020 Pac-12 Tournament Predictions with Betting Odds
by Robert Ferringo - 3/11/2020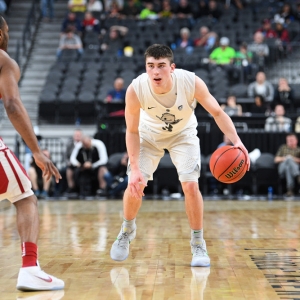 The motto for this year's Pac-12 college basketball conference should be, "The Pac-12: We're Not Very Good, But We're Not As Bad As You Think!"
The Pac-12 is currently the No. 4-rated conference in the country. Now, this has been a bizarre year in terms of parity and overall inconsistency within the Top 25. But it is true: the Pac-12 is No. 4 in the nation. Despite that, the league is still unsure if it is going to be able to top last year and secure at least four bids to the NCAA Tournament
I feel like at least a bit of the Pac-12's current national standing comes from some misleading numbers. The majority of these West Coast teams did an outstanding job with nonconference scheduling. And the top teams in this league played a ton of top teams in other major conferences. The problem is that while the Pac-12 played a lot of close games against Top 25 opponents, they didn't win a lot of those games.
Oregon almost beat Gonzaga and North Carolina. Arizona State almost beat Virginia and Creighton. Arizona almost beat Baylor and Gonzaga. Stanford almost beat Butler. Etc. The league took big swings. But they didn't connect on a lot of punches.
Now they will come together and try to crown a champion in one of the most wide-open leagues in the country. The bracket is wide open, and I have a feeling that the Pac-12 may end up with at least four bids in next week's Big Dance in part because a lower-seeded team steals a bid by winning this tournament.
The Pac-12 Conference Tournament will be played at T-Mobile Arena in Las Vegas. The tournament begins on Wednesday, March 11, and the champion will be crowned on Saturday. Here is Doc's Sports 2020 Pac-12 Tournament preview and predictions:
Doc's Sports college basketball handicapping team has set some lofty standards worldwide for college basketball handicapping. Get $60 worth of premium members' picks free. No credit card needed, and you will never deal with a salesman. Get daily college basketball picks on Doc's Sports NCAA hoops predictions page.
The Favorite: Oregon (+180)
The Ducks earned their first outright regular season title since 2016 because they were the most consistent team in the Pac-12 this year. They have been able to weather a plethora of injury issues thanks to the outstanding work of four-year starting point guard Payton Pritchard. He is a difference-maker and maybe the most valuable player to his team in all of college basketball. This is not one of Dana Altman's most talented teams. But they just find a way to win games, as evidenced by their eye-popping 5-1 record this year in overtime games. Oregon is rock solid defensively, and Altman isn't afraid to go deep into the bench. The Ducks lost second-leading scorer Chris Duarte, and they need a second (and third) scorer to step up and compliment Pritchard, who may not have enough left in the tank to carry this team to a title.
The Contender: Arizona (+400)
I have been selling Arizona stock all season long. The stats and analytics love this Wildcats team. I do not. I don't think that Arizona is any good at all, frankly, and it is tough to make an argument that I'm wrong based on their wobbly 10-8 mark in Pac-12 play. The Wildcats lost four of their last five games to close the regular season and don't have many wins over sure-fire NCAA Tournament teams on their resume. Still, the books have Arizona as the No. 2 favorite to cut down the nets this weekend. Don't get suckered in. Freshmen Nico Mannion and Zeke Nnaji have a wealth of potential. But they aren't superstars by any stretch. There is something weird going on with senior Max Hazzard, who has missed three of four games with personal reasons, and the Arizona bench is completely uninspiring. This team does nothing for me.
The Dark Horse: Colorado (+410)
Colorado is a very dangerous team heading into this tournament. And I mean that both positively and negatively. The Buffaloes have the talent, experience and system to get hot and run the table in Vegas. But that is the big question with the Buffs: can they ever possibly play as well on the road as they do at home? McKinley Wright and Tyler Bey are an excellent one-two punch. And this team is underrated defensively, allowing opponents to shoot just 41.2 percent from the field. Colorado has played its worst basketball of the season over the last few weeks, losing four straight and shooting around 25 percent from 3-point range. Buffalo has been shying away, physically, from the challenge. If they find some heart and toughness, along with their shooting stroke, this team is talented enough win this title.
The Spoiler: UCLA (+1300)
After an ugly 74-59 home loss to Stanford on Jan. 5, the Bruins were 8-9 overall, 1-3 in league play, and a complete and total afterthought. Since then they have gone 11-3 and have clawed their way to the No. 2 seed in the league tournament. They are on the NCAA Tournament bubble and right now they may be the team that no one wants to play. Mick Cronin is an outstanding head coach. And he's turning what was expected to be a transitional season into a major learning experience for this young group. The Bruins have gone big, relying on a frontcourt that goes 6-9, 6-9, 6-10. The defense has been cranked up, and the tempo cranked way down for this team, and they have been grinding out opponents during their recent winning streak. They do have one of the more difficult paths to the title game, though, and I have a feeling UCLA's wild ride is coming to a close.
Early Round Game To Keep An Eye On:
No. 3 Arizona State (+2) vs. No. 6 Colorado (11:30 p.m., Thursday, March 12)
Assuming that Colorado can take down Washington State in the first round, this ASU-Colorado matchup has the potential to be one of the best in the entire tournament. Arizona State has consistently failed to rise to the challenge in their biggest games this season. But I still really like the talent on this roster, and I think that they could be the most well-rounded squad outside of Oregon. Remy Martin is a vastly underrated lead guard. And if he can get help from vets Alonzo Verge and Rob Edwards (without freshman Jaelen House screwing things up), then these guys can beat anyone, including a Colorado team among the tournament favorites. Arizona State lost both meetings against the Buffs this year, including the season opener in China and a home game in January. ASU has just one win since Jan. 23 and have beaten just one opponent by more than five points since mid-January. I think the winner of this game is going to roll into the finals, making this a huge contest for both teams.
2019 Pac 12 Conference Tournament Predictions: The Pac-12 has been a mess for the past four years. They seem like they are at a place now where the SEC was about seven years ago - bad, but on the verge of a resurgence. The low overall talent level (especially on offense) has created a sort of parity that has made this league tournament extremely unpredictable.
I think it is going to be tough to knock out Payton Pritchard early in the tournament. And the Ducks have the easiest potential semifinal opponent in either USC or Arizona/Washington playing their third game in three days. The bottom of the bracket is much tougher. And a semifinal between No. 6 Colorado and No. 7 Stanford isn't that much of a stretch in this league. I think that whoever survives that brutal bottom half of the bracket will find a way to knock off the Ducks in the title game, and I think that we're going to have a surprise winner cut down the nets on Saturday.
Robert Ferringo is a member of the Basketball Writer's Association of America and a professional sports handicapper for Doc's Sports. He is considered one of the best college basketball handicappers in the country and has posted 11 of 13 winning seasons. He is looking for a monster March run and will have an 8-Unit Conference Tournament Game of the Year this week. You can sign up for his college basketball picks and get more information here.
---
Most Recent College Basketball Handicapping