Ranking the Super Bowls: 10 Best Games in History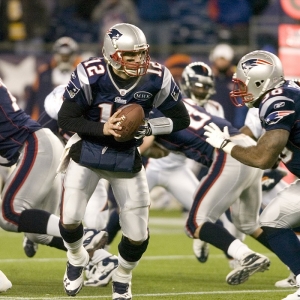 I last revisited my list of the 10 best Super Bowls ever played back in 2010. Sadly, not much has changed since then - only one game since has broken into this esteemed group. It's not that the games have been horrible lately by any means, but perhaps they haven't been as good as they could be. We can hope for a real gem this year - and the ingredients are there - but in the meantime let's look at the list as it stands now, just waiting to be disrupted and changed up by Super Bowl 50:
10. Super Bowl XXXVIII - Patriots 32, Panthers 29: This was a truly great game, and not just because we got to see Janet Jackson's nipple at halftime. It was a defensive battle until it really wasn't - the teams scored 37 combined points in the fourth quarter. Ricky Proehl tied it up late, but Adam Vinatieri won the Super Bowl with a last-second kick for the second time in three years.
9. Super Bowl XXIII - 49ers 20, Bengals 16: I'll always remember this game for two reasons. First, this was the game of The Drive - when Joe Montana moved 92 yards down the field in the closing minutes to win and remind everyone just how cool he was. Second, there was a mad scramble before the game to get your 3D glasses from Coke so you could enjoy the halftime show - an incredibly lame 3D mess with a fake Elvis and a bad magic trick. Worst halftime show ever - and that's saying something.
8. Super Bowl XXIV - 49ers 55, Broncos 10: The outcome in this one seemed a foregone conclusion before it started - the Niners were favored by 12 and still seemed like a bargain at that price. This was obviously not competitive, but it was a joy just to see what perfect football looked like. Led by Joe Montana and his five TD passes, the Niners did everything exactly as they were supposed to en route to the biggest thrashing in Super Bowl history. The Broncos were done before the first quarter ended, and they so clearly knew it.
7. Super Bowl XXXIV - Rams 23, Titans 16: This is the game that cemented Kurt Warner as a legend - his story of his rise from grocery stock boy to Super Bowl MVP was one that everyone couldn't help but love. It almost didn't happen, though. Tennessee looked like they had tied it as time expired, but thanks to 'The Tackle', Mike Jones actually stopped the drive - and the game - on the one-yard line. The game ended as a push against the spread, so I liked it a lot more than the bookmakers who had to give back all the money they brought in did.
6. Super Bowl XXV - Giants 20, Bills 19: Games can't get any closer than this one, and this one shouldn't have been quite as close as it was. The Bills were set to kick the winning field goal at the final whistle, but Scott Norwood found a different path to infamy - by pushing the 47-yarder wide right his name became eternally a synonym for choking in the spotlight. Bill Belichick was the winning defensive coordinator in this one.
5. Super Bowl XLIX - Patriots 28, Seahawks 24: The lone new entrant on the list was entertaining throughout for the most part. It will always be remembered, though, for the impossible brain freeze that sealed the win. With the game and a second straight title just a Marshawn Lynch rush into the endzone away, the Seahawks instead opted for the slant pass of stunning incompetence. New England's Malcolm Butler got the interception, and the Pacific Northwest wept.
4. Super Bowl XXXII - Broncos 31, Packers 24: This was the game in which John Elway finally got his first Super Bowl ring. He and the Broncos were 11-point underdogs, and they looked to be in trouble when Brett Favre came out firing with an early TD. Terrell Davis was the hero and MVP on the day, though, running for 157 yards and three touchdowns - and overcoming a migraine headache that cost him the second quarter.
3. Super Bowl III: Jets 16, Colts 7: This one was before my time, but I wish I had seen it live. I have certainly read and heard enough about it since to know what I missed out on. The Colts were favored by 18, but Joe Namath didn't care. The Jets' QB guaranteed victory, and then he backed it up with an MVP performance - even though he didn't have a TD pass. It's only being cocky if you can't back it up.
2. Super Bowl XXXVI - Patriots 20, Rams 17: St. Louis was favored by two touchdowns. They were the Greatest Show on Turf, and it didn't seem like they could be beaten - certainly not by some kid named Brady. The Patriots set the tone early when they refused to be introduced early before the game - they came onto the field as a team. Kurt Warner had 365 yards passing, but he threw two costly picks, and the Patriots opened a 17-3 lead and then held off long enough for an Adam Vinatieri last second kick to win it. It was a thrill ride of a game - and a stunning upset.
1. Super Bowl XLII - Giants 17, Patriots 14: Yes, Tom Brady is on this list for the fourth time. People who aren't fans of his will be relieved to know, though, that he finally lost one - and he won't have a chance to win another one this year. This was the ultimate David and Goliath story. The Patriots were unbeaten and heavily favored, while the Giants were a wild-card team. The Giants were stout on defense, though, and the amazing David Tyree catch - so good that you know exactly what I am talking about just by me saying his name - helped to seal the deal.
Want free sports betting picks? Doc's Sports has you covered - get $60 worth of picks free from any of Doc's Sports expert handicappers. Click here for free picks (new clients only).
Read more articles by Trevor Whenham