College Basketball: 2012 SEC Tournament Predictions and Betting Odds
by Robert Ferringo - 3/5/2012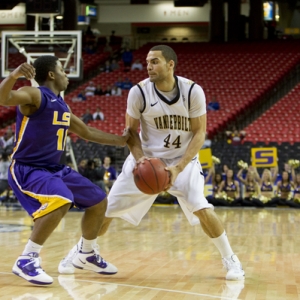 Things are a little different in the SEC this year.
In previous years the SEC had seeded its teams 1-6 based on their respective divisional finishes with the top two teams in each division, East and West, receiving a bye.
However, there had always been grumbling in the SEC East – the division with more traditional basketball powers – that this was unfair. Teams with better conference records in the East were being forced to play an extra game while division winners with weaker teams and worse records were able to enjoy a bye.
The SEC still uses divisions in its regular season for scheduling purposes. But for the SEC Tournament they will seed all of the teams 1-12 based on what their regular season league record was.
This has already proved beneficial to the East, which enters this week's tournament with all four of the top, bye-earning slots. In past years Florida and Vanderbilt would have been forced to play on the first day while Alabama and Mississippi State, the fifth and sixth seeds, respectively, would have enjoyed the bye.
The SEC Conference Tournament begins Thursday, March 8 and is being held at Phillips Arena in Atlanta. Here is Doc's Sports SEC Tournament predictions with betting odds:
The Favorite: Kentucky (-255)
This one is pretty straightforward. The Wildcats are the No. 1 team in the country so obviously they are No. 1 in the SEC. Kentucky is looking for its third straight SEC title and the Wildcats will have the benefit of having the easiest road into the Finals. They will face LSU or Arkansas in the quarters and then will likely match up with either Alabama or Florida in the semifinals. This team is young and hasn't performed in this environment before. But they have the most talent in the league and should avoid the upset. If you want any idea how lopsided this league is, one book simply has the odds to win the SEC Championship listed as "Kentucky" or "The Field".
The Contender: Vanderbilt (+215)
Talented but soft – that is what this Commodores team is. Vanderbilt was in the Top 15 in the country in the preseason but they haven't lived up to their billing as a potential Final Four sleeper. The main reason is their soft perimeter defense and their poor rebounding. However, Vanderbilt has the best shooter in the country, John Jenkins, and one of the best swingmen in the nation, Jeffery Taylor, to rely on. This team is much more experienced than Kentucky and they are one of the best shooting teams in the nation. They took two good cracks at the Wildcats and if they get a third chance they could knock off the SEC favorites. But in order to do that this team has to show some heart. And I'm just not sure that is the type of thing you can "turn on" this time of year; either you have it or you don't.
The Sleeper: Tennessee (+215)
Stunningly, the Volunteers came from out of nowhere to earn the No. 2 overall seed in the SEC. They have had no profile, nationally, but by virtue of tiebreakers with Florida and Vandy they slid into the No. 2 slot. The Volunteers defend doggedly and they have a toughness that new Coach Cuonzo Martin has instilled. The Vols have won eight of 10 and are on a 13-4 ATS rush. They put a legitimate scare into Kentucky back in January and they actually have one of the easier roads to the finals. They are on the NCAA Tournament bubble and playing for their lives. This is a team to watch.
The Spoiler: Mississippi State (+215)
No team in the SEC needs some wins in this tournament worse than the Bulldogs. At one point they were a Top 20 team and a lock for the Big Dance. But then they bumbled through a five-game losing streak in February that has put them squarely on the bubble. Rick Stansbury has no idea what he is doing. And this is a very volatile locker room right now, with in-fighting and tension reigning. But we've seen the Bulldogs go on runs in Georgia before. They have one of the better point guards in the league in Dee Bost, a first-team All-SEC performer in Arnett Moultrie, and enough size and athleticism to make a push here. Plus they are desperate. This team had Kentucky on the ropes at home before blowing it. But it wouldn't be bizarre if they took them down in a rematch. Keep an eye on the Bulldogs as well as Alabama.
The Matchups:
No. 8 LSU (-1) vs. No. 9 Arkansas (Noon, Thursday, March 8)
LSU has been one of my go-to teams this year and they have rarely disappointed. This team has been one of the more improved in the country despite entering the SEC Tournament on a three-game losing streak. Arkansas has had a decent turnaround of its own. But they have been a train wreck outside of their home turf. They have won just one game – at Auburn – away from home all year. They are just 2-7 in their last nine games. Both teams are kind of a frantic mess. And this one should be determined by who is better about the details – turnovers, free throws, rebounding. The winner has a date with Kentucky.
No. 5 Alabama (-10) vs. No. 12 South Carolina (2:30 p.m., Thursday, March 8)
It has been a bizarre year for Alabama. This team played its way into the Top 20 but has fallen on hard times over the last two months, mainly because of injuries and suspensions to key players. They booted star forward Tony Mitchell but have won four of five games and are playing with a lot of intensity. South Carolina has only won three total games in 2012: over S.C. Upstate, Alabama and Georgia. Like a lot of SEC teams they are athletic and out of control. They are just 2-7 ATS in their last night and even though they may put up a fight they don't bring anything to the table.
No. 7 Mississippi (-4) vs. No. 10 Auburn (6:30 p.m., Thursday, March 8)
These two teams split during the regular season with Auburn taking a double-overtime winner back in January and Ole Miss scoring a home win in the February rematch. The Rebels have won three straight and have played some of the best teams in the league tight. They have also been routed in other games and you never know which team is going to show up. Auburn is an undisciplined mess and is just 5-12 in its last 17 games. They have won only one road game all year – at Hawaii – but this team may be better than its record. These are two of the younger teams in the league and it is anyone's guess who will come to play on Thursday.
No. 6 Mississippi State (-2) vs. No. 11 Georgia (9 p.m., Thursday, March 8)
Mississippi State is another club that has been all over the map and they desperately need this game to secure their NCAA Tournament berth. They lost at home to Georgia in overtime in the only meeting between these teams and State is just 2-5 in its last five games. But they have two of the better players in the league, Dee Bost and Arnette Moultrie, and both of them will be going balls out to keep their careers going. Georgia is young. But they are set up to play the half-court style that postseason basketball usually begets. UGA can be tricky but I think Mississippi State will be focused.
2012 SEC Conference Tournament Predictions:
It is impossible to bet against Kentucky in this conference tournament. I definitely think that Florida or Vanderbilt could beat them, especially if Vandy had a third shot. But Kentucky is an overwhelming favorite because they won't be challenged until the championship game. None of the second-tier teams will really be able to hold it together long enough to beat them. Kentucky gets too much respect from the officials, they are too feared by their opponents and, bottom line, they just have too much talent. Kentucky is pretty much assured their third straight title.
Doc's Sports is offering $60 worth of member's college basketball picks absolutely free – no obligation, no sales people, and no credit card information. You can use this $60 credit any way you please on any of our top college basketball handicappers, including Robert Ferringo. Robert has posted 10 of 11 winning college basketball months and is up nearly $11,000 in profit this year. Click here for more details and take advantage of this free $60 picks credit today.