2020 St. Louis Cardinals Predictions and Odds to Win the World Series
by Robert Ferringo - 4/10/2020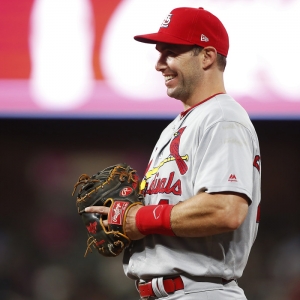 The Cardinals were one of the best teams in baseball during the second half of the 2019 season. They went 51-30 down the stretch and were heavy favorites entering the National League Championship Series against Washington. But the Nationals thrashed them in that series, sweeping the four games, and that outstanding stretch run was all for naught.
St. Louis is at a bit of a crossroads right now. They have a lot of good, young talent and boast one of the best farm systems in the Majors. Jack Flaherty and Paul Goldschmidt give them a pair of stars to promote as the faces of the franchise, and the team will continue to benefit from one of the best fan bases in the sport.
But Yadier Molina and Adam Wainwright, two of the last links to the Cardinals' last World Series championship team (2011) as well as two of just four guys from the last pennant-winning Cards team (2013), are reaching the end of their careers. And it remains to be seen whether or not the Next Generation is ready to step up and get this team back to a championship level.
St. Louis Cardinals 2020 Projected Lineup (updated expert MLB picks daily)
1. Kolton Wong - 2B
2. Matt Carpenter - 3B
3. Paul Goldschmidt - 1B
4. Paul DeJong - SS
5. Yadier Molina - C
6. Dexter Fowler - OF
7. Tommy Edman - OF
8. Harrison Bader - OF
9. Pitcher
It was an ugly year at the plate for the Cardinals last year. They finished No. 23 in the league in batting average (.245) and that was down from their sluggish 2018 hitting (.249). If St. Louis is going to continue to be one of the division frontrunners they simply have to get more production out of their lineup.
Paul Goldschmidt is a stud and a proven commodity for the Cardinals. His average (.260) dipped quite a bit in his first season in St. Louis after hitting .294 in his career in Arizona. But he led the team with 34 home runs and 97 RBI despite not benefitting from any consistent protection. He's the lone sure thing in the order.
Paul DeJong exploded for 30 home runs and 78 RBI, and he has 74 career home runs in just more than two full years of action (382 games). If he can get his average back up (he hit .285 as a rookie and .233 last year), then DeJong has the potential to be a perennial all-star at the position.
Yadier Molina is still the heart and soul of this team and can still get it done at the plate. Almost impossible to strike out, Molina may benefit from the shorter season and therefore be able to contribute even more at the plate. Matt Wieters is a decent insurance policy if the 37-year-old Molina finally starts to show his age.
St. Louis' biggest problem is that they have one of the worst hitting outfields in the Majors. Tommy Edman and Harrison Bader are both young and growing into their primes. But Bader hit just .205 last year, and most scouts are projecting a significant regression from Edman after he hit .304 in about half a season last year. Dexter Fowler and his bloated contract continue to be a drain on the organization, and he is hitting just .216 since the start of the 2018 season.
St. Louis Cardinals 2020 Projected Rotation And Closer
1. Jack Flaherty (R)
2. Carlos Martinez (R)
3. Dakota Hudson (R)
4. Miles Mikolas (R)
5. Adam Wainwright (R)
6. Kwang Hyun Kim (L)
Closer: Giovanny Gallegos (R)
The Cardinals rotation was definitely something to watch this spring because they had a lot of moving parts and a lot of shuffling that needed to be done. Carlos Martinez is moving out of the closer role that he filled last year and back into the rotation. Miles Mikolas was working his way back from a tendon strain and now he should be fully healthy when play resumes. And South Korean Kwang Hyun Kim was fighting for a spot in the rotation as the team's lone lefty starter.
There is still no telling how things are going to shake out for the Cardinals rotation, and this will be a major storyline for this team. Are they going to continue to roll the dice with soon-to-be-39-year-old Adam Wainwright? Could he move back to the bullpen and open up a slot for Mikolas or Kim? Is the team going to regret moving Martinez out of the closer slot?
Regardless of the answers to those questions, Jack Flaherty gives them certain as the team's clear-cut No. 1 starter. He finished fourth in the Cy Young voting last season while posting a 2.75 ERA and 231 strikeouts. The 24-year-old is entering just his third "full" season and should be hitting his prime.
Dakota Hudson is another promising young arm. The 25-year-old led the team in wins last year (16) while earning a 3.35 ERA. He is more of a pitch-to-contact starter, as indicated by his 136 strikeouts in 175 innings, but Hudson still has plenty of untapped upside.
The Cardinals aren't any more certain of things in the bullpen. Jordan Hicks, Giovanny Gallegos, Ryan Helsley and Alex Reyes have all been mentioned as potential ninth-inning guys for the Redbirds. St. Louis had one of the league's best bullpens last year, posting the No. 1 batting average against and No. 5 bullpen ERA last season. So assuming they get the closer situation worked out they should be set in the pen again this year.
St. Louis Cardinals Odds To Win The World Series
I think that the Cardinals have some of the weakest odds on the board right now. They have been posted at 20-to-1 to win the World Series and 9-to-1 to win the National League. I think both of those numbers are off, and they should be closer to 30-to-1 and 18-to-1, respectively. St. Louis is also 2.5-to-1 to win the N.L. Central.
St. Louis Cardinals 2020 Predictions
I am basing all of my predictions on my belief in an 81-game season that starts in early July. I have absolutely no inside information about MLB's plans for the 2020 season. However, for the sake of discussion, 81 games are what I have in mind while writing these previews.
Some analysts have suggest that a condensed MLB schedule this season would be a benefit to the Cardinals because of their outstanding pitching depth. To a certain extent, that may be true. If there are fewer off days league-wide, then the ability to go with a legit six-man rotation and with a deep bullpen the Cards would be better off than most.
However, I really don't see how a shorter season will be to St. Louis' advantage. They are relying on a lot of young players. There's no telling how those young, unproven guys are going to respond to the bizarre nature of this season. St. Louis also lacks high-end talent, and I think that teams with better, higher-ceiling players are going to benefit more in an abridged season.
Basically, the Cardinals are built for a marathon. This season is going to be a sprint. St. Louis is in an excellent spot moving forward, with a good, young foundation ready to continue what has been a nearly 40-year run of success for this organization. But for this year I think that the Cards are going to struggle, and this is a team that I think is a little overvalued heading into the campaign.
Robert Ferringo is a professional sports bettor and handicapper for Doc's Sports and is considered one of the top MLB betting experts in the country. He has posted three consecutive winning MLB seasons and closed the 2019 season on a +$10,000 baseball run for his followers. Robert has beaten the books for six of seven profitable seasons on the diamond and is looking forward to another winning season for his clients. If you would like some help winning more bets in MLB this season the good news is that you can try out Ferringo's MLB picks for free when you set up your complimentary $60 account here.
Get all of Today's MLB Picks
Get all of Today's Guaranteed Expert MLB Picks