2020 Super Bowl Betting Tips and Advice
by Jason Radowitz - 1/28/2020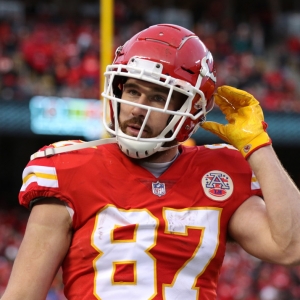 We've made it to Super Bowl 54, and the New England Patriots are not playing in it. I'd assume ratings will be higher just from the Patriots not being in this game, Anyway, this game features two quarterbacks with high winning percentages along with freakish speed on both sides of the ball. If you're betting this game, you've more than likely bet on other games throughout the season. You're just going to put more money into this big game compared to other Sundays. You've likely watched these teams play countless times and believe you know exactly how each team plays and what they'll do.

Except that the Super Bowl never goes as planned.

People rarely worry about prop bets until the postseason. When the playoffs hit, bettors want to root for more than just a team winning or a total going over or under .

Super Bowl Prop Bets

Total touchdowns in game: Over 6.5 +110
If you believe in an offensive explosion, instead of taking the over at 54.5 (-105), you can wager on 7 touchdowns in the game for +110 odds. Seven touchdowns would equal 49 points. If you've watched the NFL this season, you'd know that the Chiefs have one of the best passing offenses in the game but will be playing against a top defense in the 49ers. Both of these teams have engaged in shootouts this season, and we could see some points scored this year after the lowest-scoring Super Bowl in NFL history last year. If you're rooting for points, consider taking over 6.5 touchdowns instead of over 54.5. More value.

Or if you want to think even more outside of the box, you can look at a prop bet like:

Total players with a pass attempt in game: Over 2.5 +115
Recent history shows that only the two starting quarterbacks threw passes in Super Bowl LIII. However, in Super Bowl LII, four players actually threw a pass attempt. Andy Reid and Kyle Shanahan are known for their innovative offensive schemes, and both offenses could dial something interesting up. The Chiefs will undoubtedly use a bunch of end around plays with Tyreek Hill and Mecole Hardman or even get Travis Kelce involved. The 49ers actually ran a pass play off a reverse to Emmanuel Sanders where he threw it to Mostert against the Saints earlier in the season.

When looking at prop bets, I always like slight underdog lines. Anywhere from +100 - +125 works because you're either doubling your money or making a little bit more. The oddsmakers will set the line as slight underdogs, leaving bettors knowing that there is a legitimate possibility these outcomes can happen. You can also look into strictly player props. Doc's Sports Super Bowl coverage has you covered with all player prop bets and 49ers vs. Chiefs predictions .

Of course, you can always stick with the traditional spreads. The Kansas City Chiefs are currently -1.5 favorites against the San Francisco 49ers, while the total is set at 54.5. I'm a big believer in looking at trends and numbers when making my decisions, but as you can see below, there's nothing that differentiates either team.

49ers Favorable Trends
49ers are 5-0 ATS in their last 5 games as an underdog.
49ers are 6-1 ATS vs. a team with a winning record.
49ers are 5-1 ATS in their last 6 games following a straight up win.
49ers are 6-2-1 ATS in their last 9 games overall.

Chiefs Favorable Trends
Chiefs are 7-0-1 ATS in their last 8 games overall.
Chiefs are 6-0-1 ATS in their last 7 games following a straight up win.
Chiefs are 5-0 ATS vs. a team with a winning record.
Chiefs are 6-0-1 ATS in their last 7 games on grass.

With one more week to go before the Super Bowl, you're going to take in a ton of different opinions from many different sources. It might send you into a frenzy. The over is 27-25 in the Super Bowl (there was no total in Super Bowl 1). While that doesn't sound so appealing, seven of the first eight Super Bowls went under. The reality is that the over has actually done better than most will want you to believe in the Super Bowl, in the modern era. Favorites have gone 27-23-2 against the spread, but favorites covered 11 of the first 14 Super Bowls. So, underdogs have actually been the better play in the modern era.

Lastly, the weather could be a factor in this game. South Florida weather is always a hard predict by itself. Outside Super Bowls are becoming rare as more and more Super Bowls stick to indoor facilities. The one time the Super Bowl was affected by rain was … you guessed it … Miami.

According to WeatherSpark, an average day in Miami in February sees a 16 percent chance of notable precipitation. There's a 20 percent chance of rain during the Super Bowl at this time. Rain will most likely not impact this game. However, if you're a good bettor, you'll absolutely keep an eye out on the weather as the game approaches.

To recap, the underdogs and over are the actual trends for the Super Bowl. If history continues to play out, the 49ers will win with the total going over. But do your research. Don't listen to one person. Really dig deep into what you're thinking and go with what you feel. Don't rely on anyone else. It's good to gain knowledge from everywhere and come together with your own opinion of what's going to happen. Good luck!


Be sure to visit our popular NFL Picks page. Want free NFL Super Bowl picks? Doc's has you covered. New clients can take advantage of this great offer of $60 in free Doc's Sports members' picks for any handicapper on Doc's Expert Handicapper list. Just check out these guys' pages and see what great work they have done making money for themselves and their clients over the years. Get $60 worth of premium members' picks free .