2016 Super Bowl Teaser Bets: Picks and Predictions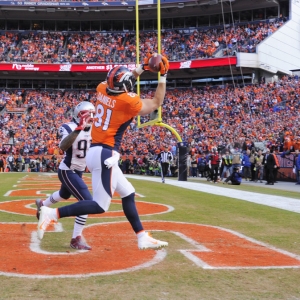 There might be a million different ways to wager on the Super Bowl: you can make a straight bet, a totals bet, a parlay, a teaser, a player prop bet, or coin-toss prop bet. Heck, you can even bet on the color of the Gatorade shower. However, we'll leave most of those wagers for a different article on a different day and focus on two-team, six-point Super Bowl teasers. A teaser, in general, can quickly lead into "sucker's bet" territory with the sheer number of options available for bettors, but the simplest way to get the most value is by sticking to a two-item six-point wager (teasers can include up to 10 points or more and involve eight or more teams).
Free $60 in Member Super Bowl Picks No Obligation Click Here
For Super Bowl 50's Carolina Panthers versus Denver Broncos matchup, there are six teaser options available. Let's take a closer look at each one and figure out the best way to wager on the on the game. All odds come from Bovada .
Two-Team, Six-Point Teaser Options
Original lines: Carolina -4.5; Total 45
Carolina +1.5 and Under 51 or Carolina +1.5 and Over 39 : two-item, six-point teasers are simple. In this case, you add six points to Carolina's spread and move it to +1.5 points and either add or subtract points from the total to create a new "over" or "under". So your options are Carolina plus points and either taking an over on 39 or an under on 51. Wagering on the Panthers may be the strongest play and moving the line to +1.5 feels like a no-brainer-if there is going to be a blowout, it will probably come from Carolina's side. Totals-wise, the Super Bowl tends to be a high-scoring game, with five of the last seven going over 49 points. Even Super Bowl XLVIII, which featured the legendary Seattle Seahawks defense, saw a score of 51 points.
Denver +10.5 and Under 51 or Denver +10.5 and Over 39 : Denver plus 10.5 points feels like another solid spot to take, since only six Super Bowls in the last 16 years have ended with a margin of victory larger than 10. And in the last 10 years, seven of the matchups have stood within 10 points. However, one of those blowouts was Denver's embarrassing loss to Seattle two Super Bowls ago. Denver plus points is not horrible, particularly because of the team's defense, but if any team were to get blown out, wouldn't it be Peyton Manning and the Broncos? Both those teaser options are solid, but the smart play would be to skip them.
Over 39 and Under 51 : If you aren't a fan of Denver at +10.5 or Carolina at +1.5, you could really get crazy and take both the over and under (yes, you can do that with teasers). This wager has a solid 12-point window to win or push, but only five games over the last 16 years have fallen within this exact window of points. This could be a fun bet if you are looking to push the boundaries and get a little excitement in your life. However, this is probably a wager that most smart bettors would skip.
Carolina +1.5 and Denver +10.5 : This is another restrictive wager, where any Denver win would essentially lose the bet. There is a nine-point window for victory, and if you are uncertain about the total this could be the way to go. Four of the last five Super Bowls have stood within a six points, so there is hope for this. Again, only look at this option if you are trying to game or want some excitement.
Best Play : Carolina +1.5 and Over 39 (but under 51 works too). Do not overthink things. Take the Panthers +1.5 and decide on the over or under.
Doc's Sports has been successfully handicapping the NFL for years - more than four decades in the business - and wants to give new clients a chance to try our service for free. Click here for the hassle-free sign up and get $60 in free NFL picks today . Also, get three handicappers for the price of one when you sign up for a full-season football package! Click Here for details.
Read more articles by George Monroy
---
Most Recent Super Bowl Betting Articles