2020 Super Bowl Teaser Bets: Picks and Predictions
by Chris Vasile - 1/28/2020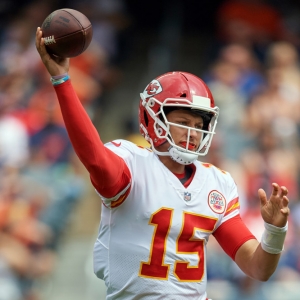 We are less than one week until Super Bowl LIV kicks off, and I'm sure by now you've heard about the matchup. Representing the AFC is the Kansas City Chiefs, who will be making their first Super Bowl appearance since 1969. They will be taking the NFC representative, San Francisco 49ers, who are back in the Super Bowl for the first time since 2012 when they lost to the Baltimore Ravens.
There are plenty of storylines to cover heading into this matchup, but the one I am going to touch on is the best teaser option for the game itself. Before I get there, I must stress one thing, and that's bankroll management. You have to remember that the Super Bowl is just one game of football over the course of the season, and it should be treated and handicapped as it's just another game. If you have an angle about a certain player prop you like and are convinced it's a great spot to bet on, then lay down the wager. If you believe one team is more likely to cover the spread than the other, get your action in. If you like a play on the total, be my guest and play it. However, if you think heads is going to win the toss and are willing to lay -120 on a 50/50 proposition, please reconsider. There are so many betting options and angles to consider when betting on the Super Bowl, but the one I tend to gravitate towards with the utmost confidence is the teaser.
For those of you who are new to this website, we at Doc's only recommend playing a teaser when the numbers make sense. The only teaser we recommend playing is a six-point teaser where you are pushing the spread through the key numbers of three and seven. For example, you would use a six-point teaser on a -7.5 to -8.5 favorite and bring them down to a -2.5 or -1.5 favorite, thus now laying less than a field goal. The flip side of the coin is taking a +1.5 to +2.5 underdog and teasing them up to +7.5 or +8.5 passing through the key number of seven. Here are full details on how to play them.
As of writing this, the Kansas City Chiefs are 1.5-point favorites with the total set at 54.5. There are four teaser options you can make with any game. However, based on the line, we only recommend one. Here are some 49ers vs. Chiefs predictions .
Get free Doc's Sports members' picks for any handicapper on Doc's Expert Handicapper list. Just check out these guys' pages and see what great work they have done making money for themselves and their clients over the years. Also be sure to visit our popular NFL Picks page. Get $60 worth of premium members' picks free .
Doc's Six-Point Teaser Recommendation Number 1
San Francisco +7.5 and "over" 48.5
Based on where the point spread currently sits, this is the ideal teaser that we recommend because you are teasing the point spread through the key number of seven and are getting one of the best teams in the league as more than a touchdown underdog. The Niners have essentially steamrolled through everyone this season, and they've done so on the back of their defense and their incredible efficient offense. If you believe the Niners can win this game but don't want to take them on the ML, you can grab as many points as possible and enjoy a comfortable wager. As for the "over" in this teaser, you have to believe Mahomes and the Chiefs are going to score some points. Therefore, with both teams averaging 28+ points per game, this game should fly over the total.
Doc's Six-Point Teaser Recommendation Number 2
San Francisco +7.5 and "under" 60.5
As per the first part of this teaser, SF +7.5, the same concept applies to the above option. Grabbing the 49ers as more than a touchdown favorite not only covers you if the Niners win the game outright, but it covers you if the game comes down to the last possession or possibly overtime. The "under" portion is going to rely on both defenses stepping up and playing above their head to slow down the opposition. The Niners have the first ranked passing defense and second-best defense in total yards allowed, but they have yet to play anyone as explosive as the Chiefs. If the saying, "defense wins championships" is true, the Niners will have to come up with a solid game plan in order to slow down the high-flying Chiefs offense.
Alternative Teaser Options:
Kansas City +4.5 and "over" 48.5
One of the first rules of teaser betting is never teasing a team through zero. Never make a favorite an underdog unless you are absolutely certain that they will win the game outright. This is the best example of that. Teasing the Chiefs through zero is a terrible idea given the fact that this game can't end in a tie, thus zero is not a viable option. This means that you'd be paying for six points but only receiving five. Bad bankroll management. However, if you insist on playing this version of the teaser, you are hoping that both offenses show up and give the world what they want to see - a Mahomes vs Garappolo shootout. We know how efficient and explosive both offenses can be at any given time. Therefore, if your banking on fireworks, this may be the best teaser for you given the fact that the Chiefs are never out of any game with their quick score offense, and 48 would be relatively low for two teams averaging over 28 points per game.
Kansas City +4.5 and "under" 60.5
If you think the Chiefs are going to win the game or the game is going to be as close as the point spread indicates, this version of the teaser relies on the defenses stepping up in a big way and slowing down the opponent. We already know what we are going to get from the 49ers stop unit, and that's a full 60-minutes of sound assignment football and hopefully (for the sake of Niners' fans) a ton of pressure on the QB to make him force throws or throw the ball away. As for the Chiefs defense, they've stepped up in a big way this postseason despite giving up 31 and 24 points. If they can stop the run and force Jimmy G to beat them through the air, they could cause trouble with their pass rush and force SF into some bad situations.