2015 Chicago White Sox Predictions and Odds to Win the World Series
by Alan Matthews - 4/1/2015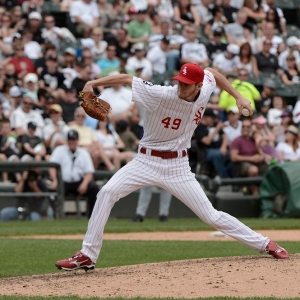 Do you realize that the White Sox have won just a single playoff game since taking the 2005 World Series, a win that even had some Cubs fans celebrating a baseball championship in title-starved Chicago? That lone win came in a four-game ALDS loss to Tampa Bay in 2008.
Since that year, the Sox have finished with winning records just twice, last in 2012 when they led the AL Central much of the year but collapsed down the stretch to finish second. The next year was a 63-win disaster, but the Pale Hose improved by 10 wins last season thanks largely to the (now brilliant) signing of Cuban slugger Jose Abreu and a Cy Young-caliber season from Chris Sale.
Because those two franchise-type players are on such player-friendly contracts, especially Sale, the Sox had plenty of money to spend this season, and GM Rick Hahn was very aggressive in filling holes in the lineup, rotation and bullpen. While the Padres appear to be clearly the most-improved team on paper in the National League, the White Sox hold that honor in the AL, and it should be a terrific AL Central race this season.
Chicago opens the season Monday at defending AL champion Kansas City.
White Sox 2015 Projected Lineup
No major losses from this group from last year. Paul Konerko retired and was one of the all-time great White Sox and will have his jersey retired early this season, but he wasn't a good player last year. Outfielder Dayan Viciedo was released. He had some power but little else.
Center fielder Adam Eaton returns as the leadoff man, and he's a very good player but has to tamper down his aggressiveness on defense a bit as he tends to get hurt running into walls, etc. The Sox need him to stay healthy. He hit .300 with 15 steals and a .362 on-base percentage in 2014. He'll be followed by big addition No. 1, left fielder Melky Cabrera (.301, 16 HRs, 73 RBIs with Blue Jays). He's a perfect fit at No. 2.
Then comes Abreu, the unanimous AL Rookie of the Year. He had one of the great rookie seasons ever, leading all rookies in home runs (36), RBIs (107), hits (176), doubles (35), runs scored (80), OBP (.383), slugging percentage (.581) and OPS (.964). He's the fourth rookie to hit at least .300 with 30 HRs and 100 RBIs since the Rookie of the Year Award was first given out in 1947. Abreu's power was way down in the second half of last season but his average way up. Pitchers can't get him out this spring.
Abreu did most of his damage without much protection behind him (it was usually Adam Dunn), but Hahn solved that problem with a smart two-year deal for former Washington National Adam LaRoche (.259, 26 HRs, 92 RBIs). LaRoche and Abreu will rotate between first base and DH, although Abreu will play first more. I look for a breakout season from No. 5 hitter and right fielder Avisail Garcia (.244, seven HRs, 29 RBIs) after missing much of last season. No. 6 hitter Alexei Ramirez (.273, 15 HRs, 74 RBIs, 21 steals) is one of the best offensive shortstops in baseball.
So that top six looks good. The bottom three is a bit iffy: third baseman Conor Gillaspie (.282, seven HRs, 57 RBIs), catcher Tyler Flowers (.244, 15 HRs, 50 RBIs) and whomever plays second between Micah Johnson and Carlos Sanchez. That battle still hasn't been decided, although I expect it to be the speedy Johnson. Both are unproven in the majors.
If the Sox have problems at second or third, they brought back Gordon Beckham, and he can play either position and so can free-agent utility-man Emilio Bonifacio.
White Sox 2015 Projected Rotation & Closer
This all starts with Sale, perhaps the second-best pitcher in all of baseball behind the Dodgers' Clayton Kershaw. Sale is certainly no worse than the second-best left-hander behind Kershaw. The only worry with Sale is durability as he generally spends at least a few weeks on the DL with a tired arm. In 26 starts last year, he was 12-4 with a 2.17 ERA, 0.97 WHIP (both second in AL) and 208 strikeouts in only 174.0 innings. Sale will not be ready for the first week after breaking his foot in a freak accident, but the team projects his first start to be April 12.
The biggest pitching addition will be the team's Opening Day starter: right-hander Jeff Samardzija. He was 7-13 with a 2.99 ERA combined with the Cubs and A's last year. Hahn didn't have to give up any of his top prospects to get Samardzija from Oakland, but he will become a free agent next winter. Samardzija did grow up a White Sox fan living in northern Indiana, so maybe the team will be able to re-sign him.
Vastly underrated left-hander Jose Quintana (9-11, 3.32), the king of the no-decision, slots in at No. 3. That's a very good top three, but No. 4 John Danks (11-11, 4.74) and No. 5 Hector Noesi (8-11, 4.39) are question marks. Top pitching prospect Carlos Rodon could be up as early as May to perhaps take Noesi's rotation spot.
The Sox bullpen was one of the worst in the majors last year, and that looks much-improved with the addition of former Yankees closer David Robertson (39 saves, 3.08 ERA). He had some right-arm soreness this spring, which obviously can be a concern, but now seems fine and should be good to go for Opening Day. Hahn also added lefty set-up man Zach Duke (2.45 ERA) in free agency.
White Sox Futures Odds & 2014 Trends
At Bovada , Chicago is +1600 to win the World Series, +750 to take the pennant, a +225 co-favorite with the Tigers in the AL Central and with an "over/under" of 81.5 wins (over a -130 favorite). Abreu is the +750 favorite to lead the majors in homers and +400 second favorite to win AL MVP. His totals are 33.5 homers and 95.5 RBIs. Sale is a +500 third favorite to win the AL Cy Young. He's not given any totals, presumably because of that injury. Samardzija is +2500 for the Cy Young. He's listed with 11.5 wins (over -125 favorite). The Pale Hose were 81-81 against the spread last season and 80-75-7 O/U. On the moneyline, they were -148 units on the year.
White Sox 2015 Predictions
FanGraphs projects Chicago to finish 78-84 and tied with Kansas City for third in the AL Central. That seems crazy pessimistic. Could the Sox finish third behind the Indians and Tigers? Sure. Chicago could also win the Central. Yes, the bottom third of the lineup and back end of the rotation are potential problems, but I think Hahn will be active to fix those if need be. I'm taking over the wins and think the Sox do win the division. Go under Abreu's homers and but over RBIs and Samardzija wins.
How about $60 worth of member's baseball picks absolutely free? - You can use this $60 credit for any of our top MLB handicappers. Get on board now.
Read more articles by Alan Matthews
Get all of Today's MLB Picks
Get all of Today's Guaranteed Expert MLB Picks