Oral-B USA 500, Odds and Predictions
by Josh Schonwald - 8/29/2014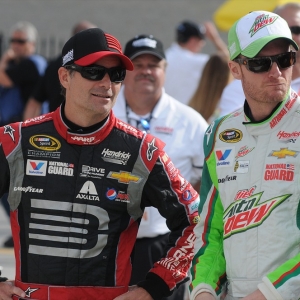 The NASCAR Sprint Cup Series travels to Hampton, Georgia, this Sunday, Aug. 31, for the Oral-B USA 500.
The NASCAR Sprint Cup Series only visits Atlanta Motor Speedway once during the season. Atlanta brings back an old-school type of racing. Darlington seems to be the track most similar to Atlanta. Not because of the size, but because you have to run right against the fence. We'll also throw in Fontana and Texas with those tracks as they're worn out and more similar in size. The surface eats up tires and has multiple grooves. Drivers are forced to move around and find the groove that works best for their car. The teams who can do this will run up front Sunday night.
Last year Roush Fenway Racing dominated qualifying at Atlanta last season. Ricky Stenhouse Jr. won the pole and his teammate Carl Edwards started next to him on the front row. But Roush Fenway Racing has not shown the speed this year so look elsewhere for your winner this year.
Joe Gibbs Racing is the team to watch this week. The team has finished either first or second at Atlanta 17 times (with seven total wins). Kyle Busch and Denny Hamlin won the event the last two years. Their teammate Matt Kenseth could use a win this week to give him momentum heading into the Chase.
Here are my picks for the Oral-B 500 at Atlanta.
Josh's Pick: Jeff Gordon (6 to 1)
Jeff Gordon had a rough Bristol, but I'm blaming Kurt Busch for that. The 24 was up front until receiving damage from him Jeff Gordon has been too good on the intermediate race tracks this year not to go with him here. He has finished in the top 10 in seven of the eight races this season on race tracks similar to Atlanta. The only race he finished outside the top 10 was when he finished No. 13 at Fontana. Jeff Gordon has also been pretty good at Atlanta the last three years as well, scoring a win, a top five, and a top 10. He's led 169 laps at Atlanta over that span and has an average start position of 5.0. Don't be surprised to see him add another win Sunday night!
Don't Overlook: Kevin Harvick (6 to 1)
Harvick loves Atlanta. Harvick won his first race at Atlanta and has finished in the top 10 in six of the last seven races at the race track. He owns an average finish of 7th, with 101 laps led and three top 10s in the last three years at Atlanta. Kevin won Darlington and has led 239 laps on the worn-out tracks.
Stay Away: Clint Bowyer (40 to 1)
Although normally one of the more consistent options, Bowyer has struggled at Atlanta throughout his career. Not only he has never recorded at Top-5 finish at the track, but he only has one Top-10 in his last six starts. During the same stretch, he has finished outside the Top 20 five times. Avoid Bowyer in Atlanta.
2014 Doc's NASCAR Selections
· $100 bettors up +$8,496 on the season!
· 58-30 on the season with our driver match-up selections!
Read more articles by Josh Schonwald