Super Bowl Coaches 2019: Handicapping the Head Guys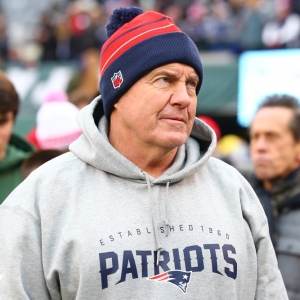 I am totally fascinated by the matchup of Super Bowl coaches we are presented with this year. Bill Belichick is the oldest of the old guard. The last of his generation in so many ways. I mean, Pete Carroll is older than Belichick, but he feels so much younger. Everyone feels younger than Belichick - even Vince Lombardi. And on the other hand, you have Sean McVay, the hottest of hot coaches but a guy so young that his parents only barely let him stay up to watch the end of Brady and Belichick's first Super Bowl win. Belichick was older when McVay was born than McVay is now. Belichick was working for his fourth NFL organization by the time McVay was born. McVay hadn't started grade school when Belichick got his first head coaching gig. I could go on and on, and frankly I am tempted to because this is so much fun, but the point is obvious by now - one of these guys is really young, and it isn't Belichick.
The contrast goes well beyond the ages of the guys. McVay has coached 35 games in his career, going 24-8 in the regular season and 2-1 in the playoffs. Belichick has coached 41 playoff games and has won 30 of them. Belichick has 3.5 Super Bowl rings for every playoff win McVay has. Belichick has lost as many Super Bowl games as McVay has coached playoff games. And again, we could go on and on.
Given the massive, almost incomprehensible gulf in experience between the coaches, it would be easy to dismiss McVay entirely. Belichick is a master of his craft, and as he is making his fourth Super Bowl appearance in five years - and doing so after a year that seemed troubled along the way - he is clearly at the top of his game. It's a very tough challenge for any coach to go against him - never mind a guy with so much youth and so little experience.
But here's the thing - McVay is good at his job. Really good. Sure, the love of him coming from other teams right now is a little crazy. His former offensive coordinator, Matt LaFleur, has already gotten a head coaching job in Green Bay, current quarterback coach Zac Taylor will reportedly be named the head coach in Cincinnati after the Super Bowl, and guys like Kliff Kingsbury likely should credit a case of McVay fever in NFL front offices for their hiring. But people are excited about McVay and what he has done because it is so competent, and the results so impressive. He took over a team that was a disastrous 4-12 in 2016 under Jeff Fisher and turned them right around to 11-5 in his first year, and 13-3 and into the Super Bowl now. And he took Jared Goff, who looked like he could very easily become a complete bust under Fisher, and made him a two-time Pro Bowler and now an NFC champion.
Both of these coaches have a chance to make history. Belichick already has the record for most Super Bowl wins by a head coach - his five is one more than Chuck Noll's four. But with a win here, he can earn the most Super Bowl rings in history. Currently he has two from his time as an assistant with the Giants to go with his five in New England. That ties him with former San Francisco and Denver executive Neal Dahlen. No one has eight, and it's quite possible that no one else ever will - though New England offensive coordinator Josh McDaniels, who is only 42 and already has five rings, could be the one to challenge him in time. Belichick could also become the oldest coach to win a title, passing Tom Coughlin. On the other side we have McVay. He wouldn't just set a record for being the youngest winner - he would shatter it. Mike Tomlin won his Super Bowl a month and a half before his 37th birthday. If McVay wins this year, it will come just 10 days after his 33rd birthday. If he doesn't win this year, he still has three more years to break the record.
Add it all up, and the Patriots certainly have an edge in coaching. There is no way around it - experience matters, and even excellence improves with time and practice. But the gap could be much bigger. You tell me that you are putting up Belichick against some random 33-year-old coach and I would call it abuse. But McVay is far from some random 33-year-old coach. And on Super Bowl Sunday, we will find out just how good he is.
Want free NFL Super Bowl picks? Doc's has you covered. New clients can take advantage of this great offer of $60 in free Doc's Sports members' picks for any handicapper on Doc's Expert Handicapper list. Just check out these guys' pages and see what great work they have done making money for themselves and their clients over the years. Get $60 worth of premium members' picks free .
Read more articles by Trevor Whenham