2010 England World Cup Outlook
by Trevor Whenham - 5/21/2010


Get more World Cup betting information including betting bonuses, World Cup odds and our famous World Cup picks, which in 2006 earned $100 bettors over ten times their initial investment. ($100 bettors earned $1,820 click here for details)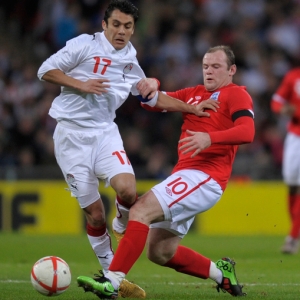 It's not a happy time to be an England soccer fan. It hasn't been for a long time. The country has an expectation of excellence. It is home to perhaps the best league in the world, and its soccer-mad fans think that the team should be the best in the world. They just haven't been, though.
At the World Cup they have a long established history of disappointment. They have been knocked out too soon in each of the last three tournaments, and didn't even qualify in 1994. They haven't done any better at Euro. They shockingly didn't make the field the last time, and have been knocked out in the first round in three of the last five tournaments. If the team doesn't make a big charge soon then the whole country might self-destruct.

Optimism is running high this year in England - perhaps dangerously high. They are at 7/1 for World Cup futures odds at Bodog to win the title - the fourth choice in the field. They are in a group that is advantageous for them - one that they should win reasonably easily if they can play their game. As long as Germany doesn't falter in their group then England will have a reasonably easy second round matchup as well. So, is this the year that they finally make a deep run? Well, a couple of months ago I would have said it was a real possibility. Now, though, I don't think that I am as optimistic. Cracks are starting to show in the foundation of the team, though, and it remains to be seen if they can hold it together through the tournament. Here's a look at four issues that could challenge their ability to compete:

Wayne Rooney - Rooney is England's best player, and one of the best strikers in the world. He was a close second to Didier Drogba in the Premier League scoring race, and he played with confidence all year. Rooney seems to be cursed in the lead-up to the World Cup, though. In 2006 his preparations were impeded by a foot injury. He never recovered completely, struggled with game shape in the tournament, and was never really a factor.
There are concerns this time around, too. In their final Premier League game of the season, Rooney limped off with a groin injury - something he has faced before. He also has some problematic ankle ligaments, and more issues with leg muscles. None of these injuries by themselves threaten his involvement in the World Cup, but when you add them all together you have a concern that he'll be able to train enough to be in game shape, and that he'll be able to hold up through the strain of the tournament.

Injuries, and a lack of depth - Beyond the issue with Rooney, there are some serious injury woes with this team, and that has led them to make some lineup decisions that they certainly would wish that they didn't have to make. The team has released their preliminary 30-man roster, and depth isn't a word that jumps out to describe it.
Two players - Michael Dawson and Adam Johnson - have never played internationally for the senior team. Three more have only played one international match. They have called Jamie Carragher out of international retirement, and Paul Scholes turned down the same offer. This team still has top-level talent to compete, but their second wave just doesn't measure up to what Spain and Brazil can field.

Goalkeeping - A strong goalkeeper can carry a team a long way - just ask Italy last time around. Instead of confidence and strength, though, England's picture in goal raises uncertainty and concern. Simply put, they don't have a No. 1 guy. David James has earned 50 caps in international play, but he'll be 40 in August, and is well beyond his prime. Robert Green has just eight caps, and has played mediocre soccer for a lousy West Ham team. Joe Hart may be the best choice, but he has played just twice internationally, and never in a game of the importance or intensity of what will be faced in South Africa. The back end certainly can't be relied upon to win games single-handedly here.

Beckham drama - David Beckham isn't the best player in the world, and he may never have been. He's certainly one of the most popular among the paparazzi, though. An Achilles' injury will keep him out of this tournament. Before he was hurt his involvement had created drama - he had been left off the team for a long stretch, and that was controversial. If he's not around the team then that's one less distraction for this squad.
The problem, though, is that he may very well be around. He's been invited to be a part of the coaching staff of the team, and if he is healthy enough to do so then he will be there. There are positives that he can bring to the squad, but those might be overrun by negatives if the media goes on a feeding frenzy.
---
Most Recent World Cup Betting