2010 England World Cup Predictions
by Doc's Sports - 3/29/2010


Get more World Cup betting information including betting bonuses, World Cup odds and our famous World Cup picks, which in 2006 earned $100 bettors over ten times their initial investment. ($100 bettors earned $1,820 click here for details)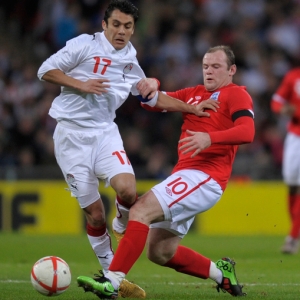 Nickname: The Three Lions
Number of World Cup appearances: 12
Best World Cup finish: Winners (1966)
Team Breakdown
Say what you want about the Brazil's 'title or bust' expectations or even Argentina's lofty desire to finally get back on top as the world's best, but no country will ever be as scrutinized about their World Cup play and results as England.
Two back-to-back quarterfinal finishes were the last two results for the English in 2002 and 2006, and that leads a laundry list of achievement, or disappointment at this tournament. England won it in 1966 but every other appearance could well be considered a failure.
Soccer is life in the UK, particularly in London and all of England. And after seeing this country bow out prematurely at each of the last two Finals, another early exit would be pretty painful to which, even to those of non-English decent.
But even with as much cynicism and doubt that fans almost want to cast over their home country before a ball is even kicked, the talent England has will no doubt leave them as one of the favorites to win in South Africa. Only Spain and Brazil are considered slightly ahead of them as favorites, but you could almost call that debatable, especially if the English are on their game.
Here we go, another drama-filled tournament with nothing but the hopes of an entire country pinned on the lone fact that this must (it has to be, right?) be the year that England regains as FIFA World Cup champions.
2010 England World Cup Odds
England is currently listed at 11/2 futures odds to win the World Cup.
They are 4/11 favorites to win Group C.
Key Player To Watch
When it comes to star talent on the England side, just know you can't reel off one name. There are constants like midfielders Steven Gerrard and Frank Lampard, striker Wayne Rooney, who is in the best form of his life leading up to this summer, or the key defensive brilliance of John Terry. But several names to keep an eye out for are some faces that weren't around in 2006. Strike Jermain Defoe is flat out lethal and a tremendous finisher. Also, Aaron Lennon, who was a substitute in Germany, might likely find a starting role on one of the wings now that David Beckham is set to miss the tournament because of his torn Achilles.
Best Team Asset
Strength in numbers, and England, like the other elite soccer nations in the world, can throw a handful of skill at you and then unload with more off the bench if need be. England can mix and match with the best of them, particularly up front. Wayne Rooney and Jermain Defoe are the best two finishers in the EPL and do it sans the physical size that their other compatriots can come with. Peter Crouch and Darren Bent are more physically imposing strikers atop the English formation and that versatility will allow head coach Fabio Capello to conjure all kinds of wondrous things for his side to put forth in attack.
Key Team Weakness
It is no secret the English lacks a key goalkeeper and one to feel comfortable with comparatively with every other position. And it isn't a stretch to say that come June the position could still be a toss-up to who takes the starting spot. Surely head man Capello would love to see Ben Foster jump up and grab hold of the spot. However, the 27-year-old just hasn't come into first team form on a consistent enough basis to sell the spot as his own. The same goes for an even less experienced Joe Hart, only 22 but the most promising. David James has the experience, but at 39 he is hardly at his peak talent and not exactly racking up clean sheets with his floundering EPL club side Portsmouth. This is a big time issue for England's World Cup hopes and their one true weakness.
England World Cup Predictions
Nothing but a World Cup title is acceptable. It's cliché to a degree, but a fact. Winning the group is the first step, thus avoiding Germany in a likely Round of 16 match-up with Group C's runners-up. However, England could then draw either a Cameroon or Denmark and that could be tricky to sneak past into the last eight. England will be the semifinals; I would like to bank on that. Beyond that it is too close to call, but it's certainly exciting to think about, that's for sure.
Key First Round Match (best betting opportunity)
England is going to be huge favorites in every group play match, and likely that the betting lines against Algeria and Slovenia will not be playable. The best bet is to wager your coin on England winning the group. If they score a World Cup-opening victory over the States, consider it a breeze.
England World Cup Group Play Schedule
v. United State, June 12, 2010 – 2:30 p.m. ET at Royal Bafokeng (Rustenburg)
v. Algeria, June 18, 2010 – 2:30 p.m. ETat Green Point (Cape Town)
v. Slovenia, June 23, 2010 – 10 a.m. ET at Nelson Mandela Bay (Port Elizabeth)
Doc's Sports is your ultimate, one stop source for everything 2010 World Cup. Our results below from the last two major international soccer tournaments clearly state we are premier capper in the world when it comes to the world's game.
---
Most Recent World Cup Betting