2010 World Cup Golden Boot Odds and Predictions for Top Goal Scorer
by Trevor Whenham - 5/26/2010


Get more World Cup betting information including betting bonuses, World Cup odds and our famous World Cup picks, which in 2006 earned $100 bettors over ten times their initial investment. ($100 bettors earned $1,820 click here for details)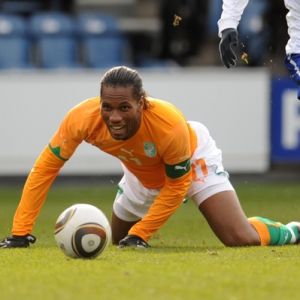 You can bet on pretty much every aspect of the World Cup, so it only makes sense that you can make a wager on the winner of the Golden Boot - the tournament's leading goal scorer. It's a remarkably tough field to handicap - Bodog lists odds for 85 different players.

The biggest factor to consider when you are handicapping this bet is the team the player plays for. It will obviously be hard for a player to lead all scorers if his team is bounced in the first round. There's a catch, though - picking a player from the winning team might not be the best idea. Just once in the last six tournaments - Ronaldo in 2002 - has the Golden Boot winner played for the winning side. That's not as surprising as it may initially seem - a team that is good enough to win it all is by necessity very deep, so more than one player is likely to carry the offensive burden. Another factor to consider when handicapping is the role the player will play on his team - a player that takes the majority of free kicks and penalties for his team is going to have a better chance of winning the boot than one who doesn't.

Here's a look at how the field shapes up and offer some Golden Boot predictions:

The Favorites

David Villa, Spain (9/1) - Villa, who just signed a fat new deal to join Barcelona, is the top offensive threat for the favored team in the tournament. He tied for the team lead in scoring at the 2006 World Cup with three goals, and then led all scorers at Euro 2008. He has scored 36 goals in 55 international appearances - a fast clip. If he has a weakness here, though, it's that his team is so deep and talented that there are so many guys who can score. Besides Villa, Spain has Fernando Torres at 12/1, and four other players listed among the 85.

Wayne Rooney, England (10/1) - Rooney has been in very good form this year - he was second in scoring in the Premier League. His next goal in the World Cup will be his first, though - after struggling with injuries in 2006, Rooney missed the start of the first round, and never found his fitness or form. Health is potentially an issue here as well, with several different leg issues compounding to bring his form into question here as well. The best thing Rooney has going for him is that both his first round draw and his likely second round opponent feature beatable teams, so Rooney should get plenty of opportunities to score.

Lionel Messi, Argentina (12/1) - Messi will turn 23 during the tournament, yet he's already the defending World Player of the Year, and he's quite possible the best pure offensive talent in the world. If his team could be trusted then he would likely be favored here. The problem is that Argentina is volatile. They were lousy in qualification, and though they are very likely to get out of Group B nothing beyond that is certain.

Luis Fabiano, Brazil (12/1) - Brazil is at least the second best team in this tournament, and Fabiano is their best offensive threat, so these odds aren't surprising. With Adriano failing to make the squad, Luis Fabiano will carry the most weight for this team as well. He was the top scorer at the Confederations Cup last year, and Brazil is going to win a lot of games, so he's a hard guy to look past in my eyes.

Intriguing Risks

Cristiano Ronaldo, Portugal (16/1) - He's a former World Player of the Year who had a strong season in his first year playing in Spain, so he's obviously a threat here. The biggest concern is his team. Portugal plays in the World Cup Group of Death, and just may not be talented enough to win enough games to give their star a chance to shine.

Didier Drogba, Ivory Coast (25/1) - Like Cristiano Ronaldo, Drogba is stuck in a very tough group that could limit his opportunities. He led the Premier League in scoring this year, and is a machine, but if he only plays three or four games, and two are against Portugal and Brazil, then he likely couldn't do enough to win. He also has issues with a hernia that could limit his effectiveness. All that being said, no player is any more gifted at scoring goals than Drogba, and none will be any more central to his team.

Live Longshots

Diego Forlan, Uruguay (50/1) - He has twice been the leading scorer in Europe, and he was in very good form in the second half of this season, so he's an obvious threat. Uruguay is a plucky squad that could win some games as well. This is a dark horse who could certainly be a factor.

Peter Crouch, England (80/1) - Crouch is controversial, but he's England's second best scoring threat, and may have to carry more of the load if Rooney isn't at 100 percent. He's been playing well for the International squad, and scored twice in a friendly against Egypt earlier in May.


---
Most Recent World Cup Betting