Key World Cup Injuries for 2010
by Trevor Whenham - 5/7/2010


Get more World Cup betting information including betting bonuses, World Cup odds and our famous World Cup picks, which in 2006 earned $100 bettors over ten times their initial investment. ($100 bettors earned $1,820 click here for details)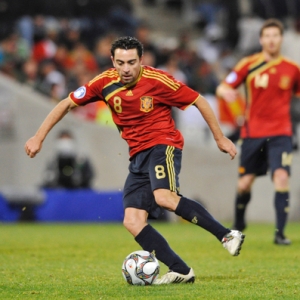 The World Cup field as been set for months now, and the teams have played all of their meaningful games in preparation. All that's left to do is watch and wait, and try to figure out who is going to win this thing. Because we can't watch the teams play, the best thing we can do with the serious contenders is to keep track of who is going to be playing, and, as importantly, who isn't.
Injuries are always a big factor in the World Cup, and it's looking like this year is going to be no exception. Here's a look at five injury situations to be monitoring and considering as you get ready to handicap the biggest of soccer tournaments:

Xavi - Spain comes into this tournament riding very high hopes as the favorite to win it all. Winning it is something they are certainly capable of, but it will be harder to do if Xavi isn't able to play.
Xavi is one of the best playmakers n the world, and he steps up when the games matter most - he was player of the tournament at Euro 2008, and man of the match in the final of the 2009 Champions League for Barcelona.
He's struggling with muscles issues that has made him uncertain - a tear in his thigh and problems with his calf. There are conflicting reports about the severity of the issue - Barcelona coach Pep Guardiola said that the injury was severe enough to compromise his World cup participation, but then backtracked from that comment soon after.
Spain without their midfielder wouldn't be the same team as they are with him in action, so this is definitely one to watch. We probably won't know the real status of the injury at least until the final lineups are announced, and probably not until the first game kicks off.

Fernando Torres - As if the Xavi issue isn't bad enough, Spain also has to deal with questions around striker Fernando Torres. Torres plays for Liverpool, and often complains about the tough, physical play of the Premier League. That roughness seems to have gotten the best of him - he's recovering from his second surgery in three months.
The issue is cartilage in his right knee that was in need of repair. Recovery is going well, but it's anticipated that he will be out for at least the first game of the tournament and perhaps longer. This loss would hit other teams harder than Spain because the favorites are so deep, but it's still an issue to keep an eye on.

David Beckham - If there is one player that the average sports fan knows of it's Beckham. He and his Spice Girl wife are a massive and constant obsession for the media. Beckham shredded his Achilles' and will be out for the World Cup and much longer.
That's not going to have much impact on England's hopes - he's past his prime - but it is going to draw the attention of the casual betting public, and it could cause England's lines to be somewhat inflated.

Rene Adler - The Germans have a history of success in major international tournaments, but it seems like they will have to play to the fullest possible scope of their talent if they want that streak of deep runs to continue. That task got a little tougher with the injury to Adler - surgery on a rib that will keep him from even traveling to South Africa. Adler is just 25, but he has quickly established himself as the top goalkeeper the Germans have, and he had been tabbed as the starter for this tournament.
This is the second key injury that has plagued the Germans - defensive stud Simon Rolfes won't be recovered from his serious knee injury in time to contribute to the squad.

Fabio Cannavaro - The Italian captain doesn't strictly fit on this list because he's not injured, but he needs to be talked about because he's going to have a significant impact on this tournament nonetheless.
Cannavaro is a legend who secured his lasting legacy by leading his team to a somewhat unlikely win at the last World Cup. Coming into this tournament, though, he's clearly on the downhill side of his career arc, and he has announced that he will be retiring from international soccer after this tournament. That makes this tournament his swan song.
He'll be far from alone in that, but Cannavaro is one of the few guys who is of a high enough caliber, and who is respected enough by his teammates, that his retirement could become a rallying point for his squad - a means of drawing out an extra little bit of effort when it is needed.
---
Most Recent World Cup Betting