2010 North Korea World Cup Predictions
by Doc's Sports - 3/23/2010


Get more World Cup betting information including betting bonuses, World Cup odds and our famous World Cup picks, which in 2006 earned $100 bettors over ten times their initial investment. ($100 bettors earned $1,820 click here for details)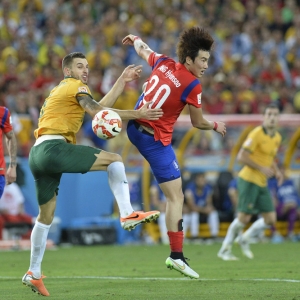 Nickname: Chollima

Number of World Cup appearances: 1
Best World Cup finish: Quarterfinals (1966)
Team Breakdown
It's not a stretch to say North Korea is the most unknown entity among this year's field. They haven't appeared on this stage in 44 years, and despite finishing second to South Korea in their final qualifying group, this team is far and wide the least capable team headed to South Africa.
Their players mostly are household names domestically, and that alone will not have provided them the necessary experience for what they will be up against from the likes of Brazil, Ivory Coast or Portugal in group play.
Perhaps if you wanted to be ambitious and make a case for why North Korea could find success this summer, look no further than their lone World Cup appearance, and that saw them finish as quarterfinalists.
2010 Korea World Cup Odds
North Korea is currently listed at 1500/1 odds to win the World Cup.
They are 150/1 odds to win Group G.
Key Player To Watch
Midfielder Mun In-Guk is the player most likely to produce for the North Koreans. He led them with two goals scored in qualifying and has made 22 appearances for the national team in his international career, netting five goals for his country. Of course, 10 players or so on any one of the other three group teams will outshine the collection of North Korea players, but In-Guk is a name to keep in the back of your mind.
Best Team Asset
Having been in football hibernation for the past 40 years, North Korea's unknown status could work somewhat in their favor. That, along with the fact that everyone facing them will come in with the idea that this match, could and should be a cakewalk. But overall there isn't much to sell you on from FIFA's 102nd-ranked team.
Key Team Weakness
The talent differential between North Korea and the rest of the 'Group of Death' is unparalleled. Probably not one North Korean player could even feature on the roster of this trio of football nations, and quite frankly the score line of their matches could get ugly.
North Korea World Cup Predictions
Three matches will produce three losses, and while trying every bit not to be negative, that is just being realistic. North Korea doesn't have the talent or the experience to compete in this group or any other group in the 2010 World Cup.
Key First Round Match (best betting opportunity)
The best wagering possibility is to fade North Korea, but not necessarily to lose. The lines against this minnow will be too steep. For instance, Brazil is listed at around -1000 to win their opening match, so that is obviously untouchable. Instead, look at the 'overs', as North Korea will allow their fair share of goals, filling the role of Group G punching bag. Their first game June 15 against the Brazilians could see five goals by the favorites alone.
North Korea World Cup Group Play Schedule
v. Brazil, June 15, 2010 – 2:30 p.m. ET at Ellis Park (Johannesburg)
v. Portugal, June 20, 2010 – 7:30 a.m. ET at Green Point (Cape Town)
v. Ivory Coast, June 25, 2010 – 10 a.m. at Mbombela (Nelspruit)
Doc's Sports is your ultimate, one stop source for everything 2010 World Cup. Our results below from the last two major international soccer tournaments clearly state we are premier capper in the world when it comes to the world's game.
---
Most Recent World Cup Betting