2010 Portugal World Cup Predictions
by Doc's Sports - 3/24/2010


Get more World Cup betting information including betting bonuses, World Cup odds and our famous World Cup picks, which in 2006 earned $100 bettors over ten times their initial investment. ($100 bettors earned $1,820 click here for details)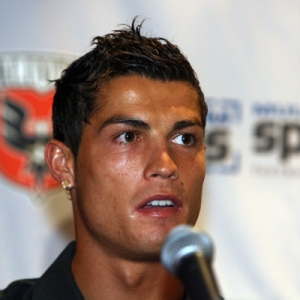 Nickname: Selecção das Quinas

Number of World Cup appearances: 4
Best World Cup finish: Third place (1966)
Team Breakdown
Just like France, Portugal barely found its way through qualifying and booked a spot to South Africa similarly in the second leg of their European playoff against Bosnia-Herzegovina. In 10 qualifying matches they won only five. Granted, four of the five non-wins were draws, but that drew a lot of criticism and would have likely cost head coach Carlos Queiroz his job if his squad failed to advance.
Cristiano Ronaldo is synonymous with Portuguese football, as he is with world soccer nowadays. However, his impact was next to nothing throughout the process to get to South Africa. The explosive winger was goalless during qualifying and missed the latter part because of injury. The play of midfielders Deco and Simao Sabrosa was the reason Portugal snuck through, but if they expect to make any noise this summer, not only will they need the gifted Ronaldo back on top of his game, but an entire team effort is also a prerequisite to have any chance to advance out of the 'Group of Death' in place of either Brazil or Ivory Coast.
Success, though, will come without the services of defensive stalwart Jose Bosingwa. The right back has been a very important part of Portugal's defensive prowess along with brilliant centre-back Ricardo Carvalho over the course of the last couple of seasons, but a knee injury has left him unable to participate for his country in June and July.
2010 Portugal World Cup Odds
Portugal is currently listed at 28/1 to win the World Cup.
They are 3/1 to win Group G.
Key Player To Watch
Cristiano Ronaldo is among the elite footballers in the world, and again we get to see him compete on the sport's largest stage. It really would have been a shame if Portugal failed to qualify, because that would have been like missing a Kobe or LeBron in the NBA Playoffs. Still, the winger is brash and arrogant at times, but flashy and skillful all the time. He is fast in the open field and possesses one of the best set-piece legs in the game. You'll see his thunderous kicks move like a Tim Wakefield knuckleball, the result of his right foot being placed precisely on the threads of the soccer ball. This is truly a sight to behold, and he is one player who is worth rearranging the day's schedule to watch him play throughout the tournament.
Best Team Asset
Experience. This definitely is not the Portuguese's' most talented team, but they have holdovers from the squad that finished fourth in 2006. Midfielders Deco, Simao and Raul Meireles will be relied upon even more than four years ago, not to mention the fact that Nani, Miguel Veloso and Hugo Almeida will have to show that this team is much more than Cristiano Ronaldo and 10 other guys on the pitch.
Key Team Weakness
Portugal lacks a goal scoring threat atop their formation. Granted, they are just as capable of producing results with their talented midfield, but the Portuguese have yet to see a consistent effort from their strikers. Midfielder Simao led the team with four goals in qualifying. However, that will not cut it in South Africa against the likes of Brazil and Ivory Coast and certainly not against other powers if they happen to advance beyond the group stage. Hugo Almeida and Liedson showed some promise throughout qualifying, combining for three goals, and their production will no doubt need to be that much greater when the results are must-wins this summer.
Portugal World Cup Predictions
Considering all things, Portugal will have tough times besting both Brazil and Ivory Coast and will ultimately fall victim to the 'Group of Death' in which they were drawn into. But to that same point, if individual players step their games up, notably Cristiano Ronaldo, then the sky is the limit. That is how vital he can be when playing his best football. But in the end I don't see all the pieces coming together, and Portugal will be three games and out in the World Cup.
Key First Round Match (best betting opportunity)
In their first game June 15 v. Ivory Coast, Portugal's best bet of the group stage will be the 'over'. Ivory Coast has shown a knack for being offensive-minded and that provides goal-scoring opportunities, for both them and their opponents in the counterattacking area. And that is one area where the Portuguese can flourish, pouncing on opponents when they leave their back four vulnerable. Look for three goals or more in this match.
Portugal World Cup Group Play Schedule
v. Ivory Coast, June 15, 2010 – 10 p.m. ET at Nelson Mandela Bay (Port Elizabeth)
v. Brazil, June 21, 2010 – 7:30 a.m. ET at Green Point (Cape Town)
v. North Korea, June 25, 2010 – 10 a.m. at Durban (Durban)
Doc's Sports is your ultimate, one stop source for everything 2010 World Cup. Our results below from the last two major international soccer tournaments clearly state we are premier capper in the world when it comes to the world's game.
---
Most Recent World Cup Betting