MLB Betting: Will Jays Let Alex Rios Go?
by Matt Severance - 8/10/2009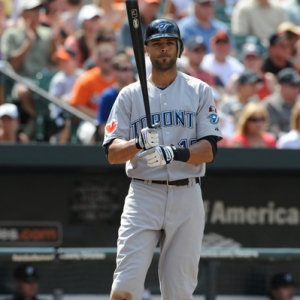 The Toronto Blue Jays have a fascinating decision to make before approximately 1:30 ET time on Tuesday afternoon. You see, the Jays recently put outfielder Alex Rios on waivers last week, and he was claimed, reportedly, by the Chicago White Sox.
What does that mean? Toronto either needs to work out a trade with Chicago for Rios, pull him back off waivers (he then can't go through again this year and thus couldn't be traded) or simply give him to the White Sox for nothing. Thanks to the folks at WagerWeb, you can bet on the Jays' decision. The site lists Rios as -140 to stay in Toronto and +100 to depart.
It's completely normal for teams to try and get guys through waivers to gauge their value, plus trades can still be made if a player clears waivers. However, because of the economic climate in Canada, the Jays desperately need to unload payroll – that's why they were shopping ace Roy Halladay.
Now Rios is a pretty good player, having been named an all-star in 2006 and '07 and currently hitting .264 with 14 homers, 62 RBI and 19 steals. But those numbers certainly aren't playing up to Rios' current contract, which is a six-year, $69.35 million deal signed in April 2008.
Because of Toronto's financial problems, many around baseball think the Blue Jays would be crazy not to simply be happy to be out from under Rios' deal and let the White Sox take him. Chicago already is taking on nearly $60 million in Jake Peavy's contract, but the White Sox have some big-money veterans like Jermaine Dye and Jim Thome coming off the books next year. And Rios could solve Chicago's center-field problems, although the Jays have used him in right, where Dye plays for the White Sox.
Chicago GM Kenny Williams sees a 30-homer, 30-steal guy in Rios and long has had his eye on him. And Rios is only 28 years old. Adding his bat just might put Chicago over the top in the AL Central this year. Neither Williams nor Toronto GM J.P. Ricciardi has addressed these rumors specifically, as this type of claim is supposed to be confidential.
"In this case, all I'll tell you is everybody gets put through waivers," Ricciardi said. "It's a normal process. Every team does it, but we're not going to comment on who was claimed or who wasn't claimed."
It's not out of the question that Toronto just allows Rios to go – this same franchise stuck the San Diego Padres with overpaid reliever Randy Myers in a waiver claim more than a decade ago.
But Rios expects to stay put.
"I guess I can't do anything if I get traded, and I'm going to have to go to wherever I get traded to. But that at this point I'm thinking that I'm staying here. That's the way I have to think about it," he said.
I actually think the Jays dump Rios. Ricciardi is under orders to shed some payroll, and the team's top minor-league prospect is Travis Snider, who could move right into Rios' spot in the outfield. Toronto already has dumped Scott Rolen and B.J. Ryan, so while Riccardi would no doubt be criticized for not getting anything of value for Rios (maybe the White Sox throw in a token prospect), he suddenly has some payroll flexibility for 2010.
Happy betting