College Football Handicapping: BCS Conference Rankings
by Trevor Whenham - 10/21/2009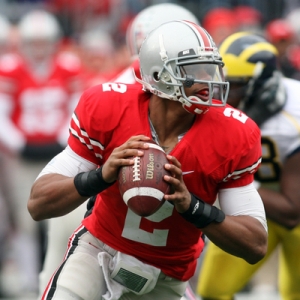 We are just over halfway through the college football season. That means that this is a good time for us to assess what has happened so far, and what could happen going forward. One way I like to do that - both because it is useful and it is fun - is to rank the BCS conferences based on the strength they have shown this year. Before we get into those rankings, I have to say that looking closely at the rankings in preparation for this has really driven home something - this isn't a particularly strong year for college football.
Virtually every major team has one or more major flaws that makes me uneasy about them regardless of how they are playing. The only possible exception to that is Alabama, and even with them you have to wonder about their QB play. Some years at this point we are wondering which one of the seeming faultless teams are going to crack first. This year I am wondering which one of the badly flawed teams can keep the ship floating the longest. Anyway, on with the power rankings:

1. SEC - It's hard to dispute that the SEC is the cream of the crop when they have the top two teams in the country, when both have already played the toughest parts of their schedules, and when it seems more than likely that one of the two will win the national championship in a couple of months. What is striking, though, is how the rest of the league isn't doing their jobs. LSU has only lost once, but it's hard to really take them seriously. South Carolina has had some highlights, but they still aren't a top-tier team. Georgia and Ole Miss have been major disappointments. Arkansas and Auburn can be seductive at times, but they can't yet sustain it. It wasn't long ago that the SEC was ferocious from top almost to the bottom. Now there are two clear leaders and then the rest somewhere far behind. It's like it used to be a decade ago, only Alabama has taken over for Tennessee.

2. ACC - I'm as shocked as you are that the ACC is this high, but I think it's justified. The Hurricanes have played the toughest schedule in the country, and have come through reasonably well. Georgia Tech is coming off a huge win and is very tough. Virginia Tech clearly isn't quite the elite team we thought they were, but they are still very good. The conference has a distinction that most others don't - some of their best teams are playing better than we expected them to.

3. Big East - Here's another conference that is surprisingly high. To fully appreciate what the Big East has done this year you have to remember that they didn't have a single team in the preseason Top 25. Now they have three. Cincinnati is proving last year was no fluke as they sit at No. 5. They have an undefeated season clearly in their sights, and could even find themselves in the BCS Championship Game with some luck and some help. Pittsburgh and West Virginia are both playing tough and are on the rise in the polls. South Florida dropped out of the rankings with their loss to Cincinnati last week, but I expect them to play their way back in again. The Big East had absolutely no respect going into the season, but they didn't let that bother them - they just kept playing. And impressing.

4. Big 12 - I hesitate to put the Big 12 this high, but with an undefeated team ranked third they can't fall any lower. Like some other conferences, the Big 12's theme has been disappointment. Texas keeps winning, but they have been hugely disappointing, and seem destined to lose at some point. Oklahoma started highly ranked, but the season has been a disaster. Oklahoma State couldn't handle the pressure of early adulation. Nebraska faltered last week. So did Kansas, and Missouri did the week before them. Texas Tech is really the only team that has exceeded expectations from among the upper-tier teams, and that's only because everyone was so pessimistic aout them this year.

5. Pac-10 - I'm punishing the Pac-10 in part, but not exclusively, because their best team lost to Washington. That stumble by USC makes it hard to love the conference, but that's not the only reason. Oregon has been very solid since the first week, but we can't forget about that Boise State debacle. Cal has been as horrifyingly disappointing as any team in the country. Oregon State, Stanford, Arizona, Arizona State and UCLA haven't lived up to signs of promise. We keep hearing that the Pac-10 is going to rise up and roar on the national stage beyond just the Trojans. Hasn't happened yet.

6. Big Ten - I'm a big Big Ten guy, so it hurts me to see them here. They deserve it, though. Iowa is ranked No. 7 and sitting at 7-0, but they really should have lost to Michigan two weeks ago, and will lose to someone during the season. Penn State has been good, but their home loss to Iowa was so bad that it's hard to totally trust them. Ohio State has issues all over the field starting with their highly-touted QB. Real teams do not lose to Purdue. My beloved Michigan is clearly on the rise, but they equally as clearly aren't ready for primetime yet. The Big Ten will be back, but this just isn't their year.