Best NBA Teams Against the Spread
by Trevor Whenham - 11/11/2009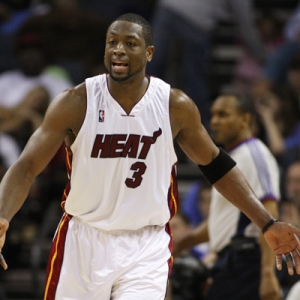 It's very early in the NBA season, but already some teams have proven themselves to be better performers against the spread than others. Of the 30 teams in the league, only 12 have been profitable ATS on the season so far, and six of those teams have generated less than two units of profit. Here's a look at the six elite ATS teams through the first couple of weeks of NBA action

Miami Heat - It's no secret why the Heat are tied for the best in the league ATS at 6-1 - they are playing better than people expected them to. The team had a rough season last year and they had some offseason issues, so people weren't expecting them to storm out of the gate. That's just what they have done, though - they have won six of their seven games, and they have covered every time that they have won. The schedule has been a mixed bag for them. They've won a couple of tough games against Chicago and Denver, but they've also beaten four lesser squads. The team was exactly .500 ATS last year, so it remains to be seen if they can improve on that this year. Dwyane Wade's impending payday and the resulting motivation won't hurt their cause.

Atlanta Hawks - After years of futility the Hawks finally appear to have turned the corner. They made the playoffs two years ago, and last year they were not only a playoff team but a pretty good one. Given the progress they have made and the talent they have expectations were fairly high coming into the season. They have lived up to them, winning five of seven games, and covering the spreads at a league leading rate of 6-1. The best sign that we have seen in the early part of the season from this team is that they had a reasonably tough four-game road trip, and they still managed to cover the first three spreads. That takes some dedication and determination - something it still seems strange to see in Atlanta.

Charlotte Bobcats - Larry Brown is a lot of things, and not all of them are flattering. One of those things, though, is one heck of a coach. He has totally made over this Charlotte roster in the last year. In the standings it's still a work in progress - they are just 3-4. For bettors, though, the team has started better than the public has expected them to - they are 5-2 ATS. Those five covers came in a row, and they were all impressive in their own way - they beat up on the two weak opponents that they have to beat, pulled off a nice upset against Atlanta, and stayed close with Chicago and Cleveland, two teams that are clearly better than they are at this point. Charlotte has the potential to be one of those teams that bettors love - not good enough to get any public attention, but still better than their record indicates.

Houston Rockets - The Rockets are also at 5-2 ATS, and they also covered five in a row. They made things easy over that stretch - they won four of the games, three as underdogs, and the lost the fifth by a point in overtime to the Lakers. People don't yet have a sense of how the Rockets are going to fare this year it would seem because they are still in a position of being made home underdogs against good teams. I haven't met too many bettors who don't like home underdogs in the right situation, so that could make this team handy as the season progresses.

Dallas Mavericks - The last of the teams that sit at 5-2 ATS, the Mavericks have covered every game they have won. They are also 4-1 ATS in games in which they have been favored, so thus far, at least, they have shown the ability to get up for big games. That's not something we have always seen from this team in the last couple of years - they have lacked for focus from time to time as their middling results have shown. If they can sustain what they have shown so far this year then they will not only be kind to bettors, but also could make an impact in the standings. I'm afraid that Mark Cuban will have an epic meltdown if they don't this year.

Milwaukee Bucks - The Bucks and the Pacers have had the most leisurely start to the season, playing just five games when teams have played as many as eight. Indiana hasn't been a great bet despite the rest - they are just 2-3 ATS - but the Bucks, at 4-1 ATS, sure have. After a rough opening loss to Philadelphia the team has covered four in a row. The obvious star of this early surge out of the gate is Brandon Jennings. He's a rookie only one year removed from high school, but he's been manning the point like a grizzled veteran. That hasn't just helped with their point play, but his confidence has spilled over to the rest of the team as well. This team will be interesting for as long as he can remain in form.