College Football Power Rankings - The Ferringo 15
by Robert Ferringo - 10/14/2009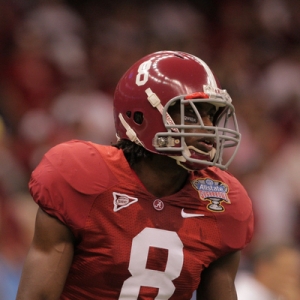 The Ferringo 15 is my Profit-Power Rankings, a ladder or hierarchy based on which teams are the most profitable on the field. I'm not trying to give you some other nonsensical, random, speculative power rankings based on my own biases and conjecture. So instead of Ohio State moving up or down the polls on the basis of how badly they blew out Northwestern the previous Saturday, I'm going to rank each team based on past, present, and projected future achievement against the spread.
And over the past two years they have been on point. In 2007 the teams that finished in the Ferringo 15 had a collective 121-46-1 mark against the spread. Last year the teams that were in the Ferringo 15 each week went 81-63-3 for the season. That means every week when I rotated someone else in I took their performance ATS for that weekend's games. We won 57.6 percent of those situations. Also, after two weeks I had the sport nailed. The teams that were listed in the Ferringo 15 entering Week 3 went on to finish the year a collective 113-67-2 ATS. That's a 62.8 winning percentage and it means that if you had bet $100 per week on only those 15 teams for the whole year you would have finished the season up around $4,000.
Now, that's more like it. After three straight down weeks the Ferringo 15 finally came back strong and produced a profitable week, going a modest 7-5 against the spread. For the season that is now just a 35-36-1 mark though so there is still work to do. However, I still feel like it's a long season and that the value will increase as the season tracks on.
Here is the Ferringo 15, my college football (profit) power rankings:
1. Idaho (5-0) - This team is simply living a charmed life and is a perfect example of how positive momentum can snowball for a program. They had zero business covering the spread - much less winning outright - at San Jose State last week. They have won their last three games by an average of three points apiece so things could get off the rails quickly. And the last two wins were via comeback route. The schedule really toughens up though. After a home game with stumbling Hawaii they play at Nevada, Louisiana Tech, Fresno State and then at Boise State. I smell trouble. But can they keep cashing? They are now 10-2 ATS in their last 12.
2. Connecticut (5-0) - Lose the game but cover the spread: that's the perfect way to stay as a valuable entity. The Huskies have played a brutal schedule at this point, with all four of their D-I opponents likely headed to bowl games. Two of their next three games are at home so if this team is going to take strides toward its own bowl game it needs to make a stand now. The Huskies are 19-7 ATS at home and 27-11 ATS after a loss. They are also 4-1 ATS against the Cardinals and it should be another cold, rainy, nasty day at Rentschler.
3. Alabama (5-1) - This team is a sledgehammer. This is the most physical team in the country and I don't know if anyone - Florida included - can stop them. The key to this team is the fact that they boast the best defense in the country for the second straight season. I wouldn't want to be the team that has to face them in a bowl game after last year's debacle. They are 7-1 ATS in conference games and on a 4-0 ATS run.
4. Auburn (4-2) - The Tigers were ambushed by Arkansas last week. But I actually think that might have helped boost their stock a bit. That was just a horrendous situation for them to walk into - coming off a road win at Tennessee, facing a team that had just faced Florida and Alabama, with an 11 a.m. start. But this team can still score points and still has enough talent and athleticism on defense. Now they get to face a Kentucky squad that just lost its starting quarterback. Auburn is 4-1 ATS at home.
5. Louisiana-Monroe (4-1) - Tough game on Tuesday with Arkansas State could go a long way in determining UL-Monroe's role in the Sun Belt this season. This veteran team has had extra time to prepare and has been installed as a small favorite. That's not good considering that the dog is 9-0 ATS in the last nine meetings. However, Monroe is 21-8-1 ATS in conference play and may just be an automatic play in the SBC until further notice.
6. Ohio State (5-1) - I'm still not entirely sure how this team is doing it. Yes, they have a brilliant coach and a bone-cracking defense. And the Big Ten is pathetic. However, Ohio State is also a very public team and is generally shackled with some really tough numbers. However, they keep taking the cash. Apparently it's idiots like me that either ignore them or look to fade that are keeping this money train going. They are still only laying out two touchdowns at Purdue this week. That's kind of absurd for a team that is 17-4 ATS as a road favorite and 20-6 ATS on the road overall.
7. Washington (4-2) - Funny story: I was actually so wasted from 12-plus hours of college football watching that I turned off the Arizona-Washington game with four minutes left when the Wildcats kicked a field goal to go up 33-21. I mentally penciled that one in as a loss. Then Sunday was all NFL, all day, along with time with my family. Well, it wasn't until Monday afternoon that I actually saw the score and realized that I had won my play on the Huskies via an improbable late comeback! I appreciate this team more and more every week.
8. Boise State (4-0) - Here comes Houston. There is pretty much no doubt that the Cougars have more of a claim as BCS busters than Boise State, especially if they can win out and finish with just one loss. And all that is going to do is make the Broncos want to lay the wood to the weak sisters in the WAC that much more. So which will win out: their need for blowout wins or the oddsmakers' inflation of their lines? Three of the next four are on the road and I think that Boise is going to be a tough ticket to cash.
9. Nebraska (5-0) - Bo Pelini's tough-love approach with his team is really paying dividends. This club has covered the spread in six straight games and are 4-0 ATS in their last four games in Lincoln. Given the uncertainty in the Big 12 South (especially if Texas beats Oklahoma) I can say that there is an outside possibility that the Huskers could pull an upset in the Big 12 title game. They likely won't do it. But if they keep playing well I think they could at least manage to cover a thick spread.
10. Stanford (4-2) - The Cardinal got rolled in Corvallis last weekend. But in the long run that might actually help this team out. They have a very difficult game in Tucson this week against Arizona, but then the Cardinal close the season with four of five at home and their only road game at USC, where they will likely be a fat dog. With six games left on the docket I think that Stanford has four covers left in them.
11. Central Florida (4-0) - The Knights had two weeks to prep for a big regional game at home against Miami. Last year in a very banged up UCF club took No. 14 South Florida to overtime, at home, as a 14-point dog, in a big regional rivalry game. The big problem this week is that UCF's secondary is a liability. That means their game with Miami could get ugly.
12. Southern Methodist (3-1) - June Jones' system has taken root and this team is a very, very live dog. This group is 2-0 in conference play including a nice road win over an experienced UAB team and a big home upset against East Carolina. Now they are catching over a touchdown at home against a Navy team that is the antithesis of the Mustangs. SMU has not performed well at home or against the Middies. But we'll see this week if Jones has his group set to turn a corner.
14. Wyoming (4-1) - Well, we're going to find out if this team is legit or not here pretty quickly. The Cowboys are at Air Force, at Utah, have BYU at home, a letdown/look ahead spot at San Diego State, and then have TCU at home. That's a brutal stretch. Let's see how they handle it. They have covered four of five at Air Force and the road team is 8-3 ATS in the series.
14. UCLA (3-2) - This team is clearly fading in these rankings, but I actually think that a slow Pac-10 start has enhanced their value. This team is 0-2 in league play but, after this week's crucial matchup with Cal, has a relatively manageable schedule. This team is 21-7 ATS at home and 16-5 ATS as a home dog. The Bruins are 42-25 ATS since the start of 2004. Six years of consistent earning doesn't get brushed under by a couple bad weeks.
15. Houston (3-1) - Well, no one can stop them, so why not? The Cougars have a hell of a resume. Especially for a team that is currently fourth in its conference. They are No. 1 in total yards, No. 1 in passing yards, and No. 6 in points scored. And what has been most impressive about their 4-1 start, with wins over Oklahoma State, Texas Tech and Mississippi State, is that they have only played one of those teams at home. After a game at Tulane this weekend the Cougars get four of their final six games at home and then could really put up some numbers.
Others Receiving Votes: Michigan (4-2), South Florida (3-1), Temple (3-1), Northern Illinois (4-1), Utah State (3-1), Virginia (3-1), Central Michigan (4-1).
Robert Ferringo is a professional handicapper and you can purchase a full season's package of his football selections for just $25 per week! Click here for details.
---
Most Recent College Football Power Rankings